Have You Heard About… Manga Man
…the funny-looking high school student? Barry Lyga and Colleen Doran's Manga Man is a teenager from a manga world who falls through a rip into an American comic. Ryoko Kiyama still has all of his manga characteristics – big eyes, action lines, sweat drops, a tendency to change shape when he's overcome with cuteness, and more – in a world that doesn't support them. Everything is different here, from cultural norms to physics. The school custodian complains about having to clean up Ryoko's action lines, and another student is badly hurt because Ryoko doesn't understand how permanent injuries can be.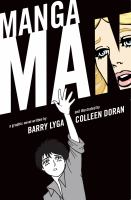 This graphic novel is an excellent look at being an outsider. Most teens feel like aliens in a world that doesn't understand them, and Barry Lyga vividly portrays this with Ryoko and the American students in the high school. The tension increases when a beautiful girl falls in love with the bizarre stranger. Behind the scenes, monsters from the rip are trying to break through, too. Colleen Doran does a beautiful job with the art of both American comics and manga, showing the dichotomy between the two styles and making good use of manga's distinctive characteristics.
Teen angst, science-fiction adventure, and romance – Manga Man has it all.
Reviewed by Fran (staff)