Have You Heard About… Love Finds You in Sugarcreek, Ohio
… the mysterious stranger in Sugarcreek, Ohio? In Love Finds You in Sugarcreek, Ohio, by Serena Miller, Joe Matthews has been accused of murdering his wife in L.A. He and his little boy, Bobby, are on the run and show up in Sugarcreek looking for a temporary place to stay. Rachel Troyer, who is half Amish and half Englisch, is the local cop. She is very protective of her three elderly Amish aunts who run the small inn where Joe and his son seek shelter. Being a good cop, Rachel is very suspicious of Joe as he won't give her any information on who he really is and why he is in Sugarcreek. He looks and acts too refined to be just a homeless drifter as he proclaims.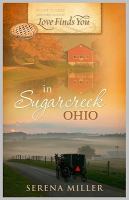 The aunts adore Joe and hire him as a handyman until he can get enough money to get back on the road, much to the dismay of Rachel. It isn't until over halfway through the book that you learn who Joe really is, which keeps the suspense high as Rachel starts to fall in love with Joe. When Joe's father and brother turn up and a suspicious fire burns down the inn, you'll be glued to your seat. The twists and turns in this book will keep you hooked to the very end as you laugh, cry and know that there is a happy ending that will surprise everyone.
Sugarcreek, Ohio, also known as "the Little Switzerland of Ohio," is about an hour's drive south of Akron, Ohio. Several places mentioned in the book really do exist, and I can highly recommend Beachey's Country Chalet Restaurant. The food is to die for, but being in Amish country it is not open on Sunday.
*Love Finds You in Sugarcreek, Ohio, is part of the Love Finds You series of unconnected inspirational romance novels.
Reviewed by Terry (staff)