Have You Heard About… Little Treasures
… the sweet pet names parents call their children? Little Treasures, by Jacqueline Ogburn and Chris Raschka, looks at endearments used around the world. From "honey" and "pumpkin" to "little coconut candy" (docinho de coco – Portuguese) and "my chick" (mi pollita – Spanish), families everywhere have silly names they use for the children they love. This book gives examples from fourteen different languages used around the world.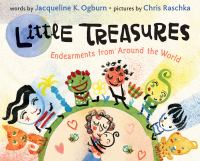 A book this broadly based cannot hope to be comprehensive. However, it gives a good overview of languages spoken in North and South America, Europe, Asia, and Africa. The endearments are given in translation, in the language's normal script (transliterated where necessary), and with a suggested pronunciation. The illustrations show a wide variety of children and adults, and the text emphasizes the fact that families love children throughout the world. This is a sweet book for parents to share with their children, and possibly come up with a special pet name just for them.
I wonder if my nieces should be "my bubble of joy" (yeinay filiklik – Amharic), "little beetle" (chrobáčik – Slovak), or "flower bud" (nuppunen – Finnish)!
Reviewed by Fran (staff)