Have You Heard About… Light & Shade
… the mastermind behind one of the greatest rock bands of the 1970s? Light & Shade: Conversations with Jimmy Page by Brad Tolinski is a detailed view into the extraordinary life of guitar icon Jimmy Page. Mr. Tolinski is a former editor in chief of Guitar World magazine so he had great access to the guitarist as well as a technical understanding of his craft. As he says in his introduction, "Led Zeppelin dominated the seventies and continues to resonate decades later." Being a fan of Led Zeppelin, and guitar playing, this book was an easy choice for my vacation reading list.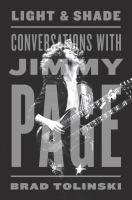 I learned a lot of inside info on recording rock music as well as the history of the band. One startling fact that came out of the book was that Jimmy Page, Jeff Beck and Eric Clapton all modern day guitar gods, grew up within a twelve-block area of London. Wow, think about that. Talk about the stars lining up. Pick it up and if you love rock or heavy metal…you won't be disappointed.
Reviewed by Richard (staff)