Have You Heard About… Leah's Choice
… the people who are Old Order Amish and Mennonite? Leah Yoder longs to get married and raise a large family. Her Amish roots stress family and community helping each other, something Leah has rarely questioned. Leah's Choice*, by Emma Miller, finds Leah attending a community lecture given by Mennonite Daniel Brown. Daniel is a missionary and also a nurse. He spreads the word of God while he administers to people in faraway places. Daniel is taken by Leah's loveliness and wants to get to know her better. Leah is immediately smitten with the way he talks and looks. She knows it is forbidden to mingle with someone who isn't Amish, but she has not yet been baptized and brought into the church. What she thinks is secretive on her part – seeing Daniel unchaperoned – really isn't. Her sisters see love in her eyes. It's against each of their faiths to marry each other. Will these two ever find a common ground? It is a surprise as to how Daniel and Leah conquer all.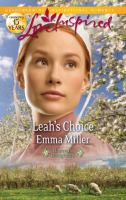 This is a quick and very satisfying read. This is book four in the "Hannah's Daughter's" series*. While it is not necessary to read the previous books, you might want to give them a try to find out about some of Leah's other sisters.
* Earlier books in the series include Courting Ruth, Miriam's Heart and Anna's Gift.
Reviewed by Terry (staff)