Have You Heard About… Jackdaw
… the police officer who loved the wrong magician? KJ Charles shifts her focus to a new pair of characters with Jackdaw. Ben Spenser was a police constable until he was betrayed by the man he loved. Recently released from prison, he is determined to hunt down Jonah Pastern and make him pay. However, when Ben finds Jonah, he can't bring himself to betray his former lover and gets caught up in Jonah's increasingly wild flight from the law.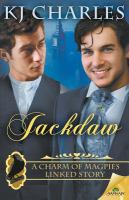 While this book is set in the Victorian fantasy world of Charm of Magpies, it isn't necessary to read that series to enjoy this book. (Although I recommend it, too!) Jackdaw is a wonderful romance between two men who love, not wisely but too well, at a time when homosexuality is illegal. Ben is a solid constable with a settled life in a small town and no knowledge of magic. Jonah is a literally flighty thief and liar who never wanted to be tied to anyone until he met Ben. Will their love burn out as quickly as it started, or will they manage to forgive one another and find a safe place to call home?
Reviewed by Fran (staff)