Have You Heard About… Hexes and Hemlines
… the latest cozy urban fantasy mystery that has a gobgoyle in it? The newest book by Juliet Blackwell, Hexes and Hemlines*, gives us more of a glimpse into the past of Lily Ivory, the owner of Aunt Cora's Closet, a vintage clothing shop in the San Francisco area.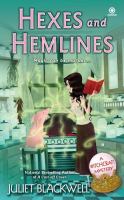 She's a witch that never completed her witchy training. Her familiar is a pot bellied pig named Oscar who has an interesting past that's also finally revealed. Lily, Aidan (the head of the witch society in the area), Sailor (a reluctant mind reader), Bronwyn (part of a coven and Lily's co-worker at the shop) and a wonderful cast of secondary characters really come to life with all of their powers as Lily tries to solve the murder of a Serpentarian Society leader. With bad luck symbols all over the place, will Lily have enough magic to save herself and figure out who did it before the cops do?
It helps if you've already read the first two books in this wonderful series, but this book gives just enough of the back story so you do know what's going on.
* The earlier books in the series are Cast-Off Coven and Secondhand Spirits.
Reviewed by Terry (staff)