Have You Heard About… Help for the Haunted
… the mysterious death of two renowned demonologists? With a premise like that, I instantly knew I had to read Help for the Haunted by John Searles, and boy, was I ever impressed. When it comes to "well-written" stories, whatever that vague term may mean, Help for the Haunted surpassed my wildest expectations.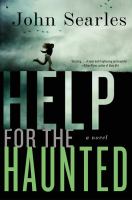 The story follows Sylvie Mason, who is trying to come to grips with the sudden murder of her parents – two self-proclaimed demonologists who give lectures and assist spiritually-afflicted people. Sylvie is now under the care of her older sister, Rose, who proves to be a misguided and neglectful legal guardian with a secret she is determined to keep from Sylvie.
The story is firmly centered around the death of the Masons, with chapters alternating between the events leading up to their death and the secrets and the mysteries left behind in the wake of their murder. This seems to be a common narrative technique in modern psychological thrillers, where the story is told from either two points of view or two time periods until the very end, when everything comes crashing together in the final climax. It's an effective device, and it pretty much ensures that the reader will be helpless to stop turning the pages.
In addition, Sylvie is one of the best young protagonists I've read about in a long time. She comes across as intelligent, determined, and genuinely affected by her parents' death and the stigma surrounding her entire family without being melodramatic, whiny, or any of the other character flaws that plague teenage protagonists.
Although this book didn't have as much of the supernatural elements as I would have preferred, I was thrilled to find another psychological suspense novel to add to my growing collection of fantastic titles. This one is a must read.
Reviewed by Katie (staff)