Have You Heard About… Harriet the Invincible
… the beautiful princess who suffers under a dreadful curse? At her christening, the princess is cursed to prick her finger and fall into a deep sleep on her twelfth birthday. You may think this story sounds familiar, but this version was written by Ursula Vernon, who looks at things … differently. Harriet the Invincible realizes that, if the curse is going to strike on her twelfth birthday, nothing can hurt her until then. This discovery spells the end of her deportment lessons and the beginning of her adventures.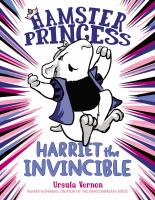 Harriet is wonderfully funny, oddly practical, and as the Crone of the Blighted Waste says, "a singularly bloody-minded little thug." She is far better at swinging a sword than she is at looking ethereal and sighing. If you like your princesses pink, sparkly, and tough as nails, check out the Hamster Princess series!
Reviewed by Fran (staff)