Have You Heard About… Green River, Running Red
… the Green River Killer, America's most prolific serial murderer? In her book Green River, Running Red, renowned true crime author Ann Rule chronicles the murder of over fifty women in the Seattle area, as well as the police department's agonizing search for their killer – a search that began in 1981 and ended 20 years later in 2001, with the arrest of Gary Ridgway.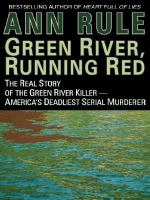 Green River, Running Red is both a fascinating insight into a high-profile murder investigation, as well as a horrifying portrait of a real-life serial killer that goes beyond anything I've ever seen in the movies. In the last part of the book, Ann Rule also includes transcribed portions from Ridgway's confession, when he explains why he killed all those women. It's guaranteed to send chills down your spine.
I might even go so far as to say this was one of the most unsettling books I've ever read. The book contains photographs of many of the victims, as well as photos and mug shots of Ridgway himself, which made the story that much more realistic for me. As a true crime novel, this is one of the best, and I guarantee that if you read Green River, Running Red, you will never look at your friends and neighbors the same way again.
Reviewed by Katie (staff)