Have You Heard About… Firefly Lane
… the story of love and friendship that begins in the mid-seventies and extends into the twenty-first century? Firefly Lane by Kristin Hannah tells the story of Tully and Kate, two girls who become best friends during the summer of 1974 and remain inseparable through high school, college, careers, motherhood, and all of the pitfalls and triumphs that come with a lifelong friendship.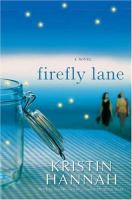 Anyone who's read my previous reviews knows that I tend to read novels that fall on the "dark and twisted" side of the spectrum, so this is a big departure for me. But I really enjoyed this book. The characters were created so lovingly that I felt like I was reading about my own friends. If you're looking for a story to give you the warm fuzzies, this is it.
With that being said, I HIGHLY recommend keeping a big box of tissues next to your bed. Granted, I tear up much easier than most people (I've gotten bleary-eyed during a Superbowl commercial before), but the last few chapters are still extremely sad. So go grab a box of Kleenex. Heck, grab two. Better safe than sorry.
All joking aside, this was a surprising find for me, and I'm glad I stepped out of my comfort zone to read this. Ultimately, Firefly Lane was a great affirmation of the importance of friendship – a lesson that is sure to resonate with female readers everywhere.
Reviewed by Katie (staff)