Have You Heard About… Eat & Run
… the very readable book on running? I just finished reading Eat & Run by Scott Jurek who is an ultramarathoner. Why would I read a book about someone who makes a habit of running races of 100 to 150 miles…and winning them? Especially since it takes me three hours to run a simple 5K? It was a fascinating read. That's why.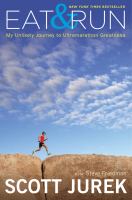 This guy is a vegan and includes many of his high-powered recipes in the book. I kinda passed over those because plants are cool, but I like to eat meat and eggs and fish, etc. The rest of the book reads like a fantasy novel. The inside book jacket says his accomplishments are "nothing short of extraordinary," and I would agree. Running 135 miles through Death Valley where it cools down to 105 degrees around midnight is crazy. Read the book. It won't inspire you to run an ultramarathon, but it makes for a mesmerizing read.
Reviewed by Richard (staff)