Have You Heard About… Earth
… the stunning film of our planet from Disney Nature? Earth is a great movie for the whole family. It starts and ends with the daddy polar bear. Next, mom polar bear comes out of her den, then the baby polar bears come out and see their world for the first time. The scenery is breathtaking.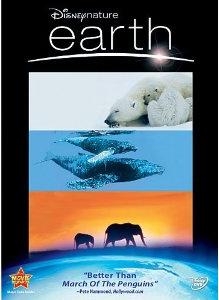 The focus then moves to the tropical forests, where the beautiful birds get together. They describe how the male bird does his house cleaning, and what he goes through in his grooming. It's really funny.
See the baby ducks in 'flight school.' You could watch this scene over and over; it's so cute! In the deserts, the elephants have long treks to find water, and the mom elephant protects her adorable baby from lions. The oceans are fantastic with the whales and their 4,000 mile trek to a 'summer vacation' destination. In a helicopter over Angel Falls in Venezuela you feel like you are actually there. This was awesome!
James Earl Jones is the narrator of the film, and he does an excellent job of describing all of the animals and the scenery. Be sure to keep watching the movie as the credits roll, to see how some of the movie was filmed. Also, don't miss the special features. It took 5 years to film this documentary, and it shows what the crew went through to get the fantastic shots without disturbing the animals.
I very highly recommend this DVD. I thought it was super fantastic!
Reviewed by Terry (staff)