Have You Heard About… Dial H
… the incredible power of some rotary phones? Instead of 9-1-1, Dial H-E-R-O to become a superhero! The power has a few quirks, however. The dialer becomes a random hero — anyone from Boy Chimney to Captain Lachrymose to Baroness Resin — all of his or her powers and weaknesses, down to the costume, but only for a limited time. Also, someone else is after the dial, someone who might not want to use the powers for good.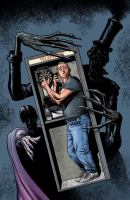 China Mieville, Mateus Santolouco, and the other artists do an incredible job on this remake of a DC comic from the 1960s (and the 1980s and 2000s). The basic concept is the same, but they bring their own dark, gritty, oddly funny feel. Even the main characters are, frankly, not very nice people, although they try their best to become the heroes that their world needs.
This compilation of Dial H collects the first six issues of the 2012 series, plus its issue 0. In addition to the main story arc, it has a nice follow-up where the characters discuss their responsibilities and which heroes they are not willing to be. (Would you want to be "saved" by Kid Torture?) There is also a short story explaining where the powers come from.
Not just a fun read, this one will make you think.
Reviewed by Fran (staff)