Have You Heard About… Chocolat
… the delightful novel that was turned into a movie, starring Johnny Depp?  Magical, atmospheric, arresting, Chocolat welcomes the reader to Lansquenet, a small French town, right at the moment it becomes enchanted by Vianne Rocher, a chocolatier and possibly a witch. Living with her six-year-old daughter, Vianne befriends many quirky townspeople in her shop; using her sixth sense, she has the ability to see customers' favorite confections and listens as they share their troubles. Her nemesis is Pere Reynaud, a local priest, who tries to stop the chocolate festival Vianne has planned for Easter Sunday. Joanne Harris' lyrical writing gives her the power to implant imagery in readers' minds, while she follows characters who have a zest for life.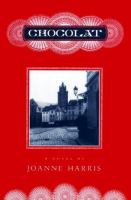 This is the first book in a three-part series. Having seen the movie Chocolat several years ago, I was pleasantly surprised to find the sequel, The Girl with No Shadow, and read that first. However, I recommend starting with the first book in the series, Chocolat, and then treating yourself to following more of Vianne Rocher's adventures, romance with Roux, and her evolution as a Mom in the second title in the series, then ending with the third title, Peaches for Father Francis.
Reviewed by Rose (staff)