Have You Heard About… Cherry Blossom Capers
…the latest mystery and murder in Washington D.C? Cherry Blossom Capers* by Gina Conroy, Frances Devine, Cara C. Putman and Lynette Sowell has something for everyone in this four-in-one collection of short stories. Each novella is a standalone, but the characters are Tara, an assistant chef at the White House, Susan, who owns a sweetshop, Ciara, an attorney, and Samantha, a budding archeologist. They each show up in other stories and are neighbors.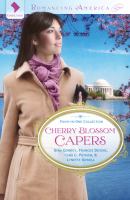 While mystery and murder are the theme of each novella, romance also plays a big part. The murder of a judge runs through each storyline, making these stories loosely connected. When each story ends, it's not really the end of the mystery as it's continued into the next story line, making for some really puzzling red herrings that will keep you reading in large blocks of time to the last page.
*Cherry Blossom Capers is part of the Romancing America series of unconnected inspirational romance novels.
Reviewed by Terry (staff)