Have You Heard About… Blameless
… the humorous steampunk Victorian romance with vampires and werewolves?  Gail Carriger's Blameless* picks up shortly after the end of Changeless, with both Lord and Lady Maccon dealing with the fallout of Alexia's announcement.  (I won't leave any spoilers here, because this series is definitely better when read in order!)  Our heroine's situation is made even more dire by the disappearance of her dear friend Lord Akeldama and a series of attacks by vampires and their followers.  Alexia heads for Italy with her loyal butler Floote and the incomparable Madame Lefoux, hoping to learn more about preternaturals from the Templars.  Grand adventures ensue for both Alexia and Connall!  Along the way, the reader learns more about the background of several secondary characters, including Madame Lefoux, Floote, Professor Lyall, and Ivy and her husband.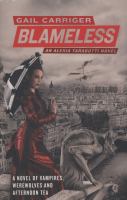 Blameless certainly leaves some open threads (among them is the debatable destruction of Lord Akaldama's greatest treasure) that will have me leaping upon Heartless as soon as it is available.  However, it has nothing like the wrenching cliffhanger in Changeless.  Prepare a cup of tea, have your favorite parasol or hat to hand, and read on bravely!
One of my favorite quotes (from p. 21):
Lord Akeldama did everything fashionably, sometimes to the exclusion of all else, including common sense.  If Lord Akeldama were to take up wrestling in vats of jellied eels, it would probably become fashionable within a fortnight.
* The previous books in the Parasol Protectorate series are Soulless and Changeless.
Reviewed by Fran (staff)