Have You Heard About… Bellman & Black
… the funereal emporium of Bellman and Black? Like most readers, I came to this novel because I loved Diane Setterfield's first novel, The Thirteenth Tale. If you have not yet read this book, I'll give you a heads up: Bellman & Black is distinctly different from The Thirteenth Tale, but if you head into it with an open mind, you'll likely find that this book has its own unique charm.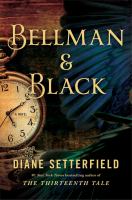 Even though the book clocks in at just over 300 pages, it covers the span of William Bellman's life, from age 10 until old age. At age 10, young William uses a slingshot to kill a rook sitting in a faraway tree. Although this seems at first to be a trivial incident, the consequences of his action will follow him all throughout adulthood. At first, William is a young, energetic man working and learning at a nearby textile mill. But then a raging epidemic sweeps through town, and after a series of excruciating losses, William finds himself entering into a macabre business deal with the mysterious Mr. Black. And so, Bellman & Black is born – an emporium of the finest funeral garb and supplies.
There isn't much in the way of plot, at least not in terms of suspense or escalating action. What we have instead is a series of decisions and actions made over the course of William's life that ultimately affect the outcome of the novel. There's not much of a climax, not much in terms of suspense. It's a very even and measured story. William's character is also very structured and orderly, and these characteristics transferred well into the reading experience. The measured pace and careful precision of Setterfield's writing made the novel feel like clockwork, which is especially fitting, since much of the novel deals with death and the passage of time.
Setterfield also includes a wealth of historic details, particularly in terms of textile production in the late nineteenth/early twentieth century. (It's not entirely clear what time period the novel is set in.) While I don't generally choose novels with such a wealth of historical detail, the information made the story compelling and gave it a rich texture that I enjoyed.
And although this novel didn't have the sumptuous literary tone of The Thirteenth Tale, I loved the dark, brooding Gothic overtones of Bellman and Black. Diane Setterfield seems to be carving out a special niche for herself and I only hope we won't have to wait as long for her next novel!
Reviewed by Katie (staff)