Have You Heard About… Bedbugs
… New York City's infestation of demonic bedbugs? And now that I've freaked everyone out, I highly recommend Bedbugs by Ben H. Winters, which is horror fiction at its creepy-crawly best! The story follows Susan and Alex Wendt, who have just moved into a spacious (and cheap!) apartment in New York City. But it isn't long before Susan starts worrying that their new home is crawling with bedbugs. She wakes up with odd bites, and the more stuff she reads about bedbugs, the worse the situation becomes. But the exterminator can't find anything, and Susan's husband hasn't seen anything either. Is Susan going crazy, like everyone believes, or are these bedbugs actually after her?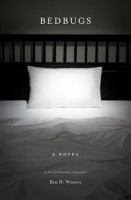 This book is scary on two levels – on the one hand, the idea of supernatural bedbugs is gross enough to make anyone check their sheets before they go to bed. But on the other hand, Susan's obsession with these insects is just as frightening, and we start to wonder how far she'll go before she breaks down completely. If you read this book, keep the lights on, and make sure you inspect your sheets before you go to bed.
Good night…sleep tight…and don't EVER let these bedbugs bite!
Reviewed by Katie (staff)