It's almost the end of April, so of course that means it's time to celebrate only six more months until Halloween! For the library, that means a Halfway to Halloween display and a blog post focusing on some horror novels that might have flown under your radar over the last couple years. As always, click on a cover or a title to place a hold, and make sure to stop into the library to check out our Halfway to Halloween display, going up next week!
The Suicide Motor Club by Christopher Buehlman
HORROR BUEHLMAN
"The Suicide Motor Club knows no boundaries. These vicious vampires ride in a caravan of death that covers America's roads, with nothing and no one to slow them down. Only the wild allure of the open road and the hot thrum of blood calling to them; only burned-out wrecks and dried-out corpses left in their wake. Except, two years ago, they left a witness in the mangled wreck of her family car, her husband dead, her son taken. She remembers their awful faces, and she's coming for them – her thirst for vengeance even more powerful than their hunger for blood."
---
Meddling Kids by Edgar Cantero
HORROR CANTERO
"With raucous humor and brilliantly orchestrated mayhem, Meddling Kids subverts teen detective archetypes like the Hardy Boys, the Famous Five, and Scooby-Doo, and delivers an exuberant and wickedly entertaining celebration of horror, love, friendship, and many-tentacled, interdimensional demon spawn."
---
The Bone Mother by David Demchuk
HORROR DEMCHUK
"A series of short mythological retellings of Eastern Europe's most terrifying mythical creatures, on the eve of their eradication."
---
The Grip of It by Jac Jemc
HORROR JEMC
"As Julie and James try to settle into their new home and their relationship, the house and its surrounding terrain become the locus of increasingly strange happenings. The architecture–claustrophobic, riddled with hidden rooms within room–becomes unrecognizable, decaying before their eyes. Stains are animated on the wall–contracting, expanding–and map themselves onto Julie's body in the form of bruises; mold spores taint the water that James pours from the sink. Together the couple embark on a panicked search for the source of their mutual torment, a journey that mires them in the history of their peculiar neighbors and the mysterious residents who lived in the house before."
---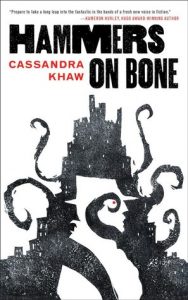 Hammers on Bone by Cassandra Khaw
HORROR KHAW
"John Persons is a private investigator with a distasteful job from an unlikely client. He's been hired by a ten-year-old to kill the kid's stepdad, McKinsey. The man in question is abusive, abrasive, and abominable. He's also a monster, which makes Persons the perfect thing to hunt him. Over the course of his ancient, arcane existence, he's hunted gods and demons, and broken them in his teeth. As Persons investigates the horrible McKinsey, he realizes that he carries something far darker. He's infected with an alien presence, and he's spreading that monstrosity far and wide. Luckily Persons is no stranger to the occult, being an ancient and magical intelligence himself. The question is whether the private dick can take down the abusive stepdad without releasing the holds on his own horrifying potential."
---
The Graveyard Apartment by Mariko Koike
HORROR KOIKE
"This tale of a young married couple who harbor a dark secret is packed with dread and terror, as they and their daughter move into a brand new apartment building built next to a graveyard. As strange and terrifying occurrences begin to pile up, people in the building start to move out one by one, until the young family is left alone with someone … or something … lurking in the basement."
---
The Ballad of Black Tom by Victor LaValle
HORROR LAVALLE
"When Charles Thomas Tester delivers an occult book to a reclusive sorceress in the heart of Queens, he opens a door to a deeper realm of magic, and earns the attention of things best left sleeping."
---
The Merry Spinster by Mallory Ortberg
HORROR ORTBERG
"A collection of darkly playful stories based on classic folk and fairy tales (but with a feminist spin) that find the sinister in the familiar and the familiar in the alien."
---
Lovecraft Country by Matt Ruff
HORROR RUFF
"Chicago, 1954. When his father Montrose goes missing Army veteran Atticus Turner embarks on a road trip to New England to find him, accompanied by his Uncle George, publisher of The Safe Negro Travel Guide, and his childhood friend Letitia. On their journey to the manor of Mr. Braithwhite, heir to the estate that owned one of Atticuss ancestors, they encounter both mundane terrors of white America and malevolent spirits that seem straight out of the weird tales George devours. At the manor Atticus discovers his father in chains, held prisoner by a secret cabal named the Order of the Ancient Dawn which has gathered to orchestrate a ritual that shockingly centers on Atticus."
---
Frankenstein in Baghdad by Amad Sadawi
HORROR SADAWI
"After he constructs a corpse from body parts found on the street, Hadi wants the government to prepare a proper burial, but when the corpse goes missing, a series of strange murders occur and Hadi realizes he has created a monster."
Happy reading!
—Katie, Adult Reference