Favorite Featured Titles: September 2017
It's time again…time to talk about some of the amazing books that were published in September!  Click on a cover or a title to place a hold.
Sleeping Beauties by Stephen King & Owen King
HORROR KING
"In a future so real and near it might be now, something happens when women go to sleep; they become shrouded in a cocoon-like gauze. If they are awakened, if the gauze wrapping their bodies is disturbed or violated, the women become feral and spectacularly violent; and while they sleep they go to another place. The men of our world are abandoned, left to their increasingly primal devices. One woman, however, the mysterious Evie, is immune to the blessing or curse of the sleeping disease. Is Evie a medical anomaly to be studied, or is she a demon who must be slain? Set in a small Appalachian town whose primary employer is a women's prison, Sleeping Beauties is wildly provocative and gloriously absorbing."
---
Bluebird, Bluebird by Attica Locke
MYSTERY LOCKE
"When it comes to law and order, East Texas plays by its own rules–a fact that Darren Mathews, a black Texas Ranger, knows all too well. Deeply ambivalent about growing up black in the lone star state, he was the first in his family to get as far away from Texas as he could. Until duty called him home. When his allegiance to his roots puts his job in jeopardy, he travels up Highway 59 to the small town of Lark, where two murders–a black lawyer from Chicago and a local white woman–have stirred up a hornet's nest of resentment. Darren must solve the crimes–and save himself in the process–before Lark's long-simmering racial fault lines erupt. A rural noir suffused with the unique music, color, and nuance of East Texas, Bluebird, Bluebird is an exhilarating, timely novel about the collision of race and justice in America."
---
Genuine Fraud by e. Lockhart
YA FICTION LOCKHART
"Imogen is a runaway heiress, an orphan, a cook, and a cheat. Jule is a fighter, a social chameleon, and an athlete.  An intense friendship. A disappearance. A murder, or maybe two. A bad romance, or maybe three. Blunt objects, disguises, blood, and chocolate. The American dream, superheroes, spies, and villains.  A girl who refuses to give people what they want from her. A girl who refuses to be the person she once was. The story of a young woman whose diabolical smarts are her ticket into a charmed life. But how many times can someone reinvent themselves? You be the judge."
---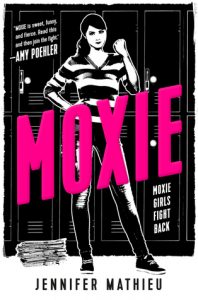 Moxie by Jennifer Mathieu
YA FICTION MATHIEU
"Vivian Carter is fed up. Fed up with her small-town Texas high school that thinks the football team can do no wrong. Fed up with sexist dress codes and hallway harassment. But most of all, Viv Carter is fed up with always following the rules. Viv's mom was a punk rock Riot Grrrl in the '90s, so now Viv takes a page from her mother's past and creates a feminist zine that she distributes anonymously to her classmates. She's just blowing off steam, but other girls respond. Pretty soon Viv is forging friendships with other young women across the divides of cliques and popularity rankings, and she realizes that what she has started is nothing short of a girl revolution."
---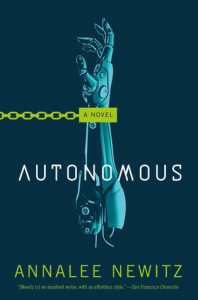 Autonomous by Annalee Newitz
SCIENCE FICTION NEWITZ
"Earth, 2144. Jack is an anti-patent scientist turned drug pirate, traversing the world in a submarine as a pharmaceutical Robin Hood, fabricating cheap scrips for poor people who can't otherwise afford them. But her latest drug hack has left a trail of lethal overdoses as people become addicted to their work, doing repetitive tasks until they become unsafe or insane. Hot on her trail, an unlikely pair: Eliasz, a brooding military agent, and his robotic partner, Paladin. As they race to stop information about the sinister origins of Jack's drug from getting out, they begin to form an uncommonly close bond that neither of them fully understand. And underlying it all is one fundamental question: Is freedom possible in a culture where everything, even people, can be owned?"
---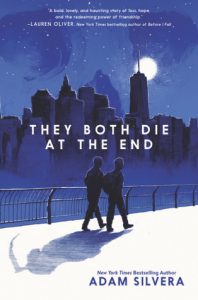 They Both Die at the End by Adam Silvera
YA FICTION SILVERA
"In a near-future New York City where a service alerts people on the day they will die, teenagers Mateo Torrez and Rufus Emeterio meet using the Last Friend app and are faced with the challenge of living a lifetime on their End Day."
---
Sing, Unburied Sing by Jesmyn Ward
FICTION WARD
"Jojo and his toddler sister, Kayla, live with their grandparents, Mam and Pop, and the occasional presence of their drug-addicted mother, Leonie, on a farm on the Gulf Coast of Mississippi. Leonie is simultaneously tormented and comforted by visions of her dead brother, which only come to her when she's high; Mam is dying of cancer; and quiet, steady Pop tries to run the household and teach Jojo how to be a man. When the white father of Leonie's children is released from prison, she packs her kids and a friend into her car and sets out across the state for Parchman farm, the Mississippi State Penitentiary, on a journey rife with danger and promise."
Happy reading!
—Katie, Adult Reference