Favorite Featured Titles of October
Trying to sift through the list of newly ordered materials?  Take a look at some of our favorite picks for the month of October!  Click on any of the covers to place a hold, and click here to check out our new-title round up from September.
The Mothers by Brit Bennett
FICTION BENNETT
"A dazzling debut novel from an exciting new voice, The Mothers is a surprising story about young love, a big secret in a small community–and the things that ultimately haunt us most"– Provided by publisher.
---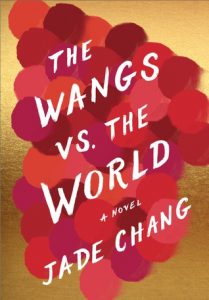 The Wangs vs. the World by Jade Chang
FICTION CHANG
"A hilarious debut novel about a wealthy but fractured Chinese immigrant family that had it all, only to lose every last cent–and about the road trip they take across America that binds them back together. Outrageously funny and full of charm, The Wangs vs. the World is an entirely fresh look at what it means to belong in America–and how going from glorious riches to (still name-brand) rags brings one family together in a way money never could"– Provided by publisher.
---
MYSTERY FRENCH
"Being on the Murder squad is nothing like Detective Antoinette Conway dreamed it would be. Her partner, Stephen Moran, is the only person who seems glad she's there. The rest of her working life is a stream of thankless cases, vicious pranks, and harassment. Antoinette is savagely tough, but she's getting close to the breaking point. Their new case looks like yet another by-the-numbers lovers' quarrel gone bad. Aislinn Murray is blond, pretty, groomed to a shine, and dead in her catalogue-perfect living room, next to a table set for a romantic dinner. There's nothing unusual about her–except that Antoinette's seen her somewhere before. Other detectives are trying to push Antoinette and Steve into arresting Aislinn's boyfriend, fast. There's a shadowy figure at the end of Antoinette's road. Aislinn's friend is hinting that she knew Aislinn was in danger. And everything they find out about Aislinn takes her further from the glossy, passive doll she seemed to be." — Provided by publisher
---
IQ by Joe Ide
MYSTERY IDE
East Long Beach. The LAPD is barely keeping up with the neighborhood's high crime rate. Murders go unsolved, lost children unrecovered. But someone from the neighborhood has taken it upon himself to help solve the cases the police can't or won't touch. They call him IQ. He's a loner and a high school dropout, his unassuming nature disguising a relentless determination and a fierce intelligence. He charges his clients whatever they can afford, which might be a set of tires or a homemade casserole. To get by, he's forced to take on clients that can pay. This time, it's a rap mogul whose life is in danger. As Isaiah investigates, he encounters a vengeful ex-wife, a crew of notorious cutthroats, a monstrous attack dog, and a hit man who even other hit men say is a lunatic. The deeper Isaiah digs, the more far reaching and dangerous the case becomes"– Provided by publisher.
---
News of the World by Paulette Jiles
FICTION JILES
"In the aftermath of the Civil War, an aging itinerant news reader agrees to transport a young captive of the Kiowa back to her people in this exquisitely rendered, morally complex, multilayered novel of historical fiction that explores the boundaries of family, responsibility, honor, and trust." –Provided by publisher
---
Small Great Things by Jodi Picoult
FICTION PICOULT
"A woman and her husband admitted to a hospital to have a baby requests that their nurse be reassigned – they are white supremacists and don't want Ruth, who is black, to touch their baby. The hospital complies, but the baby later goes into cardiac distress when Ruth is on duty. She hesitates before rushing in to perform CPR. When her indecision ends in tragedy, Ruth finds herself on trial, represented by a white public defender who warns against bringing race into a courtroom. As the two come to develop a truer understanding of each other's lives, they begin to doubt the beliefs they each hold most dear"– Provided by publisher.
---
You Can't Touch My Hair: And Other Things I Still Have to Explain by Phoebe Robinson
B ROB
"Phoebe Robinson is a stand-up comic, which means that comedic fodder runs through her everyday life. And as a black woman in America, she asserts, sometimes you need to have a sense of humor to deal with the nonsense you are handed every day. And Robinson has experienced her fair share over the years, not lest the people who ask her whether they can touch her hair. All. The. Time. Now, she's ready to take these topics to the page. As personal as it is political, You Can't Touch My Hair is an utterly modern essay collection: one that examines our cultural climate and skewers our biases." –Provided by publisher
---
Today Will Be Different by Maria Semple
FICTION SEMPLE
"Eleanor knows she's a mess. But today, she will tackle the little things. She will shower and get dressed. She will have her poetry and yoga lessons after dropping off her son, Timby. She won't swear. She will initiate sex with her husband, Joe. But before she can put her modest plan into action–life happens. Today, it turns out, is the day Timby has decided to fake sick to weasel his way into his mother's company. It's also the day Joe has chosen to tell his office–but not Eleanor–that he's on vacation. Just when it seems like things can't go more awry, an encounter with a former colleague produces a graphic memoir whose dramatic tale threatens to reveal a buried family secret. A hilarious, heart-filled story about reinvention, sisterhood, and how sometimes it takes facing up to our former selves to truly begin living." –Provided by publisher
---
Another Day in the Death of America: A Chronicle of Ten Short Lives by Gary Younge
303.6083 YOUNGE
On an average day in America, seven children and teens will be shot dead. In Another Day in the Death of America, award-winning journalist Gary Younge tells the stories of the lives lost during one such day. Black, white, and Latino, aged nine to nineteen, they fell at sleepovers, on street corners, in stairwells, and on their own doorsteps. From the rural Midwest to the barrios of Texas, the narrative crisscrosses the country over a period of twenty-four hours to reveal the full human stories behind the gun-violence statistics and the briefmentions in local papers of lives lost. This powerful and moving work puts a human face–a child's face–on the "collateral damage" of gun deaths across the country. This is not a book about gun control, but about what happens in a country where it does not exist. What emerges in these pages is a searing and urgent portrait of youth, family, and firearms in America today.
Happy reading!
—Katie, Adult Reference