Favorite Featured Titles: October 2017
Every month, we post a selected list of books published that month that may have slipped under our readers' radars. Normally we keep the lists to around 10 books or so, but this month, there are just so many exciting books that we're sharing over 15 new titles published in the month of October alone! Click on a cover or a title to place a hold!
Before the Devil Breaks You by Libba Bray
YA FICTION BRAY
"The Diviners face ghosts that are haunting an asylum and wreaking havoc all over New York City, forgotten ones with dangerous ties to the King of Crows." – Part 3 in The Diviners series
---
We Were Eight Years in Power: An American Tragedy by Ta-Nehisi Coates
973.932 COATES
" 'We were eight years in power' was the lament of Reconstruction-era black politicians as the American experiment in multiracial democracy ended with the return of white supremacist rule in the South. In this sweeping collection of new and selected essays, Ta-Nehisi Coates explores the tragic echoes of that history in our own time: the unprecedented election of a black president followed by a vicious backlash that fueled the election of the man Coates argues is America's 'first white president.' But the story of these present-day eight years is not just about presidential politics. This book also examines the new voices, ideas, and movements for justice that emerged over this period—and the effects of the persistent, haunting shadow of our nation's old and unreconciled history."
---
The Last Mrs. Parrish by Liv Constantine
MYSTERY CONSTANT
"Amber Patterson is fed up. She's tired of being a nobody: a plain, invisible woman who blends into the background. She deserves more— a life of money and power like the one blond-haired, blue-eyed goddess Daphne Parrish takes for granted. To everyone in the exclusive town of Bishops Harbor, Connecticut, Daphne— a socialite and philanthropist— and her real-estate mogul husband, Jackson, are a couple straight out of a fairy tale. Amber's envy could eat her alive… if she didn't have a plan. Amber uses Daphne's compassion and caring to insinuate herself into the family's life— the first step in a meticulous scheme to undermine her. Before long, Amber is Daphne's closest confidante, traveling to Europe with the Parrishes and their lovely young daughters, and growing closer to Jackson. But a skeleton from her past may undermine everything that Amber has worked towards, and if it is discovered, her well-laid plan may fall to pieces."
---
From Here to Eternity: Traveling the World to Find the Good Death by Caitlin Doughty
363.75 DOUGHTY
"Describes death customs and rituals from around the world, exploring how they compare to the impersonal American system and how mourners respond best when they participate in caring for the deceased."
---
Turtles All the Way Down by John Green
YA FICTION GREEN
"It all begins with a fugitive billionaire and the promise of a cash reward. Turtles All the Way Down is about lifelong friendship, the intimacy of an unexpected reunion, Star Wars fan fiction, and tuatara. But at its heart is Aza Holmes, a young woman navigating daily existence within the ever-tightening spiral of her own thoughts."
---
Strange Weather by Joe Hill
HORROR HILL
"A collection of four chilling novels, ingeniously wrought gems of terror from the brilliantly imaginative, number one New York Times bestselling author of The Fireman, Joe Hill. "Snapshot" is the disturbing story of a Silicon Valley adolescent who finds himself threatened by "The Phoenician," a tattooed thug who possesses a Polaroid Instant Camera that erases memories, snap by snap. A young man takes to the skies to experience his first parachute jump. . . and winds up a castaway on an impossibly solid cloud, a Prospero's island of roiling vapor that seems animated by a mind of its own in "Aloft." On a seemingly ordinary day in Boulder, Colorado, the clouds open up in a downpour of nails–splinters of bright crystal that shred the skin of anyone not safely under cover. "Rain" explores this escalating apocalyptic event, as the deluge of nails spreads out across the country and around the world. In "Loaded," a mall security guard in a coastal Florida town courageously stops a mass shooting and becomes a hero to the modern gun rights movement. But under the glare of the spotlights, his story begins to unravel, taking his sanity with it. When an out-of-control summer blaze approaches the town, he will reach for the gun again and embark on one last day of reckoning."
---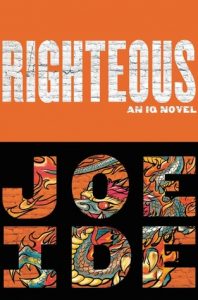 Righteous by Joe Ide
MYSTERY IDE
"Isaiah Quintabe has, against many odds, built a proper life for himself: a respected detective in his hometown of East Long Beach, a well-kept home, a growing library, and even a rehabilitated horse-sized pit bull (courtesy of his previous client). But something is wrong: the death of his older brother nearly a decade ago has sent him down a dark path, one that he's never truly been able to escape. Righteous is the story of Isaiah's investigation of his brother's death, a quest that will lead him to his greatest adversary, a man who may be IQ's own Moriarty. Righteous is also the story of Sarita, Isaiah's older brother's girlfriend, for whom Isaiah feels a lasting, troubling love. Sarita's younger sister, an erratic DJ and gambling addict, has gone missing in Las Vegas, with a frightening bookie, Chinese Triad gangsters, and her own deadbeat boyfriend hot on her tail. On the case once more with Dodson, Isaiah's fast-talking, don't-call-me-a-sidekick partner, mayhem is sure to ensue." – Part 2 in the IQ series
---
Endurance: A Year in Space, a Lifetime of Discovery by Scott Kelly
B KEL
"The veteran of four space flights and the American record holder for consecutive days spent in space, Scott Kelly has experienced things very few have. Now, he takes us inside a sphere utterly inimical to human life. He describes navigating the extreme challenge of long-term spaceflight, both existential and banal: the devastating effects on the body; the isolation from everyone he loves and the comforts of Earth; the pressures of constant close cohabitation; the catastrophic risks of depressurization or colliding with space junk, and the still more haunting threat of being unable to help should tragedy strike at home"
---
An American Family: A Memoir of Hope and Sacrifice by Khizr Khan
B KHA
"This inspiring memoir by the Muslim American Gold Star father and captivating DNC speaker is the story of one family's pursuit of the American dream. In this urgent and timeless immigrant story, we learn that Khizr Khan has been many things. He was the oldest of ten children born to farmers in Pakistan, and a curious and thoughtful boy who listened rapt as his grandfather recited Rumi beneath the moonlight. He was a university student who read the Declaration of Independence and was awestruck by what might be possible in life. He was a hopeful suitor, awkwardly but earnestly trying to win the heart of a woman far out of his league. He was a brilliant and diligent young family man who worked two jobs to save enough money to put himself through Harvard Law School. He was a loving father who, having instilled in his children the ideals that brought him and his wife to America–the sense of shared dignity and mutual responsibility–tragically lost his son, an Army captain killed while protecting his base camp in Iraq. He was and is a patriot, and a fierce advocate for the rights, dignities, and values enshrined in the American system."
---
Her Body and Other Parties by Carmen Maria Machado
FICTION MACHADO
"Carmen Maria Machado blithely demolishes the borders between psychological realism and science fiction, comedy and horror, fantasy and fabulism. She bends genres to shape startling stories that map the realities of women's lives and the violence visited upon their bodies."
---
Code Girls: The Untold Story of the American Women Code Breakers Who Helped Win World War II by Liza Mundy
940.5486 MUNDY
"Recruited by the U.S. Army and Navy from small towns and elite colleges, more than ten thousand women served as codebreakers during World War II. While their brothers and boyfriends took up arms, these women moved to Washington and learned the meticulous work of code-breaking. Their efforts shortened the war, saved countless lives, and gave them access to careers previously denied to them."
---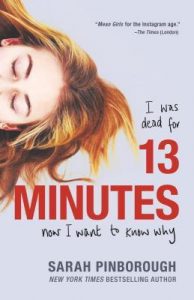 13 Minutes by Sarah Pinborough
YA FICTION PINBOROU
"They say you should keep your friends close and your enemies closer, but when you're a teenage girl, it's hard to tellthem apart. Natasha doesn't remember how she ended up in the icy water that night, but she does know this–it wasn't an accident, and she wasn't suicidal. Her two closest friends are acting strangely, and Natasha turns to Becca, the best friend she dumpedyears before when she got popular, to help her figure out what happened. Natasha's sure that her friends love her. But does that mean they didn't try to kill her?"
---
Long Way Down by Jason Reynolds
YA FICTION REYNOLDS
"As Will, fifteen, sets out to avenge his brother Shawn's fatal shooting, seven ghosts who knew Shawn board the elevator and reveal truths Will needs to know."
---
I Am Not Your Perfect Mexican Daughter by Erika L. Sanchez
YA FICTION SANCHEZ
"Perfect Mexican daughters do not go away to college. And they do not move out of their parents' house after high school graduation. Perfect Mexican daughters never abandon their family. But Julia is not your perfect Mexican daughter. That was Olga's role. Then a tragic accident on the busiest street in Chicago leaves Olga dead and Julia left behind to reassemble the shattered pieces of her family. And no one seems to acknowledge that Julia is broken, too. Instead, her mother seems to channel her grief into pointing out every possible way Julia has failed."
---
Dear Martin by Nic Stone
YA FICTION STONE
"Writing letters to the late Dr. Martin Luther King Jr., seventeen-year-old college-bound Justyce McAllister struggles to face the reality of race relations today and how they are shaping him."
---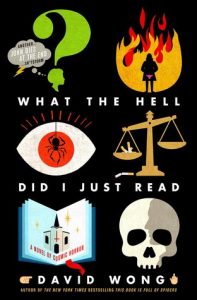 What the Hell Did I Just Read? by David Wong
HORROR WONG
"It's the story "They" don't want you to read. Though, to be fair, "They" are probably right about this one. To quote the Bible, "Learning the truth can be like loosening a necktie, only to realize it was the only thing keeping your head attached." No, don't put the book back on the shelf — it is now your duty to purchase it to prevent others from reading it. Yes, it works with e-books, too, I don't have time to explain how. While investigating a fairly straightforward case of a shape-shifting interdimensional child predator, Dave, John and Amy realized there might actually be something weird going on. Together, they navigate a diabolically convoluted maze of illusions, lies, and their own incompetence in an attempt to uncover a terrible truth they — like you — would be better off not knowing. Your first impulse will be to think that a story this gruesome — and, to be frank, stupid — cannot possibly be true. That is precisely the reaction "They" are hoping for." – Part 3 in the John Dies at the End series
Happy reading!
—Katie, Adult Reference
Save
Save
Save