Favorite Featured Titles – November 2016
The post may be a couple days late, but the books are still awesome!  Check out our list of titles published in November to keep on your radar:
Faithful by Alice Hoffman
FICTION HOFFMAN
"Shelby Richmond loves Chinese food, bookstores, and cocky, bad-boy types, so maybe her move from Long Island to New York City makes sense. But she's still a lost soul, circling around others like her, because as a teenager she walked away unscathed from an accident that tragically changed the course of her best friend's life. She's since been shaped by survivor's guilt, but perhaps somewhere, somehow, someone is watching over her." — Provided by publisher.
---
The Fate of the Tearling by Erika Johansen
FANTASY JOHANSEN
"In less than a year, Kelsea Glynn has transformed from a gawky teenager into a powerful monarch. As she has come into her own as the Queen of the Tearling, the headstrong, visionary leader has also transformed her realm. In her quest to end corruption and restore justice, she has made many enemies—including the evil Red Queen, her fiercest rival, who has set her armies against the Tear. To protect her people from a devastating invasion, Kelsea did the unthinkable—she gave herself and her magical sapphires to her enemy—and named the Mace, the trusted head of her personal guards, regent in her place. But the Mace will not rest until he and his men rescue their sovereign, imprisoned in Mortmesne. Now, as the suspenseful endgame begins, the fate of Queen Kelsea—and the Tearling itself—will finally be revealed." — Provided by publisher.
---
Scrappy Little Nobody by Anna Kendrick
B KEN
"With her razor-sharp wit, Anna recounts the absurdities she's experienced on her way to and from the heart of pop culture as only she can—from her unusual path to the performing arts (Vanilla Ice and baggy neon pants may have played a role) to her double life as a middle-school student who also starred on Broadway to her initial "dating experiments" (including only liking boys who didn't like her back) to reviewing a binder full of butt doubles to her struggle to live like an adult woman instead of a perpetual "man-child." Enter Anna's world and follow her rise from "scrappy little nobody" to somebody who dazzles on the stage, the screen, and now the page—with an electric, singular voice, at once familiar and surprising, sharp and sweet, funny and serious (well, not that serious)." — Provided by publisher.
---
I'll Take You There by Wally Lamb
FICTION LAMB
"Felix, a film scholar, runs a Monday night movie club in what was once a vaudeville theater. One evening, while setting up a film in the projectionist booth, hes confronted by the ghost of Lois Weber, a trailblazing motion picture director from Hollywoods silent film era. Lois invites Felix to revisitand in some cases relivescenes from his past as they are projected onto the cinemas big screen. In these magical movies, the medium of film becomes the lens for Felix to reflect on the women who profoundly impacted his life." —  Provided by publisher.
---
Born a Crime: Stories of a South African Childhood by Trevor Noah
B NOA
"Trevor Noah's unlikely path from apartheid South Africa to the desk of The Daily Show began with a criminal act: his birth. Trevor was born to a white Swiss father and a black Xhosa mother at a time when such a union was punishable by five years in prison. Living proof of his parents' indiscretion, Trevor was kept mostly indoors for the earliest years of his life, bound by the extreme and often absurd measures his mother took to hide him from a government that could, at any moment, steal him away. Finally liberated by the end of South Africa's tyrannical white rule, Trevor and his mother set forth on a grand adventure, living openly and freely and embracing the opportunities won by a centuries-long struggle. Born a Crime is the story of a mischievous young boy who grows into a restless young man as he struggles to find himself in a world where he was never supposed to exist. It is also the story of that young man's relationship with his fearless, rebellious, and fervently religious mother–his teammate, a woman determined to save her son from the cycle of poverty, violence, and abuse that would ultimately threaten her own life." – Provided by publisher.
---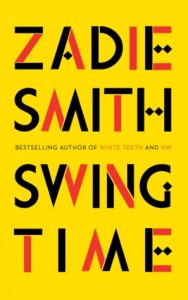 Swing Time by Zadie Smith
FICTION SMITH
"Two brown girls dream of being dancers–but only one, Tracey, has talent. The other has ideas: about rhythm and time, about black bodies and black music, what constitutes a tribe, or makes a person truly free. Tracey makes it to the chorus line but struggles with adult life, while her friend leaves the old neighborhood behind, traveling the world as an assistant to a famous singer, Aimee, observing close up how the one percent live. But when Aimee develops grand philanthropic ambitions, the story moves from London to West Africa, where diaspora tourists travel back in time to find their roots, young men risk their lives to escape into a different future, the women dance just like Tracey–the same twists, the same shakes–and the origins of a profound inequality are not a matter of distant history, but a present dance to the music of time"– Provided by publisher.
---
The Sun is Also a Star by Nicola Yoon
YA FICTION YOON
"Natasha is a girl who believes in science and facts. Daniel has always been a good son and good student. But when he sees Natasha he forgets all that and believes there is something extraordinary in store for both of them." — Provided by publisher.
Happy reading!
—Katie, Adult Reference
Save