Favorite Featured Titles: March 2017
The new books just keep coming!  Check out the new titles published this month, and click on a cover or a title to place a hold!
All Grown Up by Jami Attenberg
FICTION ATTENBER
"Who is Andrea Bern? When her therapist asks the question, Andrea knows the right things to say: she's a designer, a friend, a daughter, a sister. But it's what she leaves unsaid—she's alone, a drinker, a former artist, a shrieker in bed, captain of the sinking ship that is her flesh—that feels the most true. Everyone around her seems to have an entirely different idea of what it means to be an adult: her best friend, Indigo, is getting married; her brother—who miraculously seems unscathed by their shared tumultuous childhood—and sister-in-law are having a hoped-for baby; and her friend Matthew continues to wholly devote himself to making dark paintings at the cost of being flat broke. But when Andrea's niece finally arrives, born with a heartbreaking ailment, the Bern family is forced to reexamine what really matters. Will this drive them together or tear them apart?"
---
The Bone Witch by Rin Chupeco
TEEN CHUPECO
"Tea's gift for death magic means that she is a bone witch, a title that makes her feared and ostracized by her community, but when an older bone witch trains her to become an asha–one who can wield elemental magic–Tea will have to overcome her obstacles and make a powerful choice in the face of danger as dark forces approach."
---
The Stranger in the Woods: The Extraordinary Story of the Last True Hermit by Michael Finkel
B KNI
"In 1986, twenty-year-old Christopher Knight left his home in Massachusetts, drove to Maine, and disappeared into the woods. He would not have a conversation with another human being until nearly three decades later when he was arrested for stealing food. Living in a tent even in winter, he had survived by his wits and courage, developing ingenious ways to store food and water, to avoid freezing to death. He broke into nearby cottages for food, clothes, reading material, and other provisions, taking only what he needed, but terrifying a community never able to solve the mysterious burglaries. Based on extensive interviews with Knight himself, this is a vividly detailed account of the why and how of his secluded life–as well as the challenges he has faced returning to the world."
---
Exit West by Mohsin Hamid
FICTION HAMID
" In a country teetering on the brink of civil war, two young people meet–sensual, fiercely independent Nadia and gentle, restrained Saeed. They embark on a furtive love affair, thrust into premature intimacy by the unrest roiling their city. When it explodes, turning familiar streets into a patchwork of checkpoints and bomb blasts, they begin to hear whispers about doors–doors that can whisk people far away, if perilously and for a price. As violence and the threat of violence escalate, Nadia and Saeed decide that they no longer have a choice. Leaving their homeland and their old lives behind, they find a door and step through."
---
The Wanderers by Meg Howrey
SCIENCE FICTION HOWREY
"In four years Prime Space will put the first humans on Mars. Helen Kane, Yoshi Tanaka, and Sergei Kuznetsov must prove they're the crew for the job by spending seventeen months in the most realistic simulation ever created. Retired from NASA, Helen had not trained for irrelevance. It is nobody's fault that the best of her exists in space, but her daughter can't help placing blame. The MarsNOW mission is Helen's last chance to return to the only place she's ever truly felt at home. For Yoshi, it's an opportunity to prove himself worthy of the wife he has loved absolutely, if not quite rightly. Sergei is willing to spend seventeen months in a tin can if it means travelling to Mars. He will at least be tested past the point of exhaustion, and this is the example he will set for his sons. As the days turn into months the line between what is real and unreal becomes blurred, and the astronauts learn that the complications of inner space are no less fraught than those of outer space."
---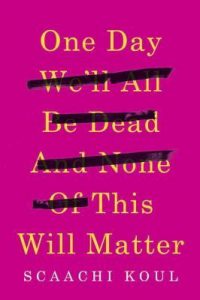 One Day We'll All Be Dead and None of This Will Matter by Scaachi Koul
"In One Day We'll All Be Dead and None of This Will Matter, Scaachi Koul deploys her razor-sharp humor to share all the fears, outrages, and mortifying moments of her life. She learned from an early age what made her miserable, and for Scaachi anything can be cause for despair. Whether it's a shopping trip gone awry; enduring awkward conversations with her bikini waxer; overcoming her fear of flying while vacationing halfway around the world; dealing with Internet trolls, or navigating the fears and anxieties of her parents. Alongside these personal stories are pointed observations about life as a woman of color: where every aspect of her appearance is open for critique, derision, or outright scorn; where strict gender rules bind in both Western and Indian cultures, leaving little room for a woman not solely focused on marriage and children to have a career (and a life) for herself."
---
Edgar and Lucy by Victor Lodato
FICTION LODATO
"Eight-year-old Edgar Fini remembers nothing of the accident people still whisper about. He only knows that his father is gone, his mother has a limp, and his grandmother believes in ghosts. When Edgar meets a man with his own tragic story, the boy begins a journey into a secret wilderness where nothing is clear: not even the line between the living and the dead. In order to save her son, Lucy has no choice but to confront the demons of her past."
---
The Inexplicable Logic of My Life by Benjamin Alire Saenz
YA FICTION SAENZ
"A story set on the American border with Mexico, about family and friendship, life and death, and one teen struggling to understand what his adoption does and doesn't mean about who he is."
---
The Tea Girl of Hummingbird Lane by Lisa See
FICTION SEE
"A thrilling new novel from #1 New York Times bestselling author Lisa See explores the lives of a Chinese mother and her daughter who has been adopted by an American couple. A powerful story about a family, separated by circumstances, culture, and distance, Tea Girl of Hummingbird Lane paints an unforgettable portrait of a little known region and its people and celebrates the bond that connects mothers and daughters."
Happy reading!
—Katie, Adult Reference
Save
Save
Save
Save