Favorite Featured Titles: June 2017
There were some fantastic books published this month!  Here are 10 titles to put on your reading radar – click on a cover or a title to place a hold.
You Don't Have to Say You Love Me by Sherman Alexie
B ALE
"Family relationships are never simple. But Sherman Alexie's bond with his mother Lillian was more complex than most. She plunged her family into chaos with a drinking habit, but shed her addiction when it was on the brink of costing her everything. She survived a violent past, but created an elaborate facade to hide the truth. She selflessly cared for strangers, but was often incapable of showering her children with the affection that they so desperately craved. It's these contradictions that made Lillian Alexie a beautiful, mercurial, abusive, intelligent, complicated, and very human woman. When she passed away, the incongruities that defined his mother shook Sherman and his remembrance of her. Grappling with the haunting ghosts of the past, he responded the only way he knew how: he wrote. The result is a stunning memoir filled with raw, angry, funny, profane, tender memories of a childhood few can imagine, much less survive."
---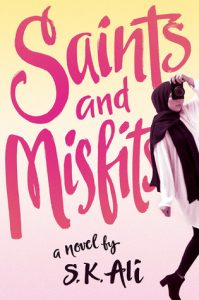 Saints & Misfits by S.K. Ali
YA FICTION ALI
"Fifteen-year-old Janna Yusuf, a Flannery O'Connor-obsessed book nerd and the daughter of the only divorced mother at their mosque, tries to make sense of the events that follow when her best friend's cousin–a holy star in the Muslim community–attempts to assault her at the end of sophomore year."
---
Dragon Teeth by Michael Crichton
FICTION CRICHTON
"The year is 1876. Warring Indian tribes still populate America's western territories even as lawless gold-rush towns begin to mark the landscape. In much of the country it is still illegal to espouse evolution. Against this backdrop two monomaniacal paleontologists pillage the Wild West, hunting for dinosaur fossils, while surveilling, deceiving and sabotaging each other in a rivalry that will come to be known as the Bone Wars."
---
Hunger: A Memoir of (My) Body by Roxane Gay
B GAY
"Roxane Gay has written with intimacy and sensitivity about food and bodies, using her own emotional and psychological struggles as a means of exploring our shared anxieties over pleasure, consumption, appearance, and health. As a woman who describes her own body as "wildly undisciplined," Roxane understands the tension between desire and denial, between self-comfort and self-care. In Hunger, she casts an insightful and critical eye on her childhood, teens, and twenties—including the devastating act of violence that acted as a turning point in her young life—and brings readers into the present and the realities, pains, and joys of her daily life. With the bracing candor, vulnerability, and authority that have made her one of the most admired voices of her generation, Roxane explores what it means to be overweight in a time when the bigger you are, the less you are seen."
---
The Magpie Murders by Anthony Horowitz
MYSTERY HOROWITZ
"When editor Susan Ryeland is given the manuscript of Alan Conways latest novel, she has no reason to think it will be much different from any of his others. After working with the bestselling crime writer for years, shes intimately familiar with his detective, Atticus P d, who solves mysteries disturbing sleepy English villages. An homage to queens of classic British crime such as Agatha Christie and Dorothy Sayers, Alans traditional formula has proved hugely successful. So successful that Susan must continue to put up with his troubling behavior if she wants to keep her job."
---
Down Among the Sticks and Bones by Seanan McGuire
FANTASY MCGUIRE
"Twin sisters Jack and Jill were seventeen when they found their way home and were packed off to Eleanor West's Home for Wayward Children. This is the story of what happened first… Jacqueline was her mother's perfect daughter―polite and quiet, always dressed as a princess. If her mother was sometimes a little strict, it's because crafting the perfect daughter takes discipline. Jillian was her father's perfect daughter―adventurous, thrill-seeking, and a bit of a tom-boy. He really would have preferred a son, but you work with what you've got. They were five when they learned that grown-ups can't be trusted. They were twelve when they walked down the impossible staircase and discovered that the pretense of love can never be enough to prepare you for a life filled with magic in a land filled with mad scientists and death and choices.  The sequel to Every Heart a Doorway.
---
The Ministry of Utmost Happiness by Arundhati Roy
FICTION ROY
" In a graveyard outside the walls of Old Delhi, a resident unrolls a threadbare Persian carpet. On a concrete sidewalk, a baby suddenly appears, just after midnight. In a snowy valley, a bereaved father writes a letter to his five-year-old daughter about the people who came to her funeral. In a second-floor apartment, a lone woman chain-smokes as she reads through her old notebooks. At the Jannat Guest House, two people who have known each other all their lives sleep with their arms wrapped around each other, as though they have just met. A braided narrative of astonishing force and originality, The Ministry of Utmost Happiness is at once a love story and a provocation–a novel as inventive as it is emotionally engaging."
---
Our Dark Duet by Victoria Schwab
YA FICTION SCHWAB
"Kate Harker is a girl who isn't afraid of the dark. She's a girl who hunts monsters. And she's good at it. August Flynn is a monster who can never be human, no matter how much he once yearned for it. He has a part to play. And he will play it, no matter the cost. Nearly six months after Kate and August were first thrown together, the war between the monsters and the humans is a terrifying reality. In Verity, August has become the leader he never wished to be, and in Prosperity, Kate has become the ruthless hunter she knew she could be. When a new monster emerges from the shadows–one who feeds on chaos and brings out its victim's inner demons–it lures Kate home, where she finds more than she bargained for. She'll face a monster she thought she killed, a boy she thought she knew, and a demon all her own.  The sequel to This Savage Song."
---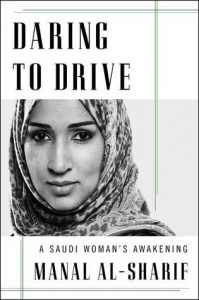 Daring to Drive: A Saudi Woman's Awakening by Manal al-Sharif
B SHA
"Manal al-Sharif grew up in Mecca the second daughter of a taxi driver, born the year fundamentalism took hold. In her adolescence, she was a religious radical, melting her brother's boy band cassettes in the oven because music was haram: forbidden by Islamic law. But what a difference an education can make. By her twenties she was a computer security engineer, one of few women working in a desert compound that resembled suburban America. That's when the Saudi kingdom's contradictions became too much to bear: she was labeled a slut for chatting with male colleagues, her teenage brother chaperoned her on a business trip, and while she kept a car in her garage, she was forbidden from driving down city streets behind the wheel. Daring to Drive is the fiercely intimate memoir of an accidental activist, a powerfully vivid story of a young Muslim woman who stood up to a kingdom of men–and won."
---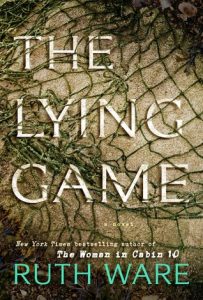 The Lying Game by Ruth Ware
MYSTERY WARE
"One morning, three women in and around London–Fatima, Thea, and Isabel–receive the text they had always hoped would NEVER come, from the fourth in their formerly inseparable clique, Kate, that says only, "I need you." The four girls were best friends at Salten, a second rate boarding school set near the cliffs of the English Channel. Each different in their own way, the four became inseparable and were notorious for playing the Lying Game, telling lies at every turn to both fellow boarders and faculty, with varying states of serious and flippant nature that were disturbing enough to ensure that everyone steered clear of them. The myriad and complicated rules of the game are strict: no lying to each other–ever. Bail on the lie when it becomes clear it is about to be found out. But their little game had consequences, and the girls were all expelled in their final year of school under mysterious circumstances surrounding the death of the school's eccentric art teacher, Ambrose (who also happens to be Kate's father)."
Happy reading!
—Katie, Adult Reference
Save
Save