Favorite Featured Titles: January 2018
It's a new year, and we have a fantastic bumper crop of books that came out this month! Click on a cover or a title to place a hold.
Love, Hate, and Other Filters by Samira Ahmed
YA FICTION AHMED
"Maya Aziz, seventeen, is caught between her India-born parents world of college and marrying a suitable Muslim boy and her dream world of film school and dating her classmate, Phil, when a terrorist attack changes her life forever."
---
The Immortalists by Chloe Benjamin
FICTION BENJAMIN
"It's 1969 in New York City's Lower East Side, and word has spread of the arrival of a mystical woman, a traveling psychic who claims to be able to tell anyone the day they will die. The Gold children–four adolescents on the cusp of self-awareness–sneak out to hear their fortunes. Their prophecies inform their next five decades."
---
The Monk of Mokha by Dave Eggers
"The exhilarating true story of a young Yemeni American man, raised in San Francisco, who dreams of resurrecting the ancient art of Yemeni coffee but finds himself trapped in Sana'a by civil war."
---
The Woman in the Window by A.J. Finn
MYSTERY FINN
"Anna Fox lives alone—a recluse in her New York City home, unable to venture outside. She spends her day drinking wine (maybe too much), watching old movies, recalling happier times . . . and spying on her neighbors. Then the Russells move into the house across the way: a father, a mother, their teenage son. The perfect family. But when Anna, gazing out her window one night, sees something she shouldn't, her world begins to crumble—and its shocking secrets are laid bare. What is real? What is imagined? Who is in danger? Who is in control?"
---
Truly Devious by Maureen Johnson
YA FICTION JOHNSON
"When Stevie Bell, an amateur detective, begins her first year at a famous private school in Vermont, she sets a plan to solve the cold case involving the kidnapping of the founder's wife and daughter shortly after the school opened."
---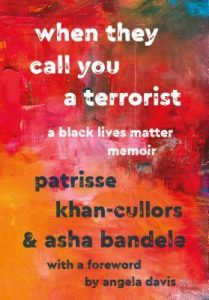 When They Call You a Terrorist: A Black Lives Matter Memoir by Patrisse Khan-Cullors
305.896 KHAN-CUL
"A memoir by the co-founder of the Black Lives Matter movement explains the movement's position of love, humanity, and justice, challenging perspectives that have negatively labeled the movement's activists while calling for essential political changes."
---
The Widows of Malabar Hill by Sujata Massey
MYSTERY MASSEY
"1920s India: Perveen Mistry, Bombay's first female lawyer, is investigating a suspicious will on behalf of three Muslim widows living in full purdah when the case takes a turn toward the murderous."
---
Before I Let Go by Marieke Nijkamp
YA FICTION NIJKAMP
"Returning to her small Alaska home town after her bipolar best friend's death, Corey uncovers chilling secrets about the townspeople and their treatment of Kyra prior to her drowning."
---
Red Clocks by Leni Zumas
FICTION ZUMAS
"In this ferociously imaginative novel, abortion is once again illegal in America, in-vitro fertilization is banned, and the Personhood Amendment grants rights of life, liberty, and property to every embryo. Five very different women navigate these new barriers alongside age-old questions surrounding motherhood, identity, and freedom."
Happy reading!
—Katie, Adult Reference