Favorite Featured Titles: February 2018
Here's a list of some of the awesome books published this month. Click on a cover or a title to place a hold!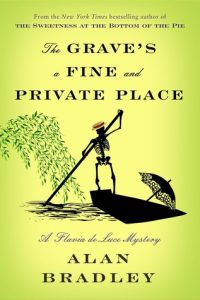 The Grave's a Fine and Private Place by Alan Bradley
MYSTERY BRADLEY
"In the wake of an unthinkable family tragedy, twelve-year-old Flavia de Luce is struggling to fill her empty days. For a needed escape, Dogger, the loyal family servant, suggests a boating trip for Flavia and her two older sisters. As their punt drifts past the church where a notorious vicar had recently dispatched three of his female parishioners by spiking their communion wine with cyanide, Flavia, an expert chemist with a passion for poisons, is ecstatic. Suddenly something grazes against her fingers as she dangles them in the water. She clamps down on the object, imagining herself as Ernest Hemingway battling a marlin, and pulls up what she expects will be a giant fish. But in Flavia's grip is something far better: a human head, attached to a human body."
---
The Belles by Dhonielle Clayton
YA FICTION CLAYTON
"Camellia Beauregard is a Belle. In the opulent world of Orleans, Belles are revered, for they control Beauty, and Beauty is a commodity coveted above all else. In Orleans, the people are born gray, they are born damned, and only with the help of a Belle and her talents can they transform and be made beautiful. But it's not enough for Camellia to be just a Belle. She wants to be the favorite, the Belle chosen by the Queen of Orleans. But once Camellia and her Belle sisters arrive at court, it becomes clear that being the favorite is not everything she always dreamed it would be…"
---
A Princess in Theory by Alyssa Cole
ROMANCE COLE
"Between grad school and multiple jobs, Naledi Smith doesn't have time for fairy tales…or patience for the constant e-mails claiming she's betrothed to an African prince. Sure. Right. Delete! As a former foster kid, she's learned that the only things she can depend on are herself and the scientific method, and a silly e-mail won't convince her otherwise. Prince Thabiso is the sole heir to the throne of Thesolo, shouldering the hopes of his parents and his people. At the top of their list? His marriage. Ever dutiful, he tracks down his missing betrothed. When Naledi mistakes the prince for a pauper, Thabiso can't resist the chance to experience life–and love–without the burden of his crown."
---
Eloquent Rage: A Black Feminist Discovers Her Superpower by Brittney Cooper
305.48 COOPER
"So what if it's true that Black women are mad as hell? They have the right to be. In the Black feminist tradition of Audre Lorde, Brittney Cooper reminds us that anger is a powerful source of energy that can give us the strength to keep on fighting."
---
The Lost Girls of Camp Forevermore by Kim Fu
FICTION FU
"A group of young girls descend on Camp Forevermore, a sleepaway camp in the Pacific Northwest, where their days are filled with swimming lessons, friendship bracelets, and camp songs by the fire. Filled with excitement and nervous energy, they set off on an overnight kayaking trip to a nearby island.But before the night is over, they find themselves stranded, with no adults to help them survive or guide them home. The Lost Girls of Camp Forevermore traces these five girls–Nita, Kayla, Isabel, Dina, and Siobhan–through and beyond this fateful trip."
---
Chicago by David Mamet
FICTION MAMET
"A big shouldered, big trouble thriller set in mobbed up 1920s Chicago–a city where some people knew too much, and where everyone should have known better."
---
I'll Be Gone in the Dark: One Woman's Obsessive Search for the Golden State Killer by Michelle McNamara
364.1523 MCNAMARA
"A masterful true crime account of the Golden State Killer–the elusive serial rapist turned murderer who terrorized California for over a decade–from Michelle McNamara, the gifted journalist who died tragically while investigating the case."
---
A False Report: A True Story of Rape in America by T. Christian Miller & Ken Armstrong
364.1532 MILLER
"Two Pulitzer Prize-winning journalists tell the riveting true story of Marie, a teenager who was charged with lying about having been raped, and the detectives who followed a winding path to arrive at the truth."
---
Gunpowder Moon by David Pedreia
SCIENCE FICTION PEDREIA
"A realistic and chilling vision of life on the Moon, where dust kills as easily as the vacuum of space…but murder is even quicker. A fast-paced, cinematic science fiction thriller, this debut novel combines the inventiveness of The Martian, the intrigue of The Expanse, and the thrills of Red Rising.
---
Feel Free: Essays by Zadie Smith
824.914 SMITH
"A collection of both previously unpublished works and classic essays includes discussions of recent cultural and political events, social networking, libraries, and the failure to address global warming."
---
Mister Tender's Girl by Carter Wilson
MYSTERY WILSON
"At fourteen, Alice Hill was viciously attacked by two of her classmates and left to die. The teens claim she was a sacrifice for a man called Mister Tender, but that could never be true: Mister Tender doesn't exist. His sinister character is pop-culture fiction, created by Alice's own father in a series of popular graphic novels. Over a decade later, Alice has changed her name and is trying to heal. But someone is watching her. They know more about Alice than any stranger could: her scars, her fears, and the secrets she keeps locked away. She can try to escape her past, but Mister Tender is never far behind. He will come with a smile that seduces, and a dark whisper in her ear."
Happy reading!
—Katie, Adult Reference