Favorite Featured Titles: February 2017
We've got a great list of books that were published this month.  Keep all of these on your radar, and make sure to click on a title to place a hold!
Universal Harvester by John Darnielle
HORROR DARNIELL
"Jeremy works at the Video Hut in Nevada, Iowa. This is the late 1990s, and even if the Hollywood Video in Ames poses an existential threat to Video Hut, there are still regular customers, a rush in the late afternoon. It"s good enough for Jeremy: it's a job, quiet and predictable, and it gets him out of the house. But when a local schoolteacher comes in to return her copy of Targets–an old movie, starring Boris Karloff, one Jeremy himself had ordered for the store–she has an odd complaint: "There's something on it," she says, but doesn't elaborate. Two days later, a different customer returns a different tape, a new release, and says it's not defective, exactly, but altered: "There's another movie on this tape." Jeremy doesn't want to be curious, but he brings the movies home to take a look. And, indeed, in the middle of each movie, the screen blinks dark for a moment and the movie is replaced by a few minutes of jagged, poorly lit home video. The scenes are odd and sometimes violent, dark, and deeply disquieting. There are no identifiable faces, no dialogue or explanation–the first video has just the faint sound of someone breathing– but there are some recognizable landmarks. These have been shot just outside of town…"
---
Things We Lost in the Fire by Mariana Enriquez
FICTION ENRIQUEZ
"Macabre, disturbing, and exhilarating, Things We Lost in the Fire is a collection of short stories that use fear and horror to explore multiple dimensions of life in contemporary Argentina. From women who set themselves on fire in protest of domestic violence; to a nine-year-old serial killer of babies; and from a girl who pulls out her nails and eyelids in the classroom, to hikikomori, abandoned houses, black magic, northern Argentinean superstition, disappearances, crushes, heartbreak, regret, and compassion, this is a strange, surreal, and unforgettable collection that asks vital questions of the world as we know it.
---
Norse Mythology by Neil Gaiman
299.13 GAIMAN
"Neil Gaiman has long been inspired by ancient mythology in creating the fantastical realms of his fiction. Now he presents his fashioning of the primeval Norse myths into a novel, which begins with the genesis of the legendary nine worlds, delves into the exploits of the deities, dwarves, and giants, and culminates in Ragnarok, the twilight of the gods and the rebirth of a new time and people. Gaiman stays true to the myths while vividly recreating the characters–the gods with their fiercely competitive natures, their susceptibility to being duped and to dupe others, and their tendency to let passion ignite their actions–and making these long-ago myths breathe pungent life again."
---
I See You by Clare Mackintosh
MYSTERY MACKINTO
"Every morning and evening, Zoe Walker takes the same route to the train station, waits at a certain place on the platform, finds her favorite spot in the car, never suspecting that someone is watching her… It all starts with a classified ad. During her commute home one night, while glancing through her local paper, Zoe sees her own face staring back at her, a grainy photo along with a phone number and listing for a website called findtheone.com. Other women begin appearing in the same ad, a different one every day, and Zoe realizes they've become the victims of increasingly violent crimes–including rape and murder. With the help of a determined cop, she uncovers the ad's twisted purpose…a discovery that turns her paranoia into full-blown panic. For now Zoe is sure that someone close to her has set her up as the next target. And now that man on the train–the one smiling at Zoe from across the car–could be more than just a friendly stranger. He could be someone who has deliberately chosen her and is ready to make his next move."
---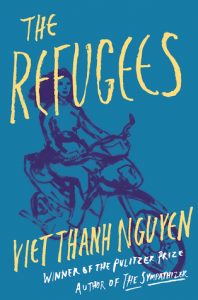 The Refugees by Viet Thanh Nguyen
FICTION NGUYEN
"In The Refugees, Viet Thanh Nguyen gives voice to lives led between two worlds, the adopted homeland and the country of birth. From a young Vietnamese refugee who suffers profound culture shock when he comes to live with two gay men in San Francisco, to a woman whose husband is suffering from dementia and starts to confuse her for a former lover, to a girl living in Ho Chi Minh City whose older half sister comes back from America having seemingly accomplished everything she never will, the stories are a captivating testament to the dreams and hardships of immigration."
---
Lincoln in the Bardo by George Saunders
FICTION SAUNDERS
"February 1862. The Civil War is less than one year old. The fighting has begun in earnest, and the nation has begun to realize it is in for a long, bloody struggle. Meanwhile, President Lincoln's beloved eleven-year-old son, Willie, lies upstairs in the White House, gravely ill. In a matter of days, despite predictions of a recovery, Willie dies and is laid to rest in a Georgetown cemetery. Newspapers report that a grief-stricken Lincoln returned to the crypt several times alone to hold his boy's body. From that seed of historical truth, George Saunders spins an unforgettable story of familial love and loss that breaks free of its realistic, historical framework into a thrilling, supernatural realm both hilarious and terrifying. Willie Lincoln finds himself in a strange purgatory, where ghosts mingle, gripe, commiserate, quarrel, and enact bizarre acts of penance. Within this transitional state–called, in the Tibetan tradition, the bardo–a monumental struggle erupts over young Willie's soul."
---
Cannibalism: A Perfectly Natural History by Bill Schutt
394.909 SCHUTT
"Eating one's own kind is completely natural behavior in thousands of species, including humans. Throughout history we have engaged in cannibalism for reasons relating to famine, burial rites, and medicinal remedies. Cannibalism has been used as a form of terrorism but also as the ultimate expression of filial piety. With unexpected wit and a wealth of knowledge, Bill Schutt, a research associate at the American Museum of Natural History, takes us on a tour of the field, exploring exciting new avenues of research and investigating questions like why so many fish eat their offspring and some amphibians consume their mother's skin; why sexual cannibalism is an evolutionary advantage for certain spiders; and why, until the end of the eighteenth century, British royalty regularly ate human body parts."
---
A Conjuring of Light by V.E. Schwab
FANTASY SCHWAB
"Londons fall and kingdoms rise while darkness sweeps the Maresh Empire, and the fraught balance of magic blossoms into dangerous territory while heroes struggle. The direct sequel toA Gathering of Shadows, and the final book in the Shades of Magic epic fantasy series,A Conjuring of Light sees the newly minted New York Times bestselling author V. E. Schwab reach a thrilling conclusion concerning the fate of beloved protagonists—and old foes."
---
The Hate U Give by Angie Thomas
YA FICTION THOMAS
"After witnessing her friend's death at the hands of a police officer, Starr Carter's life is complicated when the police and a local drug lord try to intimidate her in an effort to learn what happened the night Kahlil died."
Happy reading!
—Katie, Adult Reference