Favorite Featured Titles: July & August 2017
Summer may be almost over, but the awesome books keep on coming! Here are just a few of the best books published in July and August – click on a cover or a title to place a hold.
Wonder Woman: Warbringer by Leigh Bardugo
YA FICTION BARDUGO
"Diana, Princess of the Amazons, journeys to the World of Man in this coming-of-age young adult story."
---
The Heart's Invisible Furies by John Boyne
FICTION BOYNE
"Cyril Avery is not a real Avery—or at least, that's what his adoptive parents tell him. And he never will be. But if he isn't a real Avery, then who is he? Born out of wedlock to a teenage girl cast out from her rural Irish community and adopted by a well-to-do if eccentric Dublin couple via the intervention of a hunchbacked Redemptorist nun, Cyril is adrift in the world, anchored only tenuously by his heartfelt friendship with the infinitely more glamourous and dangerous Julian Woodbead. At the mercy of fortune and coincidence, he will spend a lifetime coming to know himself and where he came from—and over his many years, will struggle to discover an identity, a home, a country, and much more."
---
Little & Lion by Brandy Colbert
YA FICTION COLBERT
"Suzette returns home to Los Angeles from boarding school and grapples with her bisexual identity when she and her brother Lionel fall in love with the same girl, pushing Lionel's bipolar disorder to spin out of control and forcing Suzette to confront her own demons."
---
American Fire: Love, Arson, and Life in a Vanishing Land by Monica Hesse
364.1642 HESSE
"Documents the trial of a man charged with dozens of counts of arson in a rural Virginia county, sharing insight into his struggles with addiction, his relationship with his accomplice girlfriend, and the impact of the fires on their community."
---
Goodbye, Vitamin by Rachel Khong
FICTION KHONG
"A few days after Christmas in a small suburb outside of L.A., pairs of a man's pants hang from the trees. The pants belong to Howard Young, a prominent history professor, recently diagnosed with Alzheimer's disease. Howard's wife, Annie, summons their daughter, Ruth. Freshly disengaged from her fiance and still broken up about it, feeling that life has not turned out quite the way she planned, thirty-year- old Ruth quits her job, and arrives home to find her parents' situation worse than she'd realized. Her father is erratically lucid and her mother, a devoted and creative cook, sees the sources of memory loss in every pot and pan. But as Howard's condition intensifies, the comedy in Ruth's situation takes hold, gently transforming her grief. She throws herself into caretaking: cooking dementia-fighting meals (a feast of jellyfish!), researching supplements, anything to reignite her father's once-notable memory. And when the university finally lets Howard go, Ruth and one of her father's handsome former students take their efforts to help Howard one step too far."
---
Reincarnation Blues by Michael Poore
FANTASY POORE
"Ten thousand tries, to be exact. Ten thousand lives to "get it right." Answer all the Big Questions. Achieve Wisdom. And Become One with Everything. Milo has had 9,995 chances so far and has just five more lives to earn a place in the cosmic soul. If he doesn't make the cut, oblivion awaits. But all Milo really wants is to fall forever into the arms of Death. Or Suzie, as he calls her. More than just Milo's lover throughout his countless layovers in the Afterlife, Suzie is literally his reason for living—as he dives into one new existence after another, praying for the day he'll never have to leave her side again. But Reincarnation Blues is more than a great love story: Every journey from cradle to grave offers Milo more pieces of the great cosmic puzzle—if only he can piece them together in time to finally understand what it means to be part of something bigger than infinity."
---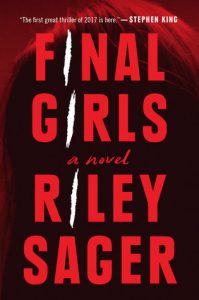 Final Girls by Riley Sager
MYSTERY SAGER
"Emerging as the lone survivor of a serial killer's massacre a decade earlier, Quincy Carpenter struggles to ignore traumatic memories and move on as one of a group of other survivors who look to her for answers when one of them is found dead in a suspicious suicide."
---
See What I Have Done by Sarah Schmidt
FICTION SCHMIDT
"On the morning of August 4, 1892, Lizzie Borden calls out to the maid: Someone's killed father. The brutal axe-murder of Andrew and Abby Borden in their house in Fall River, Massachusetts ignites a series of domestic nightmares. From theoutside, no one can understand why anyone would want to murder the respected Bordens. From the inside, sisters Lizzie and Emma have a different tale to tell. Both unmarried and intimately bound together in a stifling environment, they each struggle against their oppressive home-life while longing for independence. As the police fail to find clues, Lizzie tries to make sense of the moments leading up to the discovery of the bodies. But there are other witnesses to the crime. Through the overlapping perspectives of Emma, the housemaid Bridget, the enigmatic stranger Benjamin, and the fascinating Lizzie herself, the ghosts of their pasts resurface and return to that fateful day."
---
House of Spies by Daniel Silva
MYSTERY SILVA
"Four months after the deadliest attack on the American homeland since 9/11, terrorists leave a trail of carnage through London's glittering West End. The attack is a brilliant feat of planning and secrecy, but with one loose thread. The thread leads Gabriel Allon and his team of operatives to the south of France and to the gilded doorstep of Jean-Luc Martel and Olivia Watson. A beautiful former British fashion model, Olivia pretends not to know that the true source of Martel's enormous wealth is drugs. And Martel, likewise, turns a blind eye to the fact he is doing business with a man whose objective is the very destruction of the West. Together, under Gabriel's skilled hand, they will become an unlikely pair of heroes in the global war on terrorism."
---
Little Monsters by Kara Thomas
YA FICTION THOMAS
"When Kacey moves in with her estranged father and his new family, her new friend goes missing and Kacey finds herself at the center of the investigation."
---
The Epic Crush of Genie Lo by F.C. Yee
YA FICTION YEE
"Sixteen-year-old Genie's focus on getting into a top-tier college is destroyed when an enigmatic transfer student, Quentin, helps her transform into a demon-fighter."
Happy reading!
— Katie, Adult Reference
Save