Books for Earth Day and Arbor Day
With Earth Day happening last Saturday and Arbor Day coming up on Friday, April 28th, now is a great time to get some environmentally-conscious reading in.  We published a blog post a couple months ago on print and DVD materials about climate change that you can use for reading suggestions, but here are a few more books with an environmental focus that you might enjoy:
Fiction
Love in the Time of Global Warming by Francesca Lia Block
YA FICTION BLOCK
"After a devastating earthquake destroys the West Coast, causing seventeen-year-old Penelope to lose her home, her parents, and her ten-year-old brother, she navigates a dark world, holding hope and love in her hands and refusing to be defeated."
---
The Terranauts by T.C. Boyle
FICTION BOYLE
"It is 1994, and in the desert near Tillman, Arizona, forty miles from Tucson, a grand experiment involving the future of humanity is underway. As climate change threatens the earth, eight scientists, four men and four women dubbed the Terranauts, have been selected to live under glass in E2, a prototype of a possible off-earth colony. Their sealed, three-acre compound comprises five biomes; rainforest, savanna, desert, ocean, and marsh, and enough wildlife, water, and vegetation to sustain them. Closely monitored by an all-seeing Mission Control, this New Eden is the brainchild of ecovisionary Jeremiah Reed, aka God the Creator, for whom the project is both an adventure in scientific discovery and a momentous publicity stunt. In addition to their roles as medics, farmers, biologists, and survivalists, his young, strapping Terranauts must impress watchful visitors and a skeptical media curious to see if E2's environment will somehow be compromised."
---
Flight Behavior by Barbara Kingsolver
FICTION KINGSOLV
"Set in the present day in the rural community of Feathertown, Tennessee, this novel tells the story of Dellarobia Turnbow, a petite, razor-sharp 29-year-old who nurtured worldly ambitions before becoming pregnant and marrying at seventeen. Now, after more than a decade of tending to small children on a failing farm, oppressed by poverty, isolation and her husband's antagonistic family, she has mitigated her boredom by surrendering to an obsessive flirtation with a handsome younger man. But the tryst never happens. Instead, she walks into something on the mountainside she cannot explain or understand: a forested valley filled with a lake of silent red fire that appears to her a miracle. In reality, the forest is ablaze with millions of butterflies. Their usual migratory route has been disrupted, and what looks to be a stunningly beautiful view is really an ominous sign, for the Appalachian winter could prove to be the demise of the species. Her discovery of this phenomenon ignites a media and religious firestorm that changes her life forever."
---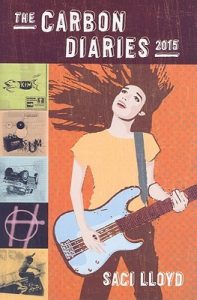 The Carbon Diaries 2015 by Saci Lloyd
TEEN LLOYD
"In 2015, when England becomes the first nation to introduce carbon dioxide rationing in a drastic bid to combat climate change, sixteen-year-old Laura documents the first year of rationing as her family spirals out of control."
---
Life as We Knew It by Susan Beth Pfeffer
YA FICTION PFEFFER
"Through journal entries sixteen-year-old Miranda describes her family's struggle to survive after a meteor hits the moon, causing worldwide tsunamis, earthquakes, and volcanic eruptions."
---
Nonfiction
Countdown: Our Last, Best Hope For a Future on Earth? by Alan Weisman
304.2 WEISMAN
"In this timely work, Alan Weisman examines how we can shrink our collective human footprint so that we don't stomp any more species — including our own — out of existence. The answer: reducing gradually and non-violently the number of humans on the planet whose activities, industries and lifestyles are damaging the Earth."
---
The Hour of Land: A Personal Topography of America's National Parks by Terry Tempest Williams
333.7809 WILLIAMS
"For years, America's national parks have provided public breathing spaces in a world in which such spaces are steadily disappearing, which is why close to 300 million people visit the parks each year. Now, to honor the centennial of the National Park Service, Terry Tempest Williams returns with a literary celebration of our national parks, what they mean to us, and what we mean to them."
---
A Walk in the Woods: Rediscovering America on the Appalachian Trail by Bill Bryson
917.404 BRYSON
"The Appalachian Trail stretches from Georgia to Maine and covers some of the most breathtaking terrain in America–majestic mountains, silent forests, sparking lakes. If you're going to take a hike, it's probably the place to go. And Bill Bryson is surely the most entertaining guide you'll find. He introduces us to the history and ecology of the trail and to some of the other hardy (or just foolhardy) folks he meets along the way–and a couple of bears. Already a classic, A Walk in the Woods will make you long for the great outdoors (or at least a comfortable chair to sit and read in)."
---
The Human Age: The World Shaped By Us by Diane Ackerman
LARGE PRINT 304.2 ACKERMAN
"Diane Ackerman confronts the unprecedented reality that one prodigiously intelligent and meddlesome creature, Homo sapiens, is shaping the future of planet Earth. With her gift for making scientific discovery intelligible to the layperson, Ackerman takes us on an exhilarating journey through our new reality, introducing many of the people and ideas now creating, perhaps saving, our future and that of our fellow creatures."
Happy reading!
—Katie, Adult Reference