Blended Fiction: When Genres Get All Mixed Up

If you've kept up with the new fiction being published over the last 5 years or so, you've probably noticed that authors are steering away from the straightforward mystery/romance/science fiction/fantasy novels in favor of stories that are a bit harder to classify.  We call these types of novels "genre blends," and even though they're hard to classify, they're a ton of fun to read!
Check out some of these other awesome genre blends:
Historical Fiction/Horror                                                     Science Fiction/Mystery                                             Fantasy/Romance
The Terror – Dan Simmons                                                     Lock In by John Scalzi                                                       Outlander by Diana Gabaldon
Fantasy/Mystery                                                                         Mystery/Horror                                                                   Science Fiction/Thriller
The Eyre Affair by Jasper Fforde                                              Night Film by Marisha Pessl                                            Jurassic Park by Michael Crichton
If you're interested in exploring more genre-blended titles, you have to check out librarian Megan McArdle's blog Genrified, which showcases her passion for genre-blended fiction with reviews, recommended websites, and a really cool online resource called the Genrify Blender.  The Blender lets you click on any two or three genres from the provided list and then provides an extensive list of titles that feature those particular genres.  It's a lot of fun to play around with, and it's a great way to expand your reading horizons!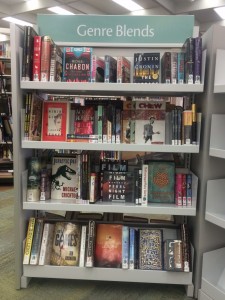 And of course, you can also visit the library where we have a jam-packed display of genre-blended fiction up through the middle of April.  We've got the full list of display materials on our Goodreads page, and you can click on any of the titles listed in this post to place a hold in the catalog.  Here are the catalog links to the books at the very top of the page:
Lexicon by Max Barry (Science Fiction/Thriller)
The Yiddish Policemen's Union by Michael Chabon (Mystery/Science Fiction)
Broken Monsters by Lauren Beukes  (Mystery/Horror/Fantasy)
Boneshaker by Cherie Priest (Historical Fiction/Science Fiction)
Happy reading!