Black History Month Book Suggestions
February marks the beginning of Black History Month when we come together to celebrate and learn about the challenges, triumphs, notable names, and future leaders within the black community. This year, the library has planned an expansive list of events to commemorate Black History Month, along with multiple month-long book displays.
For this post, we're highlighting some new additions to our collection that reflect a wide range of black voices. Click on a cover or a title to place a hold. And for more titles, you can visit our collection of online book lists, scroll to History – Nonfiction, and click on Black History Month to view an expansive list of fiction, nonfiction, and young adult titles.
But of course, these are books that aren't just made to be read during Black History Month, so feel free to pick up one of these books today, or next month, or halfway through the year.
Fiction
Queen Sugar by Natalie Baszile
FICTION BASZILE
"When Charley Bordelon, an African American single mother, unexpectedly inherits eight hundred acres of sugarcane land. She and her eleven-year-old daughter say goodbye to the smog and sprawl of Los Angeles and head to the tropical expanse of Louisiana. She soon learns, however, that cane farming is always going to be a white man's business. As the sweltering summer unfolds, Charley struggles to balance the overwhelming challenges of a farm in decline with the demands of family and the startling desires of her own heart."
---
An Extraordinary Union by Alyssa Cole
FICTION COLE
"During the Civil War two undercover agents, Elle Burns, a former slave, and Malcolm McCall a detective in Pinkerton's Secret Service uncover a plot that could lead to a Confederate victory and vow to preserve the Union at any cost."
---
I Am Alfonso Jones by Tony Medina
GRAPHIC NOVEL I
"The ghost of fifteen-year-old Alfonso Jones travels in a New York subway car full of the living and the dead, watching his family and friends fight for justice after he is killed by an off-duty police officer while buying a suit in a Midtown department store."
---
Passage by Khary Lazarre-White
FICTION LAZARRE
"Navigating the snowy streets of 1993 Harlem and Brooklyn, secure in the love of his family but confronted constantly by human and supernatural reminders about prejudice, a young black man struggles to graduate from an underprivileged school while becoming increasingly subject to the spirits of his oppressed ancestors."
---
An Unkindness of Ghosts by Rivers Solomon
SCIENCE FICTION SOLOMON
"Aster has little to offer folks in the way of rebuttal when they call her ogre and freak. She's used to the names; she only wishes there was more truth to them. If she were truly a monster, she'd be powerful enough to tear down the walls around her until nothing remains of her world. Aster lives in the lowdeck slums of the HSS Matilda, a space vessel organized much like the antebellum South. For generations, Matilda has ferried the last of humanity to a mythical Promised Land. On its way, the ship's leaders have imposed harsh moral restrictions and deep indignities on dark-skinned sharecroppers like Aster. Embroiled in a grudge with a brutal overseer, Aster learns there may be a way to improve her lot–if she's willing to sow the seeds of civil war"
---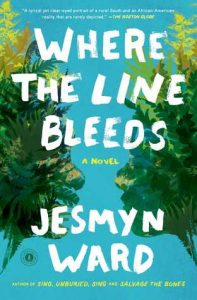 Where the Line Bleeds by Jesmyn Ward
FICTION WARD
"Joshua and Christophe are twins, raised by a blind grandmother and a large extended family in rural Bois Sauvage, on Mississippi's Gulf Coast. They've just finished high school and need to find jobs, but after Katrina, it's not easy. Joshua gets work on the docks, but Christophe's not so lucky and starts to sell drugs. Christophe's downward spiral is accelerated first by crack, then by the reappearance of the twins' parents: Cille, who left for a better job, and Sandman, a dangerous addict. Sandman taunts Christophe, eventually provoking a shocking confrontation that will ultimately damn or save both twins."
Nonfiction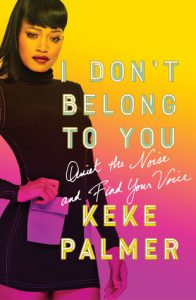 I Don't Belong to You: Quiet the Noise and Find Your Voice by Keke Palmer
305.2422 PALMER
"A sometimes serious, often hilarious, and always inspiring guide that encourages young women to live a life full of ownership, confidence, and freedom from singer and popular Scream Queens and Grease Live! actress Keke Palmer, delightfully illustrated in four color with Keke's favorite inspirational quotes, journal entries, and memes."
---
We Could Not Fail: The First African Americans in the Space Program by Richard Paul and Steven Moss
629.4092 PAUL
"Richard Paul and Steven Moss profile ten pioneer African American space workers whose stories illustrate the role NASA and the space program played in promoting civil rights."
---
Defining Moments in Black History: Reading Between the Lies by Dick Gregory
973.0496 GREGORY
"Gregory charts the empowering yet often obscured past of the African American experience. In his unapologetically candid voice, he moves from African ancestry and surviving the Middle Passage to modern-day protests."
---
This Will Be My Undoing: Living at the Intersection of Black, Female, and Feminist in (White) America by Morgan Jenkins
B JEN
"From one of the fiercest critics writing today, Morgan Jerkins' highly-anticipated collection of linked essays interweaves her incisive commentary on pop culture, feminism, black history, misogyny, and racism with her own experiences to confront the very real challenges of being a black woman today."
---
The Mother of Black Hollywood: A Memoir by Jenifer Lewis
B LEW
"The star of "Black-ish" traces her journey from poverty to fame, sharing insights into her battles with undiagnosed mental illness and sex addiction while citing the support of loving friends and her philosophy about self-acceptance that enabled her success."
---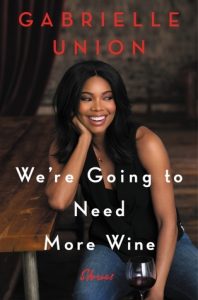 We're Going to Need More Wine: Stories That Are Funny, Complicated, and True by Gabrielle Union
B UNI
"In this moving collection of thought provoking essays infused with her unique wisdom and deep humor, Union uses her fearlessness to tell astonishingly personal and true stories about power, color, gender, feminism, and fame."
Happy reading!
—Katie, Adult Reference
Save