Banned Books Week: The First Amendment
As we wrap up our 2017 Banned Books Week, it's important to understand the root of banned book activism: the First Amendment. The First Amendment to the Constitution appears to be a simple one, promising freedom of religion, freedom of the press, freedom of peaceful assembly, and freedom of speech, but the issues surrounding the First Amendment are anything but simple.
If you're interested in learning more about the history of the First Amendment and what these freedoms represent, here are a few books to start with. Click on a cover or a title to place a hold.
Freedom of Speech: Mightier Than the Sword by David K. Shipler
323.443 SHIPLER
"Through selected accounts of First Amendment invocation and infringement, Shipler maps a rapidly shifting topography of political and cultural norms: parents in Michigan rallying to teachers vilified for their reading lists; conservative ministers risking their churches' tax-exempt status to preach politics from the pulpit; national security reporters using techniques more common in dictatorships to avoid leak prosecution; history teachers in Texas quietly navigating around a conservative curriculum to give students access to unapproved perspectives. Anchored in personal stories–sometimes shocking, sometimes absurd, sometimes dishearteningly familiar–but encompassing a theme as sweeping and essential as democracy itself, Freedom of Speech brilliantly reveals the triumphs and challenges of defining and protecting the boundaries of free expression in modern America."
---
Speaking Up: The Unintended Costs of Free Speech in Public Schools by Anne Proffitt Dupre
342.7308 DUPRE
"Describes court cases that have involved the balance between freedom of speech in schools and the need for discipline, discussing such issues as political protests, book banning, prayer, and freedom of speech for teachers."
---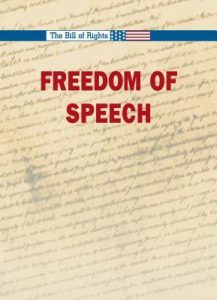 Freedom of Speech by William Dudley (ed.)
342.730853 FREEDOM
"Primary and secondary sources present differing perspectives on the history of free speech in America, balancing free speech with community order and national security, obscenity, and current controversies."
---
Liberty's First Crisis: Adams, Jefferson, and the Misfits Who Saved Free Speech by Charles Slack
973.44 SLACK

"When the United States government passed the Bill of Rights in 1791, its uncompromising protection of speech and of the press were unlike anything the world had ever seen before. But by 1798, the once-dazzling young republic of the United States was on the verge of collapse: Partisanship gripped the weak federal government, British seizures threatened American goods and men on the high seas, and war with France seemed imminent as its own democratic revolution deteriorated into terror. Suddenly, the First Amendment, which protected harsh commentary of the weak government, no longer seemed as practical. So that July, President John Adams and the Federalists in control of Congress passed an extreme piece of legislation that made criticism of the government and its leaders a crime punishable by heavy fines and jail time. In Liberty's First Crisis, writer Charles Slack tells the story of the 1798 Sedition Act, the crucial moment when high ideals met real-world politics and the country's future hung in the balance."
Keep the conversation going.
— Katie, Adult Reference