Award Winning Books at the Library!
Can't get enough noteworthy reads? After you check out our Best Of 2017 display, make sure to take a look at our brand new display of Award Winning Books!
Of course, these are just a small sampling of the award-winning titles in our collection. For a more complete list of award-winning books and their shortlists, you can visit our website to see our curated collection of award winners and nominated titles for adults and teens. Or just keep reading for a few specific titles that are available to request now!
The Sellout by Paul Beatty
FICTION BEATTY
"A biting satire about a young man's isolated upbringing and the race trial that sends him to the Supreme Court, Paul Beatty'sThe Selloutshowcases a comic genius at the top of his game. It challenges the sacred tenets of the United States Constitution, urban life, the civil rights movement, the father-son relationship, and the holy grail of racial equality–the black Chinese restaurant."
Man Booker Prize, 2016
---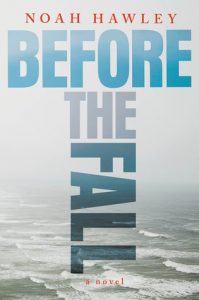 Before the Fall by Noah Hawley
MYSTERY HAWLEY
"On a foggy summer night, eleven people — ten privileged, one down-on-his-luck painter — depart Martha's Vineyard on a private jet headed for New York. Sixteen minutes later, the unthinkable happens: the plane plunges into the ocean. The only survivors are Scott Burroughs — the painter — and a four-year-old boy, who is now the last remaining member of an immensely wealthy and powerful media mogul's family. With chapters weaving between the aftermath of the crash and the backstories of the passengers and crew members — including a Wall Street titan and his wife, a Texan-born party boy just in from London, a young woman questioning her path in life, and a career pilot — the mystery surrounding the tragedy heightens."
Edgar Awards, 2017 – Best Novel
---
Olio by Tyehimba Jess
811.6 JESS
"Part fact, part fiction, Tyehimba Jess's much anticipated second book weaves sonnet, song, and narrative to examine the lives of mostly unrecorded African American performers directly before and after the Civil War up to World War I."
Pulitzer Prize, 2017 – Poetry
---
Ancillary Justice by Ann Leckie
SCIENCE FICTION LECKIE
"Now isolated in a single frail human body, Breq, an artificial intelligence that used to control of a massive starship and its crew of soldiers, tries to adjust to her new humanity while seeking vengeance and answers to her questions."
Hugo Awards, 2014 – Best Novel
Locus Awards, 2014 – Best First Novel
Nebula Awards, 2013 – Best Novel
---
Hamilton: The Revolution by Lin Manuel Miranda; narrated by Mariska Hargitay and Jeremy McCarter
CD 782.14 MIRANDA
From Tony Award-winning composer-lyricist-star Lin-Manuel Miranda comes a backstage pass to his groundbreaking, hit musical."
Audie Awards, 2017 – Audiobook of the Year
If you visit our online lists, remember that any title listed in blue is available to request from the Waukegan Public Library, and if you're a Waukegan cardholder interested in a book that we don't currently own, we can request titles from our partner libraries as well. If you're not a Waukegan card holder but you're interested in a book that we do not currently own, you can submit a purchase suggestion for the library's collection and be placed on hold for the book once it's available. (Purchase suggestions can be made for titles less than 5 years old.)
Happy reading!
—Katie, Adult Reference
Save