Here at the Waukegan Library, we believe in the power of a good sense of humor!  In the spirit of April Fool's Day, here are some of our favorite laugh-out-loud reads.  Click on the cover or the title to place a hold in the catalog.
Adulting: How to Become a Grown-up in 468 Easy(ish) Steps by Kelly Williams Brown
Do your meals mostly consist of ramen noodles and frozen pizza?  Are you at a complete loss about the best way to clean your bathtub?  Are you utterly perplexed by things like savings accounts and retirement funds? Thankfully, Kelly Williams Brown has figured out the answers to these important questions of adulthood, and has given us simple, straightforward answers about how to get our act together and behave like a functioning human being.  Practical AND funny!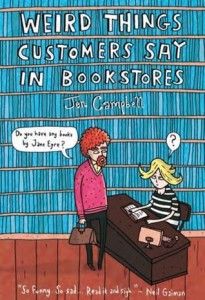 Weird Things Customers Say in Bookstores by Jen Campbell
The title says it all, really.  If you've ever worked customer service before, you'll commiserate with the people who have to answer questions like "Is it okay for my children to climb on the bookshelves?" or "Excuse me – is this book edible?"
Stiff: The Curious Lives of Human Cadavers by Mary Roach
Mary Roach turned scientific writing into a hilarious art form with this book, which researches what happens to our bodies after we die.  Whether she's tramping around the Body Farm in Tennessee, where scientists study the effects of decomposition on human remains, or watching engineers test the safety features of cars using cadavers instead of crash test dummies, you'll be fascinated and slightly repulsed at the lengths she'll go to to find her answers.
Most of you are probably familiar with the basic story here: Astronaut Mark Watney is stranded on Mars for the foreseeable future unless he and NASA can craft a plan to bring him back to Earth.  It's a top-notch survival/science fiction thriller, but it's also hysterically funny.  Mark Watney has an impeccably dry, sarcastic sense of humor and by the time you finish the book, you'll have to resist the urge to run around and smack everyone you know upside the head until they read it.
John Dies at the End by David Wong
Take one part H.P. Lovecraft-style horror, one part ridiculous Internet humor, and mix it together with a hefty serving of blood and guts to get this unclassifiable horror novel that somehow manages to be hilarious and terrifying at the same time.  David Wong is also the senior editor of Cracked.com, one of the most popular and off-color comedy websites on the Internet.

Want more?
Dad is Fat by Jim Gaffigan
A Walk in the Woods by Bill Bryson
The Eyre Affair by Jasper Fforde

Don't forget to check out our Goodreads shelf or our Pinterest board for more bookish humor and humorous books.  Or stop by the Reference Desk to see our display of hilarious covers and pun-worthy titles!  We'll have it up through the month of April.