8 Books About Libraries and Librarians
In celebration of National Library Week, here is a short list of fiction, nonfiction, and graphic novels about the bizarre, hilarious, and enchanting world of libraries.  Click on a title or a book cover to place a hold on the item.
Fiction
The Library at Mount Char by Scott Hawkins
The library at Garrison Oaks is not a normal library.  Twelve orphaned children have been taken in by Father, the cruel, powerful, and all-knowing master of the library, and have been taught to master one of twelve different magical disciplines.  When Father goes missing, the twelve children must set out into the real world to find out what happened to him, but they must also square off against each other to determine who will inherit the power of the library next.
The Borrower by Rebecca Makkai
Lucy Hull, a young children's librarian in Hannibal, Missouri, finds herself both a kidnapper and kidnapped when her favorite patron, ten-year-old Ian Drake, runs away from home. The odd pair embarks on a crazy road trip from Missouri to Vermont, with ferrets, an inconvenient boyfriend, and upsetting family history thrown in their path. But is it just Ian who is running away? – from publisher's description
The Bad Book Affair by Ian Sansom
Israel Armstrong lends the library's copy of American Pastoral to a troubled teenage girl and soon she disappears. Israel thinks there may be a connection, but he needs figure out what it is and find the girl, all while dealing with the trauma of a breakup and his impending 30th birthday.  Part of the Mobile Library Mystery series, which is set in Northern Ireland. – from publisher's description
Nonfiction
The World's Strongest Librarian by Josh Hanagarne
Josh Hanagarne was born to Mormon parents in rural Utah. Large for his age, Josh was playing the role of Tree in a school play when he suddenly started twitching uncontrollably. Turns out the tree had Tourette syndrome. By the time Josh turned twenty, his tics were too drastic to ignore. Desperate for liberation, Josh tried all possible treatments, but the results were dismal. Weight lifting provided the most lasting relief, as Josh learned to "throttle" his tics into submission in the weight room. At an imposing 6'7″ and literally incapable of sitting still, Josh is not your average librarian. – from publisher's description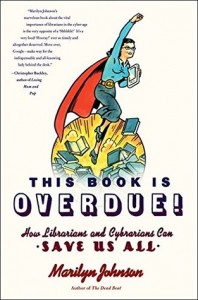 This Book is Overdue: How Librarians and Cybrarians Can Save Us All by Marilyn Johnson
Those who predicted the death of libraries forgot to consider that in the automated maze of contemporary life, none of us–neither the experts nor the hopelessly baffled–can get along without human help. And not just any help–we need librarians, who won't charge us by the question or roll their eyes, no matter what we ask. Who are they? What do they know? And how quickly can they save us from being buried by the digital age? – from publisher's description
Running the Books: Adventures of an Accidental Prison Librarian by Avi Steinberg
In this captivating memoir, Steinberg, a Harvard grad and struggling obituary writer, spends two years as a librarian and writing instructor at a Boston prison, attracting con men, minor prophets, ghosts, and an assortment of quirky regulars searching for the perfect book and a connection to the outside world. – from publisher's description
Graphic Novels/Manga
Unshelved Vol. 1 by Bill Barnes and Gene Ambaum
At the Mallville Public Library they've seen it all. Like Naked Ned, who takes Freedom of Expression to new lengths. Or Merv, who does everything in the library but read. Or Buddy the Book Beaver, ex-con tree surgeon turned summer reading program mascot. Or the missing books that keep showing up on eBay. Or the amorous teenagers who won't take it outside. In all this chaos and insanity, who ya gonna call? Why, a librarian of course. But please – do it quietly. – from publisher's description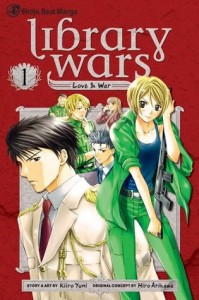 Library Wars: Love & War, Vol. 1 by Kiiro Yumi
In the near future, the federal government creates a committee to rid society of books it deems unsuitable. The libraries vow to protect their collections, and with the help of local governments, form a military group to defend themselves—the Library Forces! Iku Kasahara has dreamed of joining the Library Defense Force ever since one of its soldiers stepped in to protect her favorite book from being confiscated in a bookstore when she was younger. But now that she's finally a recruit, she's finding her dream job to be a bit of a nightmare. – from publisher's description