5 Spooky Reads for Friday the 13th
For certified horror fans like myself, Friday the 13th is a special day made for scaring ourselves silly.  And when Friday the 13th falls in October…well, that's a very special day indeed.  I've rounded up a few of my favorite serial killer novels both real and imagined, so if you're interested in putting yourself in a frightful mood today, click on a title or two and place a hold!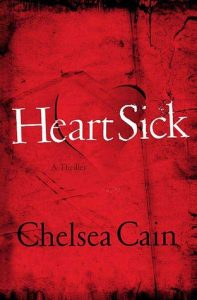 Heartsick by Chelsea Cain
LARGE PRINT MYSTERY CAIN
"Damaged Portland detective Archie Sheridan spent ten years tracking Gretchen Lowell, a beautiful serial killer, but in the end she was the one who caught him. Two years ago, Gretchen kidnapped Archie and tortured him for ten days, but instead of killing him, she mysteriously decided to let him go. She turned herself in, and now Gretchen has been locked away for the rest of her life, while Archie is in a prison of another kind—addicted to pain pills, unable to return to his old life, powerless to get those ten horrific days off his mind. When another killer begins snatching teenage girls off the streets of Portland, Archie has to pull himself together enough to lead the new task force investigating the murders. A hungry young newspaper reporter, Susan Ward, begins profiling Archie and the investigation, which sparks a deadly game between Archie, Susan, the new killer, and even Gretchen. They need to catch a killer, and maybe somehow then Archie can free himself from Gretchen, once and for all."
---
The Good Nurse: A True Story of Medicine, Madness, and Murder by Charles Graeber
364.1523 GRAEBER
In 2003, Charlie Cullen, a registered nurse from Pennsylvania, was arrested for the murders of multiple hospital patients over the course of sixteen years and nine different hospitals.  Some investigators even believed that he had murdered over 300 people, potentially making him the most prolific serial killer in American history. Using police records, videotapes, and court transcripts, Charles Graeber's compiles an account of Cullen's life and crimes and paints a chilling portrait of madness, compulsion, and the political machinations of the American medical system.  Easily one of the most compulsively readable true crime novels of the last 15 years.
---
The Silence of the Lambs by Thomas Harris
HORROR HARRIS
"As part of the search for a serial murderer nicknamed "Bullalo Bill," FBI trainee Clarice Starling is given an assignment. She must visit a man confined to a high-security facility for the criminally insane and interview him. That man, Dr. Hannibal Lecter, is a former psychiatrist with unusual tastes and an intense curiosity about the darker corners of the mind."
---
I Hunt Killers by Barry Lyga
YA FICTION LYGA
17-year-old Jazz Dennings knows a lot about serial killers from his notorious father, who now sits in jail for murdering dozens of people. Jazz is worried he'll turn out just like his dad, but it doesn't stop him from trying to help the police when another serial killer shows up in his town.
---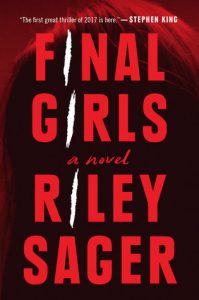 Final Girls by Riley Sager
MYSTERY SAGER
"Emerging as the lone survivor of a serial killer's massacre a decade earlier, Quincy Carpenter struggles to ignore traumatic memories and move on as one of a group of other survivors who look to her for answers when one of them is found dead in a suspicious suicide."
Happy reading!
— Katie, Adult Reference