2017 in Review: YA Fiction
When it comes to young adult fiction, 2017 was a year of groundbreaking debuts and fantastic new novels from established authors. In fact, we ultimately decided to put together a mega book list for this post…there were just that many good YA novels written this year. As always, click on a cover or a title to place a hold, and catch up on our previous 2017 in Review posts here: general fiction, mystery & suspense, science fiction, fantasy, & horror, romance, general nonfiction, and biographies & memoirs.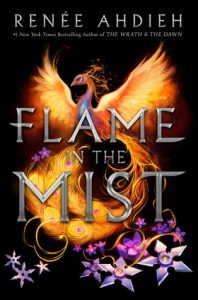 Flame in the Mist by Renee Ahdieh
YA FICTION AHDIEH
"The daughter of a prominent samurai, Mariko has long known her place–because she is not a boy, her future has always been out of her hands. At just seventeen years old, Mariko is promised to Minamoto Raiden, the son of the emperor's favorite consort–a political marriage that will elevate her family's standing. But en route to the imperial city of Inako, Mariko narrowly escapes a bloody ambush by a dangerous gang of bandits known as the Black Clan, who she learns has been hired to kill her before she reaches the palace. Dressed as a peasant boy, Mariko sets out to infiltrate the Black Clan and track down those responsible for the target on her back. Once she's within their ranks, though, Mariko finds for the first time she's appreciated for her intellect and abilities. She even finds herself falling in love–a love that will force her to question everything she's ever known about her family, her purpose, and her deepest desires."
---
The Upside of Unrequited by Becky Albertalli
YA FICTION ALBERTAL
"Seventeen-year-old Molly Peskin-Suso knows all about unrequited love. No matter how many times her twin sister, Cassie, tells her to woman up, Molly can't stomach the idea of rejection. So she's careful. Fat girls always have to be careful. Then a cute new girl enters Cassie's orbit, and for the first time ever, Molly's cynical twin is a lovesick mess. Meanwhile, Molly's totally not dying of loneliness–except for the part where she is. Luckily, Cassie's new girlfriend comes with a cute hipster-boy sidekick. If Molly can win him over, she'll get her first kiss and she'll get her twin back. There's only one problem: Molly's coworker, Reid. He's a chubby Tolkien superfan with a season pass to the Ren Faire, and there's absolutely no way Molly could fall for him."
---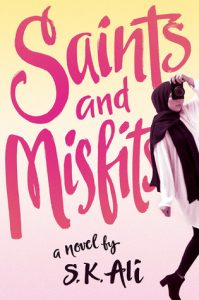 Saints and Misfits by S.K. Ali
YA FICTION ALI
"Fifteen-year-old Janna Yusuf, a Flannery O'Connor-obsessed book nerd and the daughter of the only divorced mother at their mosque, tries to make sense of the events that follow when her best friend's cousin–a holy star in the Muslim community–attempts to assault her at the end of sophomore year."
---
The Bone Witch by Rin Chupeco
TEEN CHUPECO
"Tea's gift for death magic means that she is a bone witch, a title that makes her feared and ostracized by her community, but when an older bone witch trains her to become an asha–one who can wield elemental magic–Tea will have to overcome her obstacles and make a powerful choice in the face of danger as dark forces approach."
---
Little & Lion by Brandy Colbert
YA FICTION COLBERT
"When Suzette comes home to Los Angeles from her boarding school in New England, she's isn't sure if she'll ever want to go back. L.A. is where her friends and family are (as well as her crush, Emil). And her stepbrother, Lionel, who has been diagnosed with bipolar disorder, needs her emotional support. But as she settles into her old life, Suzette finds herself falling for someone new…the same girl her brother is in love with. When Lionel's disorder spirals out of control, Suzette is forced to confront her past mistakes and find a way to help her brother before he hurts himself–or worse."
---
Words in Deep Blue by Cath Crowley
YA FICTION CROWLEY
"Years ago, Rachel had a crush on Henry Jones. The day before she moved away, she tucked a love letter into his favorite book in his family's bookshop. She waited. But Henry never came. Now Rachel has returned to the city–and to the bookshop–to work alongside the boy she'd rather not see, if at all possible, for the rest of her life. But Rachel needs the distraction. Her brother drowned months ago, and she can't feel anything anymore. As Henry and Rachel work side by side–surrounded by books, watching love stories unfold, exchanging letters between the pages–they find hope in each other. Because life may be uncontrollable, even unbearable sometimes. But it's possible that words, and love, and second chances are enough."
---
The Gentleman's Guide to Vice and Virtue by Mackenzie Lee
YA FICTION LEE
"A young bisexual British lord embarks on an unforgettable Grand Tour of Europe with his best friend/secret crush. An 18th-century romantic adventure for the modern age. Henry "Monty" Montague doesn't care that his roguish passions are far from suitable for the gentleman he was born to be. But as Monty embarks on his grand tour of Europe, his quests for pleasure and vice are in danger of coming to an end. Not only does his father expect him to take over the family's estate upon his return, but Monty is also nursing an impossible crush on his best friend and traveling companion, Percy. So Monty vows to make this yearlong escapade one last hedonistic hurrah and flirt with Percy from Paris to Rome. But when one of Monty's reckless decisions turns their trip abroad into a harrowing manhunt, it calls into question everything he knows, including his relationship with the boy he adores."
---
Genuine Fraud by e. Lockhart
YA FICTION LOCKHART
"Told through flashbacks, best friends Jule and Imogen are orphaned outcasts who will do almost anything to attain a happy, wealthy life."
---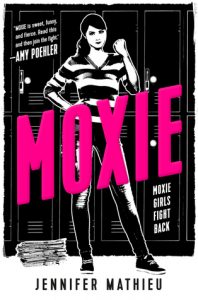 Moxie by Jennifer Mathieu
YA FICTION MATHIEU
"Vivian Carter is fed up. Fed up with an administration at her high school that thinks the football team can do no wrong. Fed up with sexist dress codes, hallway harassment, and gross comments from guys during class. But most of all, Viv Carter is fed up with always following the rules. Viv's mom was a tough-as-nails, punk rock Riot Grrrl in the '90s, and now Viv takes a page from her mother's past and creates a feminist zine that she distributes anonymously to her classmates. She's just blowing off steam, but other girls respond. As Viv forges friendships with other young women across the divides of cliques and popularity rankings, she realizes that what she has started is nothing short of a girl revolution."
---
When Dimple Met Rishi by Sandhya Menon
YA FICTION MENON
"Dimple Shah has it all figured out. With graduation behind her, she's more than ready for a break from her family, from Mamma's inexplicable obsession with her finding the "Ideal Indian Husband." Ugh. Dimple knows they must respect her principles on some level, though. If they truly believed she needed a husband right now, they wouldn't have paid for her to attend a summer program for aspiring web developers…right? Rishi Patel is a hopeless romantic. So when his parents tell him that his future wife will be attending the same summer program as him–wherein he'll have to woo her–he's totally on board. Because as silly as it sounds to most people in his life, Rishi wants to be arranged, believes in the power of tradition, stability, and being a part of something much bigger than himself. The Shahs and Patels didn't mean to start turning the wheels on this "suggested arrangement" so early in their children's lives, but when they noticed them both gravitate toward the same summer program, they figured, Why not? Dimple and Rishi may think they have each other figured out. But when opposites clash, love works hard to prove itself in the most unexpected ways."
---
Shadowhouse Fall by Daniel Jose Older
YA FICTION OLDER
"In addition to the ordinary problems of a Puerto Rican teenager in Brooklyn, Sierra Santiago is working on developing her shadowshaping skills, and she is beginning to think she may need all the skill she can summon because it seems that when she channeled hundreds of spirits through herself in order to defeat Wick she woke up something very powerful and very unfriendly and put her family and friends at risk."
---
Long Way Down by Jason Reynolds
YA FICTION REYNOLDS
"As Will, fifteen, sets out to avenge his brother Shawn's fatal shooting, seven ghosts who knew Shawn board the elevator and reveal truths Will needs to know."
---
The Inexplicable Logic of My Life by Benjamin Alire Saenz
YA FICTION SAENZ
"Sal used to know his place with his adoptive gay father, their loving Mexican American family, and his best friend, Samantha. But it's senior year, and suddenly Sal is throwing punches, questioning everything, and realizing he no longer knows himself. If Sal's not who he thought he was, who is he?"
---
Dear Martin by Nic Stone
YA FICTION STONE
"Justyce McAllister is top of his class and set for the Ivy League–but none of that matters to the police officer who just put him in handcuffs. And despite leaving his rough neighborhood behind, he can't escape the scorn of his former peers or the ridicule of his new classmates. Justyce looks to the teachings of Dr. Martin Luther King Jr. for answers. But do they hold up anymore? He starts a journal to Dr. King to find out. Then comes the day Justyce goes driving with his best friend, Manny, windows rolled down, music turned up–way up, sparking the fury of a white off-duty cop beside them. Words fly. Shots are fired. Justyce and Manny are caught in the crosshairs. In the media fallout, it's Justyce who is under attack."
---
The Hate U Give by Angie Thomas
YA FICTION THOMAS
"Sixteen-year-old Starr Carter moves between two worlds: the poor neighborhood where she lives and the fancy suburban prep school she attends. The uneasy balance between these worlds is shattered when Starr witnesses the fatal shooting of her childhood best friend Khalil at the hands of a police officer. Khalil was unarmed. Soon afterward, his death is a national headline. Some are calling him a thug, maybe even a drug dealer and a gangbanger. Protesters are taking to the streets in Khalil's name. Some cops and the local drug lord try to intimidate Starr and her family. What everyone wants to know is: what really went down that night? And the only person alive who can answer that is Starr. But what Starr does—or does not—say could upend her community. It could also endanger her life."
---
The Pearl Thief by Elizabeth Wein
YA FICTION WEIN
"Fifteen-year-old Julia Beaufort-Stuart wakes up in a hospital not knowing how she was injured, and soon befriends Euan McEwen, the Scottish Traveller boy who found her, and later, when a body is discovered, she experiences the prejudices his family has endured and tries to keep them from being framed for the crime."
---
The Epic Crush of Genie Lo by F.C. Yee
YA FICTION YEE
"The struggle to get into a top-tier college consumes sixteen-year-old Genie's every waking thought. But when she discovers she's a celestial spirit who's powerful enough to bash through the gates of heaven with her fists, her perfectionist existence is shattered. Enter Quentin, a transfer student from China whose tone-deaf assertiveness beguiles Genie to the brink of madness. Quentin nurtures Genie's outrageous transformation–sometimes gently, sometimes aggressively–as her sleepy suburb in the Bay Area comes under siege from hell-spawn. This epic YA debut draws from Chinese folklore, features a larger-than-life heroine, and perfectly balances the realities of Genie's grounded high school life with the absurd supernatural world she finds herself commanding."
Happy reading!
—Katie, Adult Reference
Save