Welcome to our fourth week of "2017 in Review" book lists! This week, we're talking about some of the best romance novels published this year. Click on a cover or a title to place a hold, and click here to view our past posts on general fiction; mystery & suspense; and science fiction, fantasy, and horror.
An Extraordinary Union by Alyssa Cole
FICTION COLE
"During the Civil War two undercover agents, Elle Burns, a former slave, and Malcolm McCall a detective in Pinkerton's Secret Service uncover a plot that could lead to a Confederate victory and vow to preserve the Union at any cost."
---
Wired by Julie Garwood
ROMANCE GARWOOD
"Allison Trent doesn't look like a hacker. In fact, when she's not in college working on her degree, she models on the side. But behind her gorgeous face is a brilliant mind for computers and her real love is writing–and hacking–code. Her dream is to write a new security program that could revolutionize the tech industry. Hotshot FBI agent Liam Scott has a problem: a leak deep within his own department. He needs the skills of a top-notch hacker to work on a highly sensitive project: to secretly break into the FBI servers and find out who the traitor is. But he can't use one of his own. He finds the perfect candidate in Allison. Only, there's one problem–she wants nothing to do with his job and turns him down flat. What Liam doesn't know is that Allison is hiding secrets that she doesn't want the FBI to uncover. But Liam will do nearly anything to persuade her to join his team, even break a few rules if that's what it takes."
---
Positively Pippa by Sarah Hegger
ROMANCE HEGGER
"After her life self-destructs on national TV, Pippa Turner returns home to Ghost Falls and her loving grandmother where she, deciding to give her live a much-needed makeover, sets her sights on her gorgeous high school crush, adding him to the top of her to-do list."
---
From Duke Till Dawn by Eva Leigh
ROMANCE LEIGH
"Years ago, the Duke of Greyland gave his heart — and a princely sum of money — to a charming, destitute widow with unparalleled beauty. But after one passionate night, she slipped from his bed and vanished without a trace. And just when he's given up hope of ever seeing her again, Greyland finds her managing a gaming hell. He's desperate to have her… until he discovers everything about his long-lost lover was a lie."
---
The Day of the Duchess by Sarah MacLean
ROMANCE MACLEAN
"After years in exile, Seraphina, Duchess of Haven, returns to London with a single goal—to reclaim the life she left and find happiness, unencumbered by the man who broke her heart. Haven offers her a deal; Sera can have her freedom, just as soon as she finds her replacement…which requires her to spend the summer in close quarters with the husband she does not want, but somehow cannot resist."
---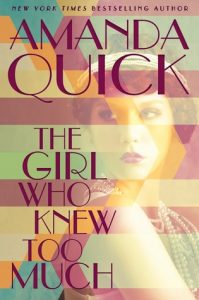 The Girl Who Knew Too Much by Amanda Quick
ROMANCE QUICK
"When Hollywood moguls and stars want privacy, they head to an idyllic small town on the coast, where the exclusive Burning Cove Hotel caters to their every need. It's where reporter Irene Glasson finds herself staring down at a beautiful actress at the bottom of a pool…The dead woman had a red-hot secret about up-and-coming leading man Nick Tremayne, a scoop that Irene couldn't resist–especially since she's just a rookie at a third-rate gossip rag. But now Irene's investigation into the drowning threatens to tear down the wall of illusion that is so deftly built around the famous actor, and there are powerful men willing to do anything to protect their investment."
---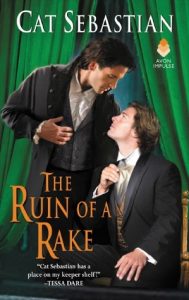 The Ruin of a Rake by Cat Sebastian
ROMANCE SEBASTIA
"Rogue. Libertine. Rake. Lord Courtenay has been called many things and has never much cared. But after the publication of a salacious novel supposedly based on his exploits, he finds himself shunned from society. Unable to see his nephew, he is willing to do anything to improve his reputation, even if that means spending time with the most proper man in London. Julian Medlock has spent years becoming the epitome of correct behavior. As far as he cares, if Courtenay finds himself in hot water, it's his own fault for behaving so badly–and being so blasted irresistible. But when Julian's sister asks him to rehabilitate Courtenay's image, Julian is forced to spend time with the man he loathes–and lusts after–most."
---
Silver Silence by Nalini Singh
ROMANCE SINGH
"Control. Precision. Family. These are the principles that drive Silver Mercant. At a time when the fledgling Trinity Accord seeks to unite a divided world, with Silver playing a crucial role as director of a worldwide emergency response network, wildness and chaos are the last things she needs in her life. But that's exactly what Valentin Nikolaev, alpha of the StoneWater bears, brings with him. Valentin has never met a more fascinating woman. Though Silver is ruled by Silence–her mind clear of all emotion–Valentin senses a whisper of fire around her. That's what keeps him climbing apartment buildings to be near her. But when a shadow assassin almost succeeds in poisoning Silver, the stakes become deadly serious."
Happy reading!
—Katie, Adult Reference