2017 in Review: Nonfiction, Part 2
Welcome to Part 2 of our favorite featured nonfiction titles of 2017. Today, we'll be looking at biographies and memoirs – the funny, the fascinating, and everything in between. Click here to catch up on yesterday's post on general nonfiction, and click here to catch up on general fiction, mystery & suspense, science fiction, fantasy, & horror, and romance. As always, you can click on a cover or a title to place a hold.
You Don't Have to Say You Love Me by Sherman Alexie
B ALE
"Family relationships are never simple. But Sherman Alexie's bond with his mother Lillian was more complex than most. She plunged her family into chaos with a drinking habit, but shed her addiction when it was on the brink of costing her everything. She survived a violent past, but created an elaborate facade to hide the truth. She selflessly cared for strangers, but was often incapable of showering her children with the affection that they so desperately craved. It's these contradictions that made Lillian Alexie a beautiful, mercurial, abusive, intelligent, complicated, and very human woman. When she passed away, the incongruities that defined his mother shook Sherman and his remembrance of her. Grappling with the haunting ghosts of the past, he responded the only way he knew how: he wrote. The result is a stunning memoir filled with raw, angry, funny, profane, tender memories of a childhood few can imagine, much less survive."
---
Cuz: The Life and Times of Michael A. by Danielle Allen
B ALL
"In a shattering work that shifts between a woman's private anguish over the loss of her beloved baby cousin and a scholar's fierce critique of the American prison system, Danielle Allen seeks answers to what, for many years, felt unanswerable. Why? Why did her cousin, a precocious young man who dreamed of being a firefighter and a writer, end up dead? Why did he languish in prison? And why, at the age of fifteen, was he in an alley in South Central Los Angeles, holding a gun while trying to steal someone's car? In this searing memoir, Allen unfurls a "new American story" about a world tragically transformed by the sudden availability of narcotics and the rise of street gangs–a collision, followed by a reactionary War on Drugs, that would devastate not only South Central L.A. but virtually every urban center in the nation."
---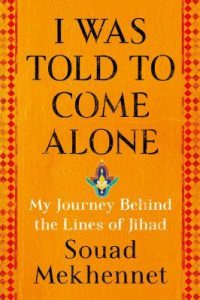 I Was Told to Come Alone: My Journey Behind the Lines of Jihad by Souad Mekhennet
B EMW
"Souad Mekhennet has lived her entire life between worlds. The daughter of a Turkish mother and a Moroccan father, she was born and educated in Germany and has worked for several American newspapers. Since the 9/11 attacks she has reported stories among the most dangerous members of her religion; when she is told to come alone to an interview, she never knows what awaits at her destination. In this compelling and evocative book, Mekhennet seeks to answer the question, "What is in the minds of these young jihadists, and how can we understand and defuse it?""
---
Hunger: A Memoir of (my) Body by Roxane Gay
B GAY
"Roxane Gay has written with intimacy and sensitivity about food and bodies, using her own emotional and psychological struggles as a means of exploring our shared anxieties over pleasure, consumption, appearance, and health. As a woman who describes her own body as "wildly undisciplined," Roxane understands the tension between desire and denial, between self-comfort and self-care. In Hunger, she casts an insightful and critical eye on her childhood, teens, and twenties—including the devastating act of violence that acted as a turning point in her young life—and brings readers into the present and the realities, pains, and joys of her daily life. With the bracing candor, vulnerability, and authority that have made her one of the most admired voices of her generation, Roxane explores what it means to be overweight in a time when the bigger you are, the less you are seen. Hunger is a deeply personal memoir from one of our finest writers, and tells a story that hasn't yet been told but needs to be."
---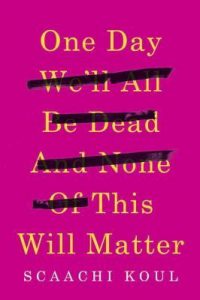 One Day We'll All Be Dead and None of This Will Matter by Scaachi Koul
B KOU
"In One Day We'll All Be Dead and None of This Will Matter, Scaachi Koul deploys her razor sharp humor to share all the fears, outrages, and mortifying moments of her life. She learned from an early age what made her miserable, and for Scaachi anything can be cause for despair. Whether it's a shopping trip gone awry; enduring awkward conversations with her bikini waxer; overcoming her fear of flying while vacationing halfway around the world; dealing with internet trolls, or navigating the fears and anxieties of her parents. Alongside these personal stories are pointed observations about life as a woman of color, where every aspect of her appearance is open for critique, derision, or outright scorn. Where strict gender rules bind in both Western and Indian cultures, leaving little room for a woman not solely focused on marriage and children to have a career (and a life) for herself."
---
Believe Me: A Memoir of Love, Death, and Jazz Chickens
B IZZ
"British comedian and actor Eddie Izzard details his childhood, his first performances on the streets of London, his ascent to worldwide success on stage and screen, and his comedy shows which have won over audiences around the world."
---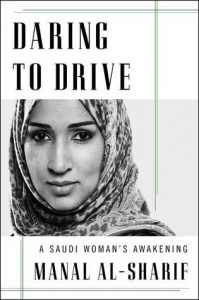 Daring to Drive: A Saudi Woman's Awakening by Manal al-Sharif
B SHA
"A memoir by a Saudi Arabian woman who became the unexpected leader of a movement to support women's rights describes how fundamentalism influenced her radical religious beliefs until her education, a job, and legal contradictions changed her perspectives."
---
This is Just My Face: Try Not to Share by Gabourey Sidibe
B SID
"With full-throttle honesty, Gabourey Sidibe shares her one-of-a-kind life story in a voice as fresh and challenging as many of the unique characters she's played onscreen since her unconventional rise to international fame in Lee Daniels' acclaimed movie Precious. Her memoir hits hard with self-knowing dispatches on friendship, depression, celebrity, haters, fashion, race, and weight. Irreverent, hilarious, and untraditional, Gabby's book will resonate with anyone who has ever felt different, and with anyone who has ever felt inspired to make a dream come true."
Happy reading!
—Katie, Adult Reference