2017 in Review: Mystery & Suspense
Part 2 of our 2017 in Review series takes a look at some of the year's most notable mystery and suspense novels. Click on a cover or a title to place a hold, and click here to view last week's post on general fiction.
Little Deaths by Emma Flint
MYSTERY FLINT
"Ruth Malone–a single mother who works long hours as a cocktail waitress–wakes to discover her two small children, Frankie Jr. and Cindy, have gone missing. Later that day, Cindy's body is found in a derelict lot a half mile from her home, strangled. Ten days later, Frankie Jr.'s decomposing body is found. Immediately, all fingers point to Ruth. As police investigate the murders, the detritus of Ruth's life is exposed. Seen through the eyes of the cops, the empty bourbon bottles and provocative clothing which litter her apartment, the piles of letters from countless men and Ruth's little black book of phone numbers, make her a drunk, a loose woman–and therefore a bad mother. The lead detective, a strict Catholic who believes women belong in the home, leaps to the obvious conclusion: facing divorce and a custody battle, Malone took her children's lives. Pete Wonicke is a rookie tabloid reporter who finagles an assignment to cover the murders. Determined to make his name in the paper, he begins digging into the case. Pete's interest in the story develops into an obsession with Ruth, and he comes to believe there's something more to the woman whom prosecutors, the press, and the public have painted as a promiscuous femme fatale."
---
The Dry by Jane Harper
MYSTERY HARPER
"A small town hides big secrets in The Dry, an atmospheric, page-turning debut mystery by award-winning author Jane Harper. After getting a note demanding his presence, Federal Agent Aaron Falk arrives in his hometown for the first time in decades to attend the funeral of his best friend, Luke. Twenty years ago when Falk was accused of murder, Luke was his alibi. Falk and his father fled under a cloud of suspicion, saved from prosecution only because of Luke's steadfast claim that the boys had been together at the time of the crime. But now more than one person knows they didn't tell the truth back then, and Luke is dead. Amid the worst drought in a century, Falk and the local detective question what really happened to Luke. As Falk reluctantly investigates to see if there's more to Luke's death than there seems to be, long-buried mysteries resurface, as do the lies that have haunted them."
---
The Magpie Murders by Anthony Horowitz
MYSTERY HOROWITZ
"When editor Susan Ryeland is given the manuscript of Alan Conways latest novel, she has no reason to think it will be much different from any of his others. After working with the bestselling crime writer for years, shes intimately familiar with his detective, Atticus P d, who solves mysteries disturbing sleepy English villages. An homage to queens of classic British crime such as Agatha Christie and Dorothy Sayers, Alans traditional formula has proved hugely successful. So successful that Susan must continue to put up with his troubling behavior if she wants to keep her job."
---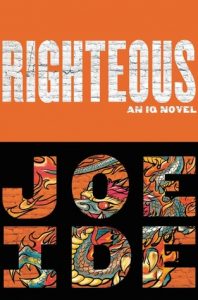 Righteous by Joe Ide
MYSTERY IDE
"Isaiah Quintabe has, against many odds, built a proper life for himself: a respected detective in his hometown of East Long Beach, a well-kept home, a growing library, and even a rehabilitated horse-sized pit bull (courtesy of his previous client). But something is wrong: the death of his older brother nearly a decade ago has sent him down a dark path, one that he's never truly been able to escape. Righteous is the story of Isaiah's investigation of his brother's death, a quest that will lead him to his greatest adversary, a man who may be IQ's own Moriarty. It is also the story of Sarita, Isaiah's older brother's girlfriend, for whom Isaiah feels a lasting, troubling love. Sarita's younger sister, an erratic DJ and gambling addict, has gone missing in Las Vegas, with a frightening bookie, Chinese Triad gangsters, and her own deadbeat boyfriend hot on her tail. On the case once more with Dodson, Isaiah's fast-talking, don't-call-me-a-sidekick partner, mayhem is sure to ensue."
---
Since We Fell by Dennis Lehane
MYSTERY LEHANE
"Rachel Childs, a former journalist who, after an on-air mental breakdown, now lives as a virtual shut-in. In all other respects, however, she enjoys an ideal life with an ideal husband. Until a chance encounter on a rainy afternoon causes that ideal life to fray. As does Rachel's marriage. As does Rachel herself. Sucked into a conspiracy thick with deception, violence, and possibly madness, Rachel must find the strength within herself to conquer unimaginable fears and mind-altering truths."
---
Bluebird Bluebird by Attica Locke
MYSTERY LOCKE
"When it comes to law and order, East Texas plays by its own rules–a fact that Darren Mathews, a black Texas Ranger, knows all too well. Deeply ambivalent about growing up black in the lone star state, he was the first in his family to get as far away from Texas as he could. Until duty called him home. When his allegiance to his roots puts his job in jeopardy, he travels up Highway 59 to the small town of Lark, where two murders–a black lawyer from Chicago and a local white woman–have stirred up a hornet's nest of resentment. Darren must solve the crimes–and save himself in the process–before Lark's long-simmering racial fault lines erupt."
---
Behind Her Eyes by Sarah Pinborough
MYSTERY PINBOROU
"Only two can keep a secret if one of them is dead. David and Adele seem like the ideal pair. He's a successful psychiatrist, she is his picture-perfect wife who adores him. But why is he so controlling? And why is she keeping things hidden? As Louise, David's new secretary, is drawn into their orbit, she uncovers more puzzling questions than answers. The only thing that is crystal clear is that something in this marriage is very, very wrong. But Louise can't guess how wrong–and how far a person might go to protect their marriage's secrets."
---
The Marriage Pact by Michelle Richmond
MYSTERY RICHMOND
"Picture-perfect newlyweds Alice and Jake are unexpectedly initiated into a mysterious organization designed to keep marriages happy and intact through seemingly sensible rules that become increasingly exacting and subject to brutal enforcement."
---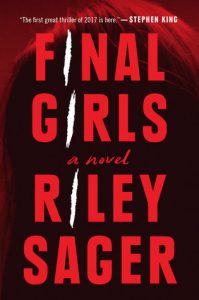 Final Girls by Riley Sager
MYSTERY SAGER
"Emerging as the lone survivor of a serial killer's massacre a decade earlier, Quincy Carpenter struggles to ignore traumatic memories and move on as one of a group of other survivors who look to her for answers when one of them is found dead in a suspicious suicide."
---
The Lying Game by Ruth Ware
MYSTERY WARE
"On a cool June morning, a woman is walking her dog in the idyllic coastal village of Salten along a tidal estuary known as the Reach. Before she can stop him, the dog charges into the water to retrieve what first appears to be a wayward stick, but to her horror, turns out to be something much more sinister. The next morning, three women in and around London — Fatima, Thea, and Isabel — receive the text they had always hoped would never come, from the fourth in their formerly inseparable clique, Kate, that says only, "I need you." The four girls were best friends at Salten, a second rate boarding school set near the cliffs of the English Channel. Each different in their own way, the four became inseparable and were notorious for playing the Lying Game, telling lies at every turn to both fellow boarders and faculty, with varying states of serious and flippant nature that were disturbing enough to ensure that everyone steered clear of them. The myriad and complicated rules of the game are strict: no lying to each other — ever. Bail on the lie when it becomes clear it is about to be found out. But their little game had consequences, and the girls were all expelled in their final year of school under mysterious circumstances surrounding the death of the school's eccentric art teacher, Ambrose, who also happened to be Kate's father…"
---
The Force by Don Winslow
MYSTERY WINSLOW
"All Denny Malone wants is to be a good cop. He is "the King of Manhattan North," a, highly decorated NYPD detective sergeant and the real leader of "Da Force." Malone and his crew are the smartest, the toughest, the quickest, the bravest, and the baddest, an elite special unit given unrestricted authority to wage war on gangs, drugs and guns. Every day and every night for the eighteen years he's spent on the Job, Malone has served on the front lines, witnessing the hurt, the dead, the victims, the perps. He's done whatever it takes to serve and protect in a city built by ambition and corruption, where no one is clean–including Malone himself. What only a few know is that Denny Malone is dirty: he and his partners have stolen millions of dollars in drugs and cash in the wake of the biggest heroin bust in the city's history. Now Malone is caught in a trap and being squeezed by the Feds, and he must walk the thin line between betraying his brothers and partners, the Job, his family, and the woman he loves, trying to survive, body and soul, while the city teeters on the brink of a racial conflagration that could destroy them all."
Happy reading!
—Katie, Adult Reference
Save
Save