2017 in Review: Graphic Novels
We've come to the final 2017 in Review post of the year: graphic novels. As always, click on a cover or a title to place a hold, and catch up on our previous 2017 in Review posts here: general fiction, mystery & suspense, science fiction, fantasy, & horror, romance, general nonfiction, biographies & memoirs, and YA fiction.
Batman, Vol. 1: I Am Gotham by Tom King
GRAPHIC NOVEL BATMAN
"The Caped Crusader has never been stopped. Not by the Joker. Not by Two-Face. Not even by the entire Justice League. But now, Batman must face his most challenging foe ever–a hero who wants to save Gotham…from the Batman!"
---
The Best We Could Do by Thi Bui
GRAPHIC NOVEL BEST
"The author describes her experiences as a young Vietnamese immigrant, highlighting her family's move from their war-torn home to the United States in graphic novel format."
---
Big Mushy Happy Lump: A Sarah's Scribbles Collection by Sarah Andersen
GRAPHIC NOVEL BIG
"Containing illustrated personal essays on the author's real-life experiences with anxiety, career, relationships and other adulthood challenges, this collection of the hugely popular, world-famous Sarah's Scribbles comics are perfect for those of us who boast bookstore-ready bodies and Netflix-ready hair."
---
Bitch Planet, Vol. 2: President Bitch by Kelly Sue Deconnick & Valentine De Landro
GRAPHIC NOVEL BITCH
"A few years down the road in the wrong direction, a woman's failure to comply with her patriarchal overlords results in exile to the meanest penal planet in the galaxy. But what happened on Earth that this new world order came to pass in the first place? Return to the grim corridors of Auxiliary Compliance Outpost #2, to uncover the first clues to the history of the world as we know it…and meet President Bitch."
---
Boundless by Jillian Tamaki
GRAPHIC NOVEL BOUNDLESS
"Jenny becomes obsessed with a strange "mirror Facebook," which presents an alternate, possibly better, version of herself. Helen finds her clothes growing baggy, her shoes looser, and as she shrinks away to nothingness, the world around her recedes as well. The animals of the city briefly open their minds to us, and we see the world as they do. A mysterious music file surfaces on the internet and forms the basis of a utopian society-or is it a cult?"
---
Everyone's a Aliebn When Ur a Aliebn Too by Jomny Sun
GRAPHIC NOVEL EVERYONE
"The illustrated story of a lonely alien sent to observe Earth, only to meet all sorts of creatures with all sorts of perspectives on life, love, and happiness, all while learning to feel a little better about being an aliebn."
---
Imagine Wanting Only This by Kristen Radtke
GRAPHIC NOVEL IMAGINE
"When Kristen Radtke was in college, the sudden death of a beloved uncle and, not long after his funeral, the sight of an abandoned mining town marked the beginning moments of a lifelong fascination with ruins and with people and places left behind. Over time, this fascination deepened until it triggered a journey around the world in search of ruined places. Now, in this genre-smashing graphic memoir, she leads us through deserted towns in the American Midwest, Italian villas, islands in the Philippines, New York City, and the delicate passageways of the human heart."
---
Monstress, Vol. 2: The Blood by Marjorie Liu
GRAPHIC NOVEL MONSTRESS
"Maika, Kippa, and Ren journey to Thyria in search of answers to her past… and discover a new, terrible threat."
---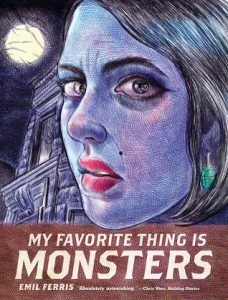 My Favorite Thing is Monsters by Emil Ferris
GRAPHIC NOVEL MY
"Set against the tumultuous political backdrop of late '60s Chicago, and narrated by 10-year-old Karen Reyes, Monsters is told is told through a fictional graphic diary employing the iconography of B-movie horror imagery and pulp monster magazines. As the precocious Karen Reyes tries to solve the murder of her beautiful and enigmatic upstairs neighbor, Anka Silverberg, a holocaust survivor, we watch the interconnected and fascinating stories of those around her unfold."
---
Octavia E. Butler's Kindred: A Graphic Novel Adaptation by Damian Duffy
GRAPHIC NOVEL OCTAVIA
"More than 35 years after its release, Kindred continues to draw in new readers with its deep exploration of the violence and loss of humanity caused by slavery in the United States, and its complex and lasting impact on the present day. Adapted by celebrated academics and comics artists Damian Duffy and John Jennings, this graphic novel powerfully renders Butler's mysterious and moving story, which tells the story of Dana, a young black woman who is suddenly and inexplicably transported from her home in 1970s California to the pre-Civil War South."
---
Paper Girls, Vol. 3 by Brian K. Vaughan
GRAPHIC NOVEL PAPER
"Newspaper deliverers Erin, Mac and Tiffany finally reunite with their long-lost friend KJ in an unexpected new era, where the girls must uncover the secret origins of time travel… or risk never returning home to 1988."
Happy reading!
—Katie, Adult Reference