2017 in Review: General Fiction
Halloween has come and gone, and now we're entering my second favorite part of the year…Best Book Roundup Season! In November and December, publications and critics start rounding up the best titles that were published during the year, and I'm always excited to see which books made which lists.
Last year, we pulled together a bunch of different lists for our 2016 in Review feature (which you can read here), and we're doing the same thing for 2017! Every Monday until the end of the year, we'll be featuring our lists of some of the best books published in 2017 – general fiction, mysteries, romance, graphic novels, young adult, etc. Click on a cover or a title to place a hold in our catalog.
For this first week, we're rounding up some of the most notable general and literary fiction of 2017.
All Grown Up by Jami Attenberg
FICTION ATTENBER
"Who is Andrea Bern? When her therapist asks the question, Andrea knows the right things to say: she's a designer, a friend, a daughter, a sister. But it's what she leaves unsaid—she's alone, a drinker, a former artist, a shrieker in bed, captain of the sinking ship that is her flesh—that feels the most true. Everyone around her seems to have an entirely different idea of what it means to be an adult: her best friend, Indigo, is getting married; her brother—who miraculously seems unscathed by their shared tumultuous childhood—and sister-in-law are having a hoped-for baby; and her friend Matthew continues to wholly devote himself to making dark paintings at the cost of being flat broke. But when Andrea's niece finally arrives, born with a heartbreaking ailment, the Bern family is forced to reexamine what really matters. Will this drive them together or tear them apart?"
---
American War by Omar El Akkad
FICTION EL AKKAD
"Sarat Chestnut, born in Louisiana, is only six when the Second American Civil War breaks out in 2074. But even she knows that oil is outlawed, that Louisiana is half underwater, and that unmanned drones fill the sky. When her father is killed and her family is forced into Camp Patience for displaced persons, she begins to grow up shaped by her particular time and place. But not everyone at Camp Patience is who they claim to be. Eventually Sarat is befriended by a mysterious functionary, under whose influence she is turned into a deadly instrument of war. The decisions that she makes will have tremendous consequences not just for Sarat but for her family and her country, rippling through generations of strangers and kin alike"
---
Difficult Women by Roxane Gay
FICTION GAY
"Award-winning author and powerhouse talent Roxane Gay burst onto the scene with An Untamed State and the New York Times bestselling essay collection Bad Feminist. Gay returns with Difficult Women, a collection of stories of rare force and beauty, of hardscrabble lives, passionate loves, and quirky and vexed human connection. From a girls' fight club to a wealthy subdivision in Florida where neighbors conform, compete, and spy on each other, Gay delivers a wry, beautiful, haunting vision of modern America."
---
Exit West by Mohsin Hamid
FICTION HAMID
"From the internationally bestselling author of The Reluctant Fundamentalist and How to Get Filthy Rich in Rising Asia, a love story that unfolds in a world being irrevocably transformed by migration. In a country teetering on the brink of civil war, two young people meet–sensual, fiercely independent Nadia and gentle, restrained Saeed. They embark on a furtive love affair, thrust into premature intimacy by the unrest roiling their city. When it explodes, turning familiar streets into a patchwork of checkpoints and bomb blasts, they begin to hear whispers about doors–doors that can whisk people far away, if perilously and for a price. As violence and the threat of violence escalate, Nadia and Saeed decide that they no longer have a choice. Leaving their homeland and their old lives behind, they find a door and step through."
---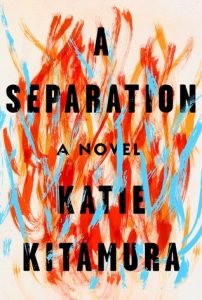 A Separation by Katie Kitamura
FICTION KITAMURA
"A taut, complex portrait of a marriage haunted by secrets, in which a woman finds herself traveling to Greece in search of her missing, estranged husband."
---
White Tears by Hari Kunzru
FICTION KUNZRU
"Two ambitious young musicians are drawn into the dark underworld of blues-record collecting while navigating the fallout of a scam involving one's claim that a viral video of an unknown singer is a long-lost recording of a famous blues musician."
---
Rich People Problems by Kevin Kwan
FICTION KWAN
"Rushing to the deathbed of his grandmother, Nicholas Young encounters a massive clan eager to claim a share of the family fortune, win the hearts of loved ones, destroy each other's reputations and outmaneuver professional rivals."
---
Little Fires Everywhere by Celeste Ng
FICTION NG
"In Shaker Heights, a placid, progressive suburb of Cleveland, everything is planned – from the layout of the winding roads, to the colors of the houses, to the successful lives its residents will go on to lead. And no one embodies this spirit more than Elena Richardson, whose guiding principle is playing by the rules. Enter Mia Warren – an enigmatic artist and single mother – who arrives in this idyllic bubble with her teenaged daughter Pearl, and rents a house from the Richardsons. Soon Mia and Pearl become more than tenants: all four Richardson children are drawn to the mother-daughter pair. But Mia carries with her a mysterious past and a disregard for the status quo that threatens to upend this carefully ordered community. When old family friends of the Richardsons attempt to adopt a Chinese-American baby, a custody battle erupts that dramatically divides the town–and puts Mia and Elena on opposing sides. Suspicious of Mia and her motives, Elena is determined to uncover the secrets in Mia's past. But her obsession will come at unexpected and devastating costs."
---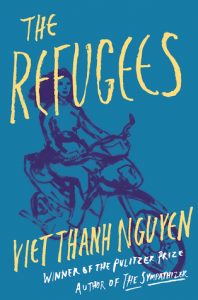 The Refugees by Viet Thanh Nguyen
FICTION NGUYEN
"In The Refugees, Viet Thanh Nguyen gives voice to lives led between two worlds, the adopted homeland and the country of birth. From a young Vietnamese refugee who suffers profound culture shock when he comes to live with two gay men in San Francisco, to a woman whose husband is suffering from dementia and starts to confuse her for a former lover, to a girl living in Ho Chi Minh City whose older half sister comes back from America having seemingly accomplished everything she never will, the stories are a captivating testament to the dreams and hardships of immigration."
---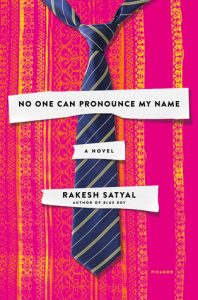 No One Can Pronounce My Name by Rakesh Satyal
FICTION SATYAL
"In a suburb outside Cleveland, a community of Indian Americans has settled into lives that straddle the divide between Eastern and Western cultures. For some, America is a bewildering and alienating place where coworkers can't pronounce your name but will eagerly repeat the Sanskrit phrases from their yoga class. Harit, a lonely Indian immigrant in his mid-forties, lives with his mother who can no longer function after the death of Harit's sister, Swati. In a misguided attempt to keep both himself and his mother sane, Harit has taken to dressing up in a sari every night to pass himself off as his sister. Meanwhile, Ranjana, also an Indian immigrant in her mid-forties, has just seen her only child, Prashant, off to college. Worried that her husband has begun an affair, she seeks solace by writing paranormal romances in secret. When Harit and Ranjana's paths cross, they begin a strange yet necessary friendship that brings to light their own passions and fears."
---
Lincoln in the Bardo by George Saunders
FICTION SAUNDERS
"February 1862. The Civil War is less than one year old. The fighting has begun in earnest, and the nation has begun to realize it is in for a long, bloody struggle. Meanwhile, President Lincoln's beloved eleven-year-old son, Willie, lies upstairs in the White House, gravely ill. In a matter of days, despite predictions of a recovery, Willie dies and is laid to rest in a Georgetown cemetery. "My poor boy, he was too good for this earth," the president says at the time. "God has called him home." Newspapers report that a grief-stricken Lincoln returned to the crypt several times alone to hold his boy's body. From that seed of historical truth, George Saunders spins an unforgettable story of familial love and loss that breaks free of its realistic, historical framework into a thrilling, supernatural realm both hilarious and terrifying. Willie Lincoln finds himself in a strange purgatory, where ghosts mingle, gripe, commiserate, quarrel, and enact bizarre acts of penance. Within this transitional state–called, in the Tibetan tradition, the bardo–a monumental struggle erupts over young Willie's soul."
---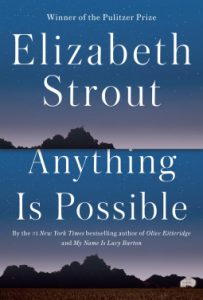 Anything is Possible by Elizabeth Strout
FICTION STROUT
"Here are two sisters: One trades self-respect for a wealthy husband while the other finds in the pages of a book a kindred spirit who changes her life. The janitor at the local school has his faith tested in an encounter with an isolated man he has come to help; a grown daughter longs for mother love even as she comes to accept her mother's happiness in a foreign country; and the adult Lucy Barton (the heroine of My Name Is Lucy Barton) returns to visit her siblings after seventeen years of absence."
---
Sing, Unburied, Sing by Jesmyn Ward
FICTION WARD
"Jojo and his toddler sister, Kayla, live with their grandparents, Mam and Pop, and the occasional presence of their drug-addicted mother, Leonie, on a farm on the Gulf Coast of Mississippi. Leonie is simultaneously tormented and comforted by visions of her dead brother, which only come to her when she's high; Mam is dying of cancer; and quiet, steady Pop tries to run the household and teach Jojo how to be a man. When the white father of Leonie's children is released from prison, she packs her kids and a friend into her car and sets out across the state for Parchman farm, the Mississippi State Penitentiary, on a journey rife with danger and promise."
Happy reading!
—Katie, Adult Reference
Save
Save
Save
Save