2016 in Review: Young Adult Fiction
Time to take a look at some of the amazing young adult novels that were published in 2016, and trust me – there were a lot of them!  If you've missed any of our previous year-in-review posts, click here to see our lists for general fiction, mysteries, psychological suspense, romance, and scifi/fantasy/horror.
Three Dark Crowns by Kendare Blake
YA FICTION BLAKE
"On the island of Fennbirn, triplet sisters who each wield a coveted magic skill and claim an equal right to the throne must fight to the death when they turn sixteen for the title of Queen Crowned." — Provided by publisher.
---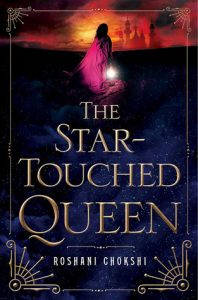 The Star-Touched Queen by Roshani Chokshi
YA FICTION CHOKSHI
"Sixteen-year-old Maya's arranged marriage turns out much better than she expected, but her husband's magic–and her curiosity–may threaten more than her life.." — Provided by publisher.
---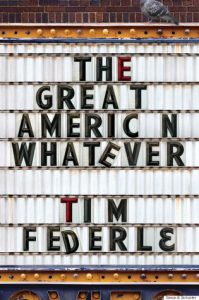 The Great American Whatever by Tim Federle
YA FICTION FEDERLE
"Quinn Roberts is a sixteen-year-old smart aleck and Hollywood hopeful whose only worry used to be writing convincing dialogue for the movies he made with his sister Annabeth. Of course, that was all before—before Quinn stopped going to school, before his mom started sleeping on the sofa…and before the car accident that changed everything. Enter: Geoff, Quinn's best friend who insists it's time that Quinn came out—at least from hibernation. One haircut later, Geoff drags Quinn to his first college party, where instead of nursing his pain, he meets a guy—okay, a hot guy—and falls, hard. What follows is an upside-down week in which Quinn begins imagining his future as a screenplay that might actually have a happily-ever-after ending—if, that is, he can finally step back into the starring role of his own life story." — Provided by publisher.
---
We Are the Ants by Shaun David Hutchinson
YA FICTION HUTCHINS
"Abducted by aliens periodically throughout his youth, Henry Denton is informed by his erstwhile captors that they will end the world in 144 days unless he stops them by deciding that humanity is worth saving." — Provided by publisher.
---
Burn Baby Burn by Meg Medina
YA FICTION MEDINA
"Nora Lopez is seventeen during the summer of 1977, when New York is besieged by arson, a massive blackout, and a serial killer named Son of Sam. Meg Medina transports us to a time when tempers and temperatures ran high to share the story of a young woman who discovers that the greatest dangers are often closer than we like to admit." — Provided by publisher.
---
This is Where it Ends by Marieke Nijkamp
YA FICTION NIJKAMP
"10:00 a.m. The principal of Opportunity, Alabama's high school finishes her speech, welcoming the entire student body to a new semester and encouraging them to excel and achieve. 10:02 a.m.
The students get up to leave the auditorium for their next class. 10:03 a.m. The auditorium doors won't open. 10:05 a.m. Someone starts shooting.
Told from four perspectives over the span of 54 harrowing minutes, terror reigns as one student's calculated revenge turns into the ultimate game of survival." — Provided by publisher.
---
If I Was Your Girl by Meredith Russo
YA FICTION RUSSO
"Amanda Hardy is the new girl in school. Like anyone else, all she wants is to make friends and fit in. But Amanda is keeping a secret, and she's determined not to get too close to anyone. But when she meets sweet, easygoing Grant, Amanda can't help but start to let him into her life. As they spend more time together, she realizes just how much she is losing by guarding her heart. She finds herself yearning to share with Grant everything about herself, including her past. But Amanda's terrified that once she tells him the truth, he won't be able to see past it. Because the secret that Amanda's been keeping? It's that at her old school, she used to be Andrew. Will the truth cost Amanda her new life, and her new love?" — Provided by publisher.
---
This Savage Song by Victoria Schwab
YA FICTION SCHWAB
"As the heirs to opposing sides in a warring city, Kate Harker and Augustus Flynn should never have met. A Romeo and Juliet-esque fantasy about the difference between good and evil and the blurry gray area in between"– Provided by publisher.
---
Spontaneous by Aaron Starmer
YA FICTION STARMER
"With all the perfectly lovely young adult novels out there, you decided to check this one out? It's got spontaneously combusting teenagers in it, dude. Not the slow burning type either. We're talking the randomly exploding variety. Seniors in high school just walking along, heading to class, whistling Beyonce, when–WA-BAM!– they're suddenly dripping off the lockers. Is that really something you're into? Confession: I'm actually kinda into that too. So, now that we've established we're both thoroughly weird and, I assume, thoroughly open-minded, we can give it shot, right?" — Provided by publisher.
---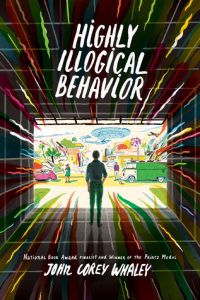 Highly Illogical Behavior by John Corey Whaley
YA FICTION WHALEY
"Sixteen-year-old Solomon is agoraphobic. He hasn't left the house in three years, which is fine by him. Ambitious Lisa desperately wants to get into the second-best psychology program for college (she's being realistic). But how can she prove she deserves a spot there? Solomon is the answer. Determined to "fix" Sol, Lisa thrusts herself into his life, sitting through Star Trek marathons with him and introducing him to her charming boyfriend Clark. Soon, all three teens are far closer than they thought they'd be, and when their walls fall down, their friendships threaten to collapse, as well." — Provided by publisher.
---
The Sun is Also a Star by Nicola Yoon
YA FICTION YOON
"Natasha is a girl who believes in science and facts. Daniel has always been a good son and good student. But when he sees Natasha he forgets all that and believes there is something extraordinary in store for both of them." — Provided by publisher.
Happy reading!
—Katie, Adult Reference