2016 in Review: SciFi, Fantasy, and Horror
Time to look back at some of the publishing highlights of 2016!  In a longer-than-usual list, we look at science fiction, fantasy, and horror.  And if you want to see our previous posts, click here for general fiction, mystery, psychological suspense, and romance.  As always, click on a book cover or a title to place a hold.
Science Fiction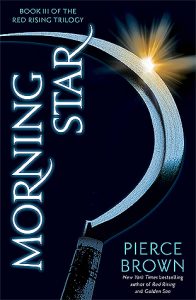 Morning Star by Pierce Brown
SCIENCE FICTION BROWN
"The conclusion of the Red Rising trilogy. Born a lowly Red in the mines of Mars, Darrow lost his beloved wife to the treacherous Gold overlords. Vowing to fight for the future that his wife believed in, Darrow joins a secret revolutionary group and is remade into a Gold so that he can infiltrate the ruling class and bring them down from the inside. Now, after years of hiding amongst the Golds, Darrow is finally ready to declare open revolution and throw off the chains of oppression. Nothing in Darrow's world has been easily won, and this final fight will be the most harrowing of all"– Provided by publisher.
---
A Dark Matter by Blake Crouch
SCIENCE FICTION CROUCH
"A mind-bending, relentlessly paced science-fiction thriller, in which an ordinary man is kidnapped, knocked unconscious–and awakens in a world inexplicably different from the reality he thought he knew." — Provided by publisher.
---
The Regional Office is Under Attack! by Manuel Gonzales
SCIENCE FICTION GONZALES
In a world beset by amassing forces of darkness, one organization—the Regional Office—and its coterie of super-powered female assassins protects the globe from annihilation. At its helm, the mysterious Oyemi and her oracles seek out new recruits and root out evil plots. Then a prophecy suggests that someone from inside might bring about its downfall. And now, the Regional Office is under attack. Recruited by a defector from within, Rose is a young assassin leading the attack, eager to stretch into her powers and prove herself on her first mission. Defending the Regional Office is Sarah—who may or may not have a mechanical arm—fiercely devoted to the organization that took her in as a young woman in the wake of her mother's sudden disappearance. On the day that the Regional Office is attacked, Rose's and Sarah's stories will overlap, their lives will collide, and the world as they know it just might end.
---
Sleeping Giants by Sylvain Neuvel
SCIENCE FICTION NEUVEL
"17 years ago: A girl in South Dakota falls through the earth, then wakes up dozens of feet below ground on the palm of what seems to be a giant metal hand. Today: She is a top-level physicist leading a team of people to understand exactly what that hand is, where it came from, and what it portends for humanity. A swift and spellbinding tale told almost exclusively through transcriptions of interviews conducted by a mysterious and unnamed character, this is a unique debut that describes a hunt for truth, power, and giant body parts"– Provided by publisher.
---
Crosstalk by Connie Willis
SCIENCE FICTION WILLIS
"In a not-too-distant future, a simple outpatient procedure that has been promised to increase empathy between romantic partners has become all the rage. So when Briddey Flannigan's fiancé proposes that he and Briddey undergo the procedure, she is delighted! Only…the results aren't quite as expected. Instead of gaining an increased empathetic link with her fiancé Briddey finds herself hearing the actual thoughts of one of the nerdiest techs in her office. And that's the least of her problems"– Provided by publisher.
---
Fantasy
All the Birds in the Sky by Charlie Jane Anders
FANTASY ANDERS
When Patricia Delfine was six years old, a wounded bird led her deep into the forest to the Parliament of Birds, where she met the Great Tree and was asked a question that would determine the course of her life. When Laurence Armstead was in grade school, he cobbled together a wristwatch-sized device that could send its wearer two seconds into the future. When Patricia and Laurence first met in high school, they didn't understand one another at all. But as time went on, they kept bumping into one another's lives. Now they're both grown up, and the planet is falling apart around them. Neither Laurence nor Patricia can keep pace with the speed at which things fall apart. But something bigger than either of them, something begun deep in their childhoods, is determined to bring them together."– Provided by publisher.
---
The Obelisk Gate by N.K. Jemisin
FANTASY JEMISIN
Essun–once Damaya, once Syenite, now avenger–has found shelter, but not her daughter. Instead there is Alabaster Tenring, destroyer of the world, with a request. But if Essun does what he asks, it would seal the fate of the Stillness forever. Far away, her daughter Nassun is growing in power–and her choices will break the world"– Provided by publisher.
---
Every Heart a Doorway by Seanan McGuire
FANTASY MCGUIRE
"Children have always disappeared from Eleanor West's Home for Wayward Children under the right conditions; slipping through the shadows under a bed or at the back of a wardrobe, tumbling down rabbit holes and into old wells, and emerging somewhere… else. But magical lands have little need for used-up miracle children. Nancy tumbled once, but now she's back. The things she's experienced… they change a person. The children under Miss West's care understand all too well. And each of them is seeking a way back to their own fantasy world. But Nancy's arrival marks a change at the Home. There's a darkness just around each corner, and when tragedy strikes, it's up to Nancy and her new-found schoolmates to get to the heart of the matter. No matter the cost." — Provided by publisher.
---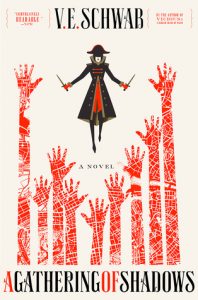 A Gathering of Shadows by V.E. Schwab
FANTASY SCHWAB
"Four months have passed since the shadow stone fell into Kell's possession. Four months since his path crossed with Delilah Bard. Four months since Rhy was wounded and the Dane twins fell, and the stone was cast with Holland's dying body through the rift, and into Black London. Restless, and having given up smuggling, Kell is visited by dreams of ominous magical events, waking only to think of Lila, who disappeared from the docks like she always meant to do. As Red London finalizes preparations for the Element Games-an extravagant international competition of magic, meant to entertain and keep healthy the ties between neighboring countries-a certain pirate ship draws closer, carrying old friends back into port. But while Red London is caught up in the pageantry and thrills of the Games, another London is coming back to life, and those who were thought to be forever gone have returned. It seems Black London has risen again-and so to keep magic's balance, another London must fall"– Provided by publisher.
---
Smoke by Dan Vyleta
FICTION VYLETA
"In an alternate England, where people who are wicked in thought or deed are marked by the Smoke that pours from their bodies, Thomas, Charlie, and Livia notice that some people appear to be able to lie without triggering Smoke. As they dig deeper, they discover teachers who have mysterious ties to warring political factions, a sumptuous estate which hides attic rooms and laboratories, revolutionaries who are fighting against a secret police force. They begin to suspect that everything they have been taught about Smoke is a lie; but if that is a lie, what else about their world is lies? What is their place in the struggle between faith and reason, between good and evil? And who can they trust?" — Provided by publisher.
---
Horror
City of Mirrors by Justin Cronin
HORROR CRONIN
"The Twelve have been destroyed and the terrifying hundred-year reign of darkness that descended upon the world has ended. The survivors are stepping outside their walls, determined to build society anew–and daring to dream of a hopeful future. But far from them, in a dead metropolis, he waits: Zero. The First. Father of the Twelve. The anguish that shattered his human life haunts him, and the hatred spawned by his transformation burns bright. His fury will be quenched only when he destroys Amy–humanity's only hope, the Girl from Nowhere who grew up to rise against him. One last time light and dark will clash, and at last Amy and her friends will know their fate." — Provided by publisher.
---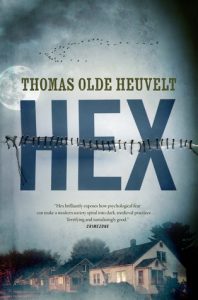 Hex by Thomas Olde Heuvelt
HORROR HEUVELT
"Welcome to Black Spring, the seemingly picturesque Hudson Valley town haunted by the Black Rock Witch, a seventeenth century woman whose eyes and mouth are sewn shut. Muzzled, she walks the streets and enters homes at will. She stands next to children's bed for nights on end. Everybody knows that her eyes may never be opened or the consequences will be too terrible to bear. The elders of Black Spring have virtually quarantined the town by using high-tech surveillance to prevent their curse from spreading. Frustrated with being kept in lockdown, the town's teenagers decide to break their strict regulations and go viral with the haunting. But, in so doing, they send the town spiraling into dark, medieval practices of the distant past." — Provided by publisher.
---
The Fireman by Joe Hill
HORROR HILL
From the award-winning, New York Times bestselling author of NOS4A2 and Heart-Shaped Box comes a chilling novel about a worldwide pandemic of spontaneous combustion that threatens to reduce civilization to ashes and a band of improbable heroes who battle to save it, led by one powerful and enigmatic man known as the Fireman.
The fireman is coming. Stay cool.
---
The Loney by Andrew Michael Hurley
HORROR HURLEY
"When the remains of a young child are discovered during a winter storm on a stretch of the bleak Lancashire coastline known as the Loney, a man named Smith is forced to confront the terrifying and mysterious events that occurred forty years earlier when he visited the place as a boy. At that time, his devoutly Catholic mother was determined to find healing for Hanny, his disabled older brother. And so the family, along with members of their parish, embarked on an Easter pilgrimage to an ancient shrine. But not all of the locals were pleased to see visitors in the area. And when the two brothers found their lives entangling with a glamorous couple staying at a nearby house, they became involved in more troubling rites. Smith feels he is the only one to know the truth, and he must bear the burden of his knowledge, no matter what the cost."– Provided by publisher.
---
Disappearance at Devil's Rock by Paul Tremblay
HORROR TREMBLAY
Late one summer night, Elizabeth Sanderson receives the devastating news that every mother fears: her thirteen-year-old son, Tommy, has vanished without a trace in the woods of a local park. The search isn't yielding any answers, and Elizabeth and her young daughter, Kate, struggle to comprehend Tommy's disappearance. Living in an all-too-real nightmare, riddled with worry, pain, and guilt, Elizabeth is wholly unprepared for the strange series of events that follow. She believes a ghostly shadow of Tommy materializes in her bedroom, while Kate and other local residents claim to see a shadow peering through their windows in the dead of night. Then, random pages torn from Tommy's journal begin to mysteriously appear—entries that reveal an introverted teenager obsessed with the phantasmagoric; the loss of his father, killed in a drunk-driving accident a decade earlier; a folktale involving the devil and the woods of Borderland and a horrific incident that Tommy believed connects them.
Happy reading!
—Katie, Adult Reference
Save
Save
Save
Save