It's that time of the week again – time to take a look at some of the top books released in 2016!  This week, we're focusing on romance – contemporary,  historical, fantastical, and everything in between!  Click on a cover or a title to place a hold, and make sure to check out our previous posts on general fiction, mysteries, and psychological suspense.
A Promise of Fire by Amanda Bouchet
FANTASY BOUCHET"Catalia "Cat" Fisa lives disguised as a soothsayer in a traveling circus. She is perfectly content avoiding the danger and destiny the gods-and her homicidal mother-have saddled her with. That is, until Griffin, an ambitious warlord from the magic-deprived south, fixes her with his steely gaze and upsets her illusion of safety forever. Griffin knows Cat is the Kingmaker, the woman who divines the truth through lies. He wants her as a powerful weapon for his newly conquered realm-until he realizes he wants her for much more than her magic. Cat fights him at every turn, but Griffin's fairness, loyalty, and smoldering advances make him increasingly hard to resist and leave her wondering if life really does have to be short, and lived alone." — Provided by publisher.
---
Forbidden by Beverly Jenkins
ROMANCE JENKINS
"Rhine Fontaine is building the successful life he's always dreamed of—one that depends upon him passing for White. But for the first time in years, he wishes he could step out from behind the façade. The reason: Eddy Carmichael, the young woman he rescued in the desert. Outspoken, defiant, and beautiful, Eddy tempts Rhine in ways that could cost him everything . . . and the price seems worth paying. Eddy owes her life to Rhine, but she won't risk her heart for him. As soon as she's saved enough money from her cooking, she'll leave this Nevada town and move to California. No matter how handsome he is, no matter how fiery the heat between them, Rhine will never be hers. Giving in for just one night might quench this longing. Or it might ignite an affair as reckless and irresistible as it is forbidden . . ." — Provided by publisher.
---
The Rogue Not Taken by Sarah MacLean
ROMANCE MACLEAN
"When Sophie, the least interesting of the Talbot sisters, lands her philandering brother-in-law backside-first in a goldfish pond in front of all society, she becomes the target of very public aristocratic scorn. Her only choice is to flee London, vowing to start a new life far from the aristocracy. Unfortunately, the carriage in which she stows away isn't saving her from ruin . . . it's filled with it. Kingscote, "King," the Marquess of Eversley, has never met a woman he couldn't charm, resulting in a reputation far worse than the truth, a general sense that he's more pretty face than proper gentleman, and an irate summons home to the Scottish border. When King discovers stowaway Sophie, however, the journey becomes anything but boring." — Provided by publisher.
---
Best of My Love by Susan Mallery
ROMANCE MALLERY
"To overcome her painful past, baker Shelby Gilmore goes on the hunt for a friend, a male friend, to convince her stubborn psyche that men can be trusted. But where in a town as small as Fool's Gold will the petite blonde find a guy willing to not date her? Dark, charming Aidan Mitchell puts the 'adventure' in Mitchell Adventure Tours, and into the beds of his many willing female tourists. Maybe Shelby's boy/girl experiment will help him see women as more than just conquests so he can change his ways and win back his self-respect." — Provided by publisher.
---
First Star I See Tonight by Susan Elizabeth Phillips
ROMANCE PHILLIPS
"Piper Dove is a woman with a dream to become the best detective in the city of Chicago. First job? Trail former Chicago Stars quarterback, Cooper Graham. Problem? Graham's spotted her, and he's not happy. Piper soon finds herself working for Graham himself, although not as the bodyguard he refuses to admit he so desperately needs. Instead, he's hired her to keep an eye on the employees at his exclusive new nightclub. But Coop's life might be in danger, and Piper's determined to protect him, whether he wants it or not." — Provided by publisher.
---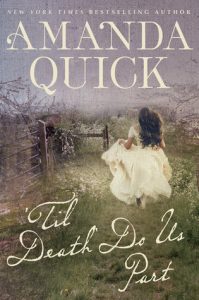 'Til Death Do Us Part by Amanda Quick
MYSTERY QUICK
"Calista Langley operates an exclusive "introduction" agency in Victorian London, catering to respectable ladies and gentlemen who find themselves alone in the world. But now, a dangerously obsessed individual has begun sending her trinkets and gifts suitable only for those in deepest mourning–a black mirror, a funeral wreath, a ring set with black jet stone. Each is engraved with her initials. Desperate for help and fearing that the police will be of no assistance, Calista turns to Trent Hastings, a reclusive author of popular crime novels. Scarred by his past, he's learned to keep his emotions at bay, even as an instant attraction threatens his resolve. But as Trent and Calista comb through files of rejected clients in hopes of identifying her tormentor, it becomes clear that the danger may be coming from Calista's own secret past–and that only her death will satisfy the stalker."– Provided by publisher.
---
Because of Miss Bridgerton by Julia Quinn
ROMANCE QUINN
"Everyone expects Billie Bridgerton to marry one of the Rokesby brothers. The two families have been neighbors for centuries, and as a child the tomboyish Billie ran wild with Edward and Andrew. But sometimes fate has a wicked sense of humor. There is only one Rokesby Billie absolutely cannot tolerate, and that is George. He may be the eldest and heir to the earldom, but he's arrogant, annoying, and she's absolutely certain he detests her. Which is perfectly convenient, as she can't stand the sight of him, either. Because when Billie and George are quite literally thrown together, a whole new sort of sparks begins to fly. And when these lifelong adversaries finally kiss, they just might discover that the one person they can't abide is the one person they can't live without." — Provided by publisher.
---
The Obsession by Nora Roberts
ROMANCE ROBERTS
"Naomi Bowes lost her innocence the night she followed her father into the woods. In freeing the girl trapped in the root cellar, Naomi revealed the horrible extent of her father's crimes and made him infamous. Now a successful photographer living under the name Naomi Carson, she has found a place that calls to her, thousands of miles away from everything she's ever known. Naomi wants to embrace the solitude, but the residents of Sunrise Cove keep forcing her to open up―especially the determined Xander Keaton. Naomi can feel her defenses failing, and knows that the connection her new life offers is something she's always secretly craved. But as she's learned time and again, her past is never more than a nightmare away." — Provided by publisher.
---
Nine Women, One Dress by Jane L. Rosen
ROMANCE ROSEN
"Natalie is a Bloomingdale's salesgirl mooning over her lawyer ex-boyfriend who's engaged to someone else after just two months. Felicia has been quietly in love with her boss for seventeen years and has one night to finally make the feeling mutual. Andie is a private detective who specializes in gathering evidence on cheating husbands–a skill she unfortunately learned from her own life–and lands a case that may restore her faith in true love. For these three women, everything is about to change, thanks to the dress of the season, the perfect little black number everyone wants to get their hands on." — Provided by publisher.
Happy reading!  Check back next week for science fiction, fantasy, and horror!
—Katie, Adult Reference
Save
Save