2016 in Review: Psychological Suspense
This is part 2 of our Monday "2016 in Review" posts, so make sure to check out our 2016 mystery list as well!
A note about psychological suspense: some of you may be wondering why we separated our lists like this.  After all, what's the difference between the two genres?
In many ways, psychological suspense is very similar to reading a traditional mystery.  However, mysteries tend to focus on the puzzle at hand, and how the puzzle is solved.  Psychological suspense novels often have a mystery at the center of the story (For example: What happened to Amy in Gone Girl?), but they focus on the inner workings of the mind and tend to be extremely dark and twisted.  In psychological suspense novels, you're not sure which characters can be trusted, or if the main character is even telling you the full story.  And in that sense, they can provide a much different reading experience than traditional mysteries.
So if psychological suspense sounds like your cup of tea, read on!  We've got some seriously twisted books to suggest to you.
All Things Cease to Appear by Elizabeth Brundage
MYSTERY BRUNDAGE
"Late one winter afternoon in upstate New York, George Clare comes home to find his wife killed and their three-year-old daughter alone–for how many hours?–in her room across the hall. He had recently, begrudgingly, taken a position at a nearby private college (far too expensive for local kids to attend) teaching art history, and moved his family into a tight-knit, impoverished town that has lately been discovered by wealthy outsiders in search of a rural idyll. George is of course the immediate suspect–the question of his guilt echoing in a story shot through with secrets both personal and professional. While his parents rescue him from suspicion, a persistent cop is stymied at every turn in proving Clare a heartless murderer. And three teenage brothers (orphaned by tragic circumstances) find themselves entangled in this mystery, not least because the Clares had moved into their childhood home, a once-thriving dairy farm. The pall of death is ongoing, and relentless; behind one crime there are others, and more than twenty years will pass before a hard kind of justice is finally served." — Provided by publisher.
---
Maestra by L.S. Hilton
FICTION HILTON
"By day, Judith Rashleigh is a put-upon assistant at a prestigious London art house. By night, she's a hostess at one of the capital's notorious champagne bars. Desperate to make something of herself, Judith knows she has to play the game. She's transformed her accent and taught herself about wine and the correct use of a dessert fork, not to mention the art of discretion. She's learned to be a good girl. But when Judith is fired for uncovering a dark secret at the heart of the art world–and her honest efforts at a better life are destroyed–she turns to a long-neglected friend. A friend who kept her chin up and back straight through every slight: Rage."
---
I Let You Go by Clare Mackintosh
MYSTERY MACKINTO
"I Let You Go follows Jenna Gray as she moves to a ramshackle cottage on the remote Welsh coast, trying to escape the memory of the car accident that plays again and again in her mind and desperate to heal from the loss of her child and the rest of her painful past. At the same time, the novel tracks the pair of Bristol police investigators trying to get to the bottom of this hit-and-run. As they chase down one hopeless lead after another, they find themselves as drawn to each other as they are to the frustrating, twist-filled case before them." — Provided by publisher.
---
What She Knew by Gilly Macmillan
MYSTERY MACMILLA
"Rachel Jenner is walking in a Bristol park with her eight-year-old son Ben when he asks if he can run ahead. It's an ordinary request on an ordinary Sunday afternoon, and Rachel has no reason to worry–until Ben vanishes. Police are called, search parties go out, and Rachel, already insecure after her recent divorce, feels herself coming undone. As hours and then days pass without a sign of Ben, everyone who knew him is called into question, from Rachel's newly married ex-husband to her mother-of-the-year sister." — Provided by publisher.
---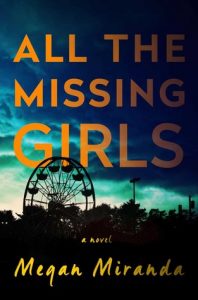 All the Missing Girls by Megan Miranda
MYSTERY MIRANDA
"It's been ten years since Nicolette Farrell left her rural hometown after her best friend, Corinne, disappeared from Cooley Ridge without a trace. Back again to tie up loose ends and care for her ailing father, Nic is soon plunged into a shocking drama that reawakens Corinne's case and breaks open old wounds long since stitched. The decade-old investigation focused on Nic, her brother Daniel, boyfriend Tyler, and Corinne's boyfriend Jackson. Since then, only Nic has left Cooley Ridge. Daniel and his wife, Laura, are expecting a baby; Jackson works at the town bar; and Tyler is dating Annaleise Carter, Nic's younger neighbor and the group's alibi the night Corinne disappeared. Then, within days of Nic's return, Annaleise goes missing. Told backwards—Day 15 to Day 1—from the time Annaleise goes missing, Nic works to unravel the truth about her younger neighbor's disappearance, revealing shocking truths about her friends, her family, and what really happened to Corinne that night ten years ago." — Provided by publisher.
---
Behind Closed Doors by B.A. Paris
MYSTERY PARIS
"The perfect marriage? Or the perfect lie? Everyone knows a couple like Jack and Grace. He has looks and wealth, she has charm and elegance. You might not want to like them, but you do. You'd like to get to know Grace better. But it's difficult, because you realize Jack and Grace are never apart. Some might call this true love. Others might ask why Grace never answers the phone. Or how she can never meet for coffee, even though she doesn't work. How she can cook such elaborate meals but remain so slim. And why there are bars on one of the bedroom windows."
---
All is Not Forgotten by Wendy Walker
MYSTERY WALKER
"In the small, affluent town of Fairview, Connecticut, everything seems picture perfect. Until one night when young Jenny Kramer is attacked at a local party. In the hours immediately after, she is given a controversial drug to medically erase her memory of the violent assault. But, in the weeks and months that follow, as she heals from her physical wounds, and with no factual recall of the attack, Jenny struggles with her raging emotional memory. Her father, Tom, becomes obsessed with his inability to find her attacker and seek justice while her mother, Charlotte, prefers to pretend this horrific event did not touch her perfect country club world. As they seek help for their daughter, the fault lines within their marriage and their close-knit community emerge from the shadows where they have been hidden for years, and the relentless quest to find the monster who invaded their town – or perhaps lives among them – drive this psychological thriller to a shocking and unexpected conclusion"– Provided by publisher.
---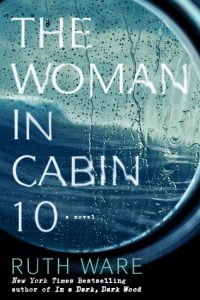 The Woman in Cabin 10 by Ruth Ware
MYSTERY WARE
"In this tightly wound, enthralling story reminiscent of Agatha Christie's works, Lo Blacklock, a journalist who writes for a travel magazine, has just been given the assignment of a lifetime: a week on a luxury cruise with only a handful of cabins. The sky is clear, the waters calm, and the veneered, select guests jovial as the exclusive cruise ship, the Aurora, begins her voyage in the picturesque North Sea. At first, Lo's stay is nothing but pleasant: the cabins are plush, the dinner parties are sparkling, and the guests are elegant. But as the week wears on, frigid winds whip the deck, gray skies fall, and Lo witnesses what she can only describe as a dark and terrifying nightmare: a woman being thrown overboard. The problem? All passengers remain accounted for–and so, the ship sails on as if nothing has happened, despite Lo's desperate attempts to convey that something (or someone) has gone terribly, terribly wrong." — Provided by publisher.
Happy reading!  Check back next Monday for some of 2016's best romance novels!
—Katie, Adult Reference