2016 in Review: Nonfiction
It's our last roundup of noteworthy books from 2016!  Keep reading for some of the year's best (and possibly overlooked) nonfiction titles, and click here to read all of our previous posts for general fiction, mysteries, psychological suspense, romance, scifi/fantasy/horror, young adult, and graphic novels!

I'm Judging You: A Do-Better Manual by Luvvie Ajayi
817.6 AJAYI
"With over 500,000 readers a month at her enormously popular blog, AwesomelyLuvvie.com, Luvvie Ajayi is a go-to source for smart takes on pop culture. I'm Judging You is her debut book of humorous essays that dissects our cultural obsessions and calls out bad behavior in our increasingly digital, connected lives–from the importance of the newest Shonda Rhimes television drama to serious discussions of race and media representation to what to do about your fool cousin sharing casket pictures from Grandma's wake on Facebook."– Provided by publisher.
---
Patient H.M.: A Story of Memory, Madness, and Family Secrets by Luke Dittrich
616.8523 DITTRICH
"In 1953, a twenty-seven-year-old factory worker named Henry Molaison–who suffered from severe epilepsy–received a radical new version of the then-common lobotomy, targeting the most mysterious structures in the brain. The operation failed to eliminate Henry's seizures, but it did have an unintended effect: Henry was left profoundly amnesic, unable to create long-term memories. Over the next sixty years, Patient H.M., as Henry was known, became the most studied individual in the history of neuroscience, a human guinea pig who would teach us much of what we know about memory today. Patient H.M. combines the best of biography, memoir, and science journalism to create a haunting, endlessly fascinating story, one that reveals the wondrous and devastating things that can happen when hubris, ambition, and human imperfection collide." — Provided by publisher.
---
The View From the Cheap Seats: Selected Nonfiction by Neil Gaiman
814.6 GAIMAN
"An inquisitive observer, thoughtful commentator, and assiduous craftsman, Neil Gaiman has long been celebrated for the sharp intellect and startling imagination that informs his bestselling fiction. Now, The View from the Cheap Seats brings together for the first time ever more than sixty pieces of his outstanding nonfiction. Analytical yet playful, erudite yet accessible, this cornucopia explores a broad range of interests and topics, including (but not limited to): authors past and present; music; storytelling; comics; bookshops; travel; fairy tales; America; inspiration; libraries; ghosts; and the title piece which recounts the author's experiences at the 2010 Academy Awards in Hollywood. Insightful, incisive, witty, and wise, The View from the Cheap Seats explores the issues and subjects that matter most to Neil Gaiman—offering a glimpse into the head and heart of one of the most acclaimed, beloved, and influential artists of our time." — Provided by publisher.
---
White Trash: The 400-Year Untold History of Class in America by Nancy Isenberg
305.56 ISENBERG
"Surveying political rhetoric and policy, popular literature and scientific theories over four hundred years, Isenberg upends assumptions about America's supposedly class-free society–where liberty and hard work were meant to ensure real social mobility. Poor whites were central to the rise of the Republican Party in the early nineteenth century, and the Civil War itself was fought over class issues nearly as much as it was fought over slavery. Reconstruction pitted poor white trash against newly freed slaves, which factored in the rise of eugenics–a widely popular movement embraced by Theodore Roosevelt that targeted poor whites for sterilization. These poor were at the heart of New Deal reforms and LBJ's Great Society; they haunt us in reality TV shows like Here Comes Honey Boo Boo and Duck Dynasty. Marginalized as a class, white trash have always been at or near the center of major political debates over the character of the American identity. We acknowledge racial injustice as an ugly stain on our nation's history. With Isenberg's landmark book, we will have to face the truth about the enduring, malevolent nature of class as well." –Provided by publisher.
---
Lab Girl by Hope Jahren
B JAH
"Acclaimed scientist Hope Jahren has built three laboratories in which she's studied trees, flowers, seeds, and soil. Her first book is a revelatory treatise on plant life–but it is also so much more. Lab Girl is a book about work, love, and the mountains that can be moved when those two things come together. It is told through Jahren's remarkable stories: about her childhood in rural Minnesota with an uncompromising mother and a father who encouraged hours of play in his classroom's labs; about how she found a sanctuary in science; and about the inevitable disappointments, but also the triumphs and exhilarating discoveries, of scientific work. Jahren's probing look at plants, her astonishing tenacity of spirit, and her acute insights on nature enliven every page of this extraordinary book. Lab Girl opens your eyes to the beautiful, sophisticated mechanisms within every leaf, blade of grass, and flower petal. Here is an eloquent demonstration of what can happen when you find the stamina, passion, and sense of sacrifice needed to make a life out of what you truly love, as you discover along the way the person you were meant to be." — Provided by publisher.
---
Stamped From the Beginning: The Definitive History of Racist Ideas in America by Ibram X. Kendi
305.8009 KENDI
"In this deeply researched and fast-moving narrative, Kendi chronicles the entire story of anti-Black racist ideas and their staggering power over the course of American history, using the lives of five major American intellectuals to offer a window into the contentious debates between assimilationists and segregationists and between racists and antiracists. From Puritan minister Cotton Mather to Thomas Jefferson, from fiery abolitionist William Lloyd Garrison to brilliant scholar W. E. B. Du Bois to legendary anti-prison activist Angela Davis, Kendi shows how and why some of our leading proslavery and pro-civil rights thinkers have challenged or helped cement racist ideas in America." — Provided by publisher.
---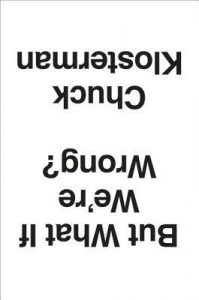 But What If We're Wrong?: Thinking About the Present As If It Were the Past by Chuck Klosterman
303.49 KLOSTERM
"But What If We're Wrong? visualizes the contemporary world as it will appear to those who'll perceive it as the distant past. Chuck Klosterman asks questions that are profound in their simplicity: How certain are we about our understanding of gravity? How certain are we about our understanding of time? What will be the defining memory of rock music, five hundred years from today? How seriously should we view the content of our dreams? How seriously should we view the content of television? Are all sports destined for extinction? Is it possible that the greatest artist of our era is currently unknown (or–weirder still–widely known, but entirely disrespected)? Is it possible that we "overrate" democracy? And perhaps most disturbing, is it possible that we've reached the end of knowledge?" — Provided by publisher.
---
Hamilton: The Revolution by Lin-Manuel Miranda
782.14 MIRANDA
"Lin-Manuel Miranda's groundbreaking musical Hamilton is as revolutionary as its subject, the poor kid from the Caribbean who fought the British, defended the Constitution, and helped to found the United States. Fusing hip-hop, pop, R&B, and the best traditions of theater, this once-in-a-generation show broadens the sound of Broadway, reveals the storytelling power of rap, and claims our country's origins for a diverse new generation. Miranda, along with Jeremy McCarter, a cultural critic and theater artist who was involved in the project from its earliest stages, traces its development from an improbable perfor­mance at the White House to its landmark opening night on Broadway six years later." — Provided by publisher.
---
The Gene: An Intimate History by Siddhartha Mukherjee
616.042 MUKHERJE
"Siddhartha Mukherjee has a written a biography of the gene as deft, brilliant, and illuminating as his extraordinarily successful biography of cancer. Weaving science, social history, and personal narrative to tell us the story of one of the most important conceptual breakthroughs of modern times, Mukherjee animates the quest to understand human heredity and its surprising influence on our lives, personalities, identities, fates, and choices." — Provided by publisher.
---
Blood at the Root: A Racial Cleansing in America by Patrick Phillips
305.8009 PHILLIPS
"Forsyth County, Georgia, at the turn of the twentieth century was home to a large African American community that included ministers and teachers, farmers and field hands, tradesmen, servants, and children. Many black residents were poor sharecroppers, but others owned their own farms and the land on which they'd founded the county's thriving black churches.But then in September of 1912, three young black laborers were accused of raping and murdering a white girl. One man was dragged from a jail cell and lynched on the town square, two teenagers were hung after a one-day trial, and soon bands of white "night riders" launched a coordinated campaign of arson and terror, driving all 1,098 black citizens out of the county. The charred ruins of homes and churches disappeared into the weeds, until the people and places of black Forsyth were forgotten. Recalling his own childhood in the 1970s and '80s, Phillips sheds light on the communal crimes of his hometown and the violent means by which locals kept Forsyth "all white" well into the 1990s. With bold storytelling and lyrical prose, Phillips breaks a century-long silence and uncovers a history of racial terrorism that continues to shape America in the twenty-first century." — Provided by publisher.
---
Grunt: The Curious Science of Humans at War by Mary Roach
355.0709 ROACH
"Grunt tackles the science behind some of a soldier's most challenging adversaries–panic, exhaustion, heat, noise–and introduces us to the scientists who seek to conquer them. Mary Roach dodges hostile fire with the U.S. Marine Corps Paintball Team as part of a study on hearing loss and survivability in combat. She visits the fashion design studio of U.S. Army Natick Labs and learns why a zipper is a problem for a sniper. She visits a repurposed movie studio where amputee actors help prepare Marine Corps medics for the shock and gore of combat wounds. At Camp Lemmonier, Djibouti, in east Africa, we learn how diarrhea can be a threat to national security. Roach samples caffeinated meat, sniffs an archival sample of a World War II stink bomb, and stays up all night with the crew tending the missiles on the nuclear submarine USS Tennessee. She answers questions not found in any other book on the military: Why is DARPA interested in ducks? How is a wedding gown like a bomb suit? Why are shrimp more dangerous to sailors than sharks? Take a tour of duty with Roach, and you'll never see our nation's defenders in the same way again." — Provided by publisher.
---
Born to Run by Bruce Springsteen
B SPR
"Over the past seven years, Bruce Springsteen has privately devoted himself to writing the story of his life, bringing to these pages the same honesty, humor, and originality found in his songs. Born to Run will be revelatory for anyone who has ever enjoyed Bruce Springsteen, but this book is much more than a legendary rock star's memoir. This is a book for workers and dreamers, parents and children, lovers and loners, artists, freaks, or anyone who has ever wanted to be baptized in the holy river of rock and roll. Rarely has a performer told his own story with such force and sweep. Like many of his songs, Bruce Springsteen's autobiography is written with the lyricism of a singular songwriter and the wisdom of a man who has thought deeply about his experiences." — Provided by publisher.
---
Hillbilly Elegy: A Memoir of a Family and Culture in Crisis by J.D. Vance
B VAN
" J. D. Vance tells the true story of what a social, regional, and class decline feels like when you were born with it hung around your neck. The Vance family story begins hopefully in postwar America. J. D.'s grandparents were "dirt poor and in love," and moved north from Kentucky's Appalachia region to Ohio in the hopes of escaping the dreadful poverty around them. They raised a middle-class family, and eventually their grandchild (the author) would graduate from Yale Law School, a conventional marker of their success in achieving generational upward mobility. But as the family saga of Hillbilly Elegy plays out, we learn that this is only the short, superficial version. Vance's grandparents, aunt, uncle, sister, and, most of all, his mother, struggled profoundly with the demands of their new middle-class life, and were never able to fully escape the legacy of abuse, alcoholism, poverty, and trauma so characteristic of their part of America." — Provided by publisher.
---
The Fire This Time: A New Generation Speaks About Race ed. by Jesmyn Ward
305.896 FIRE
"A surprise New York Times bestseller, these groundbreaking essays and poems about race—collected by National Book Award-winner Jesmyn Ward and written by the most important voices of her generation—are "thoughtful, searing, and at times, hopeful. The Fire This Time is vivid proof that words are important, because of their power to both cleanse and to clarify" (USA TODAY). In this bestselling, widely lauded collection, Jesmyn Ward gathers our most original thinkers and writers to speak on contemporary racism and race, including Carol Anderson, Jericho Brown, Edwidge Danticat, Kevin Young, Claudia Rankine, and Honoree Jeffers. "An absolutely indispensable anthology" (Booklist, starred review), The Fire This Time shines a light on the darkest corners of our history, wrestles with our current predicament, and imagines a better future." — Provided by publisher.
---
Shrill: Notes From a Loud Woman by Lindy West
B WES
"West has rocked readers in work published everywhere from The Guardian to GQ to This American Life. She is a catalyst for a national conversation in a world where not all stories are created equal and not every body is treated with equal respect. Shrill is comprised of a series of essays that bravely shares her life, including her transition from quiet to feminist-out-loud, coming of age in a popular culture that is hostile to women (especially fat, funny women) and how keeping quiet is not an option for any of us." — Provided by publisher.
---
Where Am I Now?: True Stories of Girlhood and Accidental Fame by Mara Wilson
B WIL
"A former child actress best known for her starring roles in Matilda and Mrs. Doubtfire, Mara Wilson has always felt a little young and out of place: as the onlykid on a film set full of adults, the first daughter in a house full of boys, a Valley girl in New York and a neurotic in California, and a grown-up the world still remembers as a little girl. Tackling everything fromwhat she learned about sex on the set of Melrose Place, to discovering in adolescence that she was no longer "cute" enough for Hollywood, these essays chart her journey from accidental fame to relative (but happy) obscurity. They also illuminate universal struggles, like navigating love and loss, and figuring out who you are and where you belong."– Provided by publisher.
---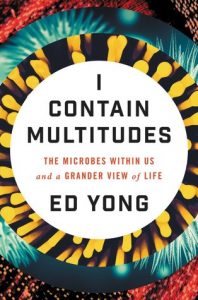 I Contain Multitudes: The Microbes Within Us and a Grander View of Life by Ed Yong
579.17 YONG
"Joining the ranks of popular science classics like The Botany of Desire and The Selfish Gene, a groundbreaking, wondrously informative, and vastly entertaining examination of the most significant revolution in biology since Darwin—a "microbe's-eye view" of the world that reveals a marvelous, radically reconceived picture of life on earth. Every animal, whether human, squid, or wasp, is home to millions of bacteria and other microbes. Ed Yong, whose humor is as evident as his erudition, prompts us to look at ourselves and our animal companions in a new light—less as individuals and more as the interconnected, interdependent multitudes we assuredly are. In this astonishing book, Ed Yong takes us on a grand tour through our microbial partners, and introduces us to the scientists on the front lines of discovery. It will change both our view of nature and our sense of where we belong in it." — Provided by publisher.
---
Another Day in the Death of America: A Chronicle of Ten Short Lives by Gary Younge
303.6083 YOUNGE
"On an average day in America, seven children and teens will be shot dead. In Another Day in the Death of America, award-winning journalist Gary Younge tells the stories of the lives lost during one such day. It could have been any day, but he chose November 23, 2013. Black, white, and Latino, aged nine to nineteen, they fell at sleepovers, on street corners, in stairwells, and on their own doorsteps. From the rural Midwest to the barrios of Texas, the narrative crisscrosses the country over a period of twenty-four hours to reveal the full human stories behind the gun-violence statistics and the brief mentions in local papers of lives lost. This is not a book about gun control, but about what happens in a country where it does not exist. What emerges in these pages is a searing and urgent portrait of youth, family, and firearms in America today." — Provided by publisher.
Happy reading!
—Katie, Adult Reference