2016 in Review: Mysteries
It's Monday, and today, we're going to highlight some of the amazing mysteries and psychological suspense novels that were published this last year.  And because there are so many amazing books to include, we're separating mysteries from psychological suspense and doubling up our posts   If you missed our kickoff post last week on general fiction, click here to read more.  And as always, click on a book cover or a title to place a hold.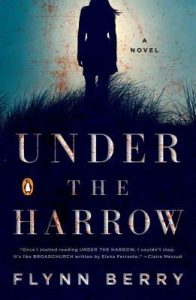 Under the Harrow by Flynn Berry
MYSTERY BERRY
"When Nora takes the train from London to visit her sister in the countryside, she expects to find her waiting at the station, or at home cooking dinner. But when she walks into Rachel's familiar house, what she finds is entirely different: her sister has been the victim of a brutal murder. Stunned and adrift, Nora finds she can't return to her former life. An unsolved assault in the past has shaken her faith in the police, and she can't trust them to find her sister's killer. Haunted by the murder and the secrets that surround it, Nora is under the harrow: distressed and in danger. As Nora's fear turns to obsession, she becomes as unrecognizable as the sister her investigation uncovers"– Provided by publisher.
---
Thrice the Brinded Cat Hath Mew'd by Alan C. Bradley
MYSTERY BRADLEY
"In spite of being ejected from Miss Bodycote's Female Academy in Canada, twelve-year-old Flavia de Luce is excited to be sailing home to England. But instead of a joyous homecoming, she is greeted on the docks with unfortunate news: Her father has fallen ill, and a hospital visit will have to wait while he rests. But with Flavia's blasted sisters and insufferable cousin underfoot, Buckshaw now seems both too empty–and not empty enough. Only too eager to run an errand for the vicar's wife, Flavia hops on her trusty bicycle, Gladys, to deliver a message to a reclusive wood-carver. Finding the front door ajar, Flavia enters and stumbles upon the poor man's body hanging upside down on the back of his bedroom door. The only living creature in the house is a feline that shows little interest in the disturbing scene. Curiosity may not kill this cat, but Flavia is energized at the prospect of a new investigation. But what awaits Flavia will shake her to the very core." — Provided by publisher.
---
Redemption Road by John Hart
MYSTERY HART
"Imagine: A boy with a gun waits for the man who killed his mother. A troubled detective confronts her past in the aftermath of a brutal shooting. After thirteen years in prison, a good cop walks free. But for how long? And deep in the forest, on the altar of an abandoned church, the unthinkable has just happened… This is a town on the brink. This is a road with no mercy."– Provided by publisher.
---
IQ by Joe Ide
MYSTERY IDE
"A resident of one of LA's toughest neighborhoods uses his blistering intellect to solve the crimes the LAPD ignores. East Long Beach. The LAPD is barely keeping up with the neighborhood's high crime rate. Murders go unsolved, lost children unrecovered. But someone from the neighborhood has taken it upon himself to help solve the cases the police can't or won't touch. They call him IQ. He's a loner and a high school dropout, his unassuming nature disguising a relentless determination and a fierce intelligence. His latest client is a rap mogul whose life is in danger. As Isaiah investigates, he encounters a vengeful ex-wife, a crew of notorious cutthroats, a monstrous attack dog, and a hit man who even other hit men say is a lunatic. The deeper Isaiah digs, the more far reaching and dangerous the case becomes"– Provided by publisher.
---
The Murder of Mary Russell by Laurie R. King
MYSTERY KING
"Has Laurie King followed in Sir Arthur Conan Doyle's footsteps and killed off her protagonist? Sherlock Holmes is back in the latest in the New York Times bestselling series that Lee Child has hailed as "the most sustained feat of imagination in mystery fiction today"–but is Mary Russell? When the novel opens, the shabby carpet of 221B Baker Street is drenched in blood–and no one knows the fate of Mary Russell. Could this be the final performance for the world's best-known Holmesian author?"– Provided by publisher.
---
End of Watch by Stephen King
MYSTERY KING
"In Room 217 of the Lakes Region Traumatic Brain Injury Clinic, something has awakened. Something evil. Brady Hartsfield, perpetrator of the Mercedes Massacre, where eight people were killed and many more were badly injured, has been in the clinic for five years, in a vegetative state. According to his doctors, anything approaching a complete recovery is unlikely. But behind the drool and stare, Brady is awake, and in possession of deadly new powers that allow him to wreak unimaginable havoc without ever leaving his hospital room. Retired police detective Bill Hodges, the unlikely hero of Mr. Mercedes and Finders Keepers, now runs an investigation agency with his partner, Holly Gibney–the woman who delivered the blow to Hartsfield's head that put him on the brain injury ward. When Bill and Holly are called to a suicide scene with ties to the Mercedes Massacre, they find themselves pulled into their most dangerous case yet, one that will put their lives at risk, as well as those of Bill's heroic young friend Jerome Robinson and his teenage sister, Barbara."– Provided by publisher.
---
A Great Reckoning by Louise Penny
MYSTERY PENNY
"When an intricate old map is found stuffed into the walls of the bistro in Three Pines, it at first seems no more than a curiosity. But the closer the villagers look, the stranger it becomes. Given to Armand Gamache as a gift the first day of his new job, the map eventually leads him to shattering secrets. To an old friend and older adversary. It leads the former Chief of Homicide for the Sûreté du Québec to places even he is afraid to go. And there he finds four young cadets in the Sûreté academy, and a dead professor. And, with the body, a copy of the old, odd map. Everywhere Gamache turns, he sees Amelia Choquet, one of the cadets. The focus of the investigation soon turns to Gamache himself and his mysterious relationship with Amelia, and his possible involvement in the crime. The frantic search for answers takes the investigators back to Three Pines and a stained glass window with its own horrific secrets. For both Amelia Choquet and Armand Gamache, the time has come for a great reckoning." — Provided by publisher.
Happy reading!
—Katie, Adult Reference